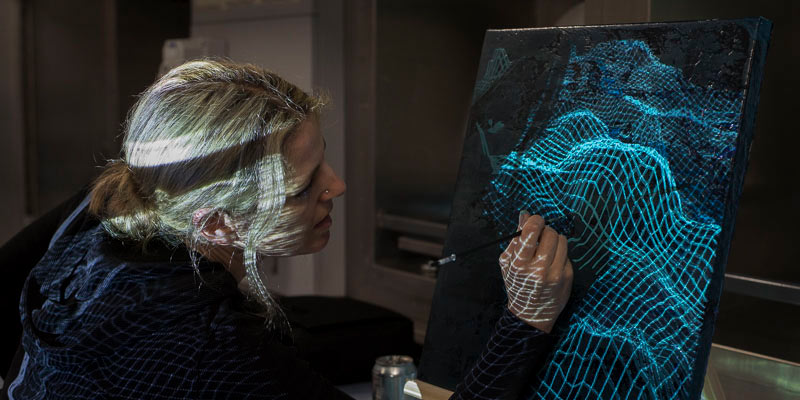 New Art Exhibit Brings Ocean Sciences to Newport
Sail Newport hosted the first east coast installation of Schmidt Ocean Institute's traveling Artist-at-Sea exhibit, featuring work completed on research vessel Falkor. The traveling exhibit honors five years of cutting-edge research and contributions to the oceanographic community.
For the first time, the unique traveling art exhibit will make its way to the east coast of the United States, showcasing recent ocean science discoveries that shed new light on our oceans. Sail Newport's new facility hosts the "Artist at Sea" exhibit from the Schmidt Ocean Institute (SOI) highlighting the work of ten artists who completed an artist-in-residency program onboard the Institute's 272' research vessel (R/V) Falkor.
The Artist-at-Sea program selects artists internationally with unique backgrounds to travel with ocean scientists onboard the vessel to create art that highlights the science and data collected at sea. The exhibit includes paintings, photography, fiber, and film inspired by the latest research exploring hydrothermal vents, coral reefs, and mapping of the ocean floor. Featured artists include Rebecca Rutstein, Colleen Peters, Kirsten Carlson, Lucy Bellwood, Michelle Schwengel-Regala, Leslie Reed and Baltazar Bell.  The work of previous artists can be seen here, and the public can get a sneak peek of the art in the online gallery here.
The Schmidt Ocean Institute Artist-at-Sea program is the brainchild of co-founder Wendy Schmidt. "The Artist-at-Sea program is an innovative, and new way of sharing the science that takes place and fosters new relationships among artists and scientists," said Schmidt. "Our traveling exhibit has shared the art, science, and experience of being at sea with thousands through the six locations that have hosted the pieces in 2017, broadening awareness of the complex ocean issues facing the world today."
The free exhibit will be open to the public through Sunday, October 22nd from 1 to 5 p.m. on weekdays, and 12 to 4 p.m. on the weekends. The exhibit is located at Sail Newport, 72 Fort Adams Dr., Newport, RI 028140; parking is free at Fort Adams State Park, and all ages are invited. For more information: http://www.sailnewport.org, or by telephone, 401.846.1983.