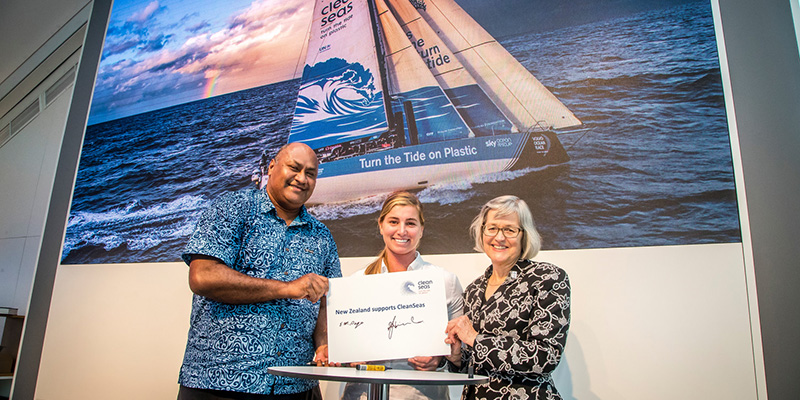 New Zealand signs the Clean Seas pledge
New Zealand has joined the United Nations-led CleanSeas campaign to rid our oceans of plastic. On Monday, March 12th, at the Volvo Ocean Race village, the Associate Environment Minister Eugenie Sage announced the country's commitment. Ms. Sage signed the pledge showing New Zealand's commitment to stopping plastic pollution – becoming the 42nd country to do so. Pictured above, from left to right, Sefanaia Nawadra, Head of UN Environment's Pacific Sub Regional Office, Bianca Cook, sailors on Turn the Tide on Plastic, and the New Zealand Associate Environment Minister, Eugenie Sage. Photo credit: Jesus Renedo/ Volvo Ocean Race
"Turtles and other wildlife are being killed by litter in our oceans. Also, the issue of microplastic in our oceans and its effect on the food chain is a concern for all species and is a potential risk to human health. New Zealand is proud to be joining this campaign to stop this from happening," Ms. Sage said.
Johan Salén, Volvo Ocean Race Co-President, welcomed the commitment.
"I would like to congratulate the New Zealand Government on joining the United Nations-led CleanSeas campaign to address the impacts plastics are having on our oceans," he said. "By individuals, businesses, NGOs and governments, such as New Zealand's, working together we can find innovative solutions to educate, innovate and leave a lasting legacy that will help address this plastic problem."
11th Hour Racing is proud to be the Founding Principal Partner of the Volvo Ocean Race sustainability program. It's Program Director noted at the event "When we first became a sustainability partner for the race it was all about impact, we knew that it would be possible going to 12 different stopovers and have the Clean Seas pledge be the campaign for the race."
Measures included in New Zealand Commitment to the pledge:
Banning products containing plastic microbeads – this will come into effect in June.
Developing options to get rid of single-use plastic bags.
Supporting data gathering on marine debris along our coastlines and oceans.
Funding initiatives through the Waste Minimisation Fund (WMF) including Keep New Zealand Beautiful, Sustainable Coastlines, and the Packaging Forum.
Reviewing implementation of the Waste Minimisation Act to use its powers better and promote waste minimization.
Watch the video below to get a behind the scenes look at the pledge signing!