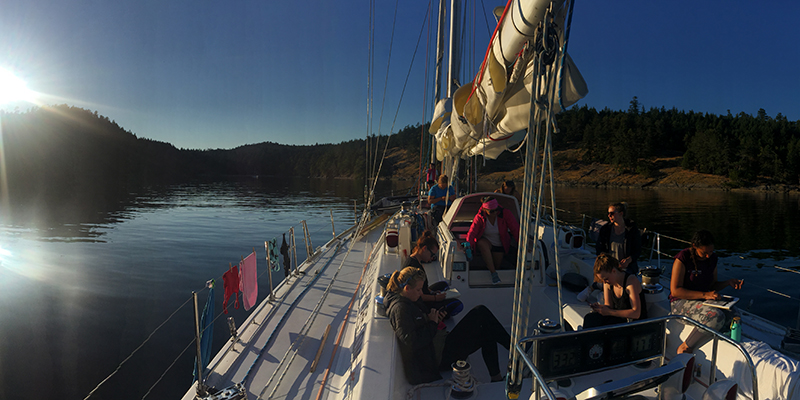 Ocean Changemaker: Emily Penn
[vc_row][vc_column][vc_column_text]
Fresh off her 6th voyage across the Pacific, we caught up with Emily Penn to hear about her adventures with eXXpedition
The awe-inspiring ocean advocate, Emily Penn, started working on eXXpedition in 2011 after meeting Lucy Gilliam at a lecture on the 5 gyres of plastic contaminating the ocean. They conspired to launch an all women's voyage to explore the impact of plastic pollution on our seas and bodies.
Fast-forward to 2018 – Emily is now in the middle of her 10th ocean journey, and eXXpedition has become a leader in inspiring individuals to help their communities to take action on stopping plastic pollution. At 11th Hour Racing, we're proud to have supported the creation of the Ocean Changemakers Toolkit through our grant-making program, which is supported by The Schmidt Family Foundation.
While Emily happened to be on land, we asked her a few questions about the organization's past successes and future endeavors.
What is the Ocean Changemakers Toolkit?
It's a free online resource, designed to help aspiring ocean ambassadors to be more effective at tackling plastic pollution. We have also developed Ocean Changemaker workshops. These give passionate individuals the opportunity to explore where they can apply their personal skill set to ocean plastic, as well as the opportunity to meet like-minded people who are working or want to make a difference in the space.
Both the online resource and the workshops cover the facts about ocean plastic, a method to identify where you can make a difference and, most importantly, action points you can use to start.
How many people have been reached with the toolkit?
So far, we reached 2,197 people directly through my workshops and the toolkit, including the British Sailing Team, super yacht crews, representatives of NGOs, academics and passionate members of the public.
How does eXXpedition use the toolkit?
eXXpedition runs sailing expeditions all over the globe connecting people – scientists, artists, journalists, educators, policymakers and so on – with critical ocean challenges, primarily ocean pollution. Our guest crew leaves the vessel charged, transformed and ready to create change. The toolkit equips our crew to become Ambassadors for the issue, harness their energy to carry their knowledge and passion home and make an impact in their communities.
How can people who have not sailed on eXXpedition use the toolkit?
Anyone can use the toolkit. We all have our own experiences that we can share and our own skills we can apply to the challenge. The toolkit is about finding what you are brilliant at and where that intersects the marine plastic pollution issue. Many of the resources can be adapted to your experiences – for example; we have resources on how to write to your government, give a great talk, join your company up to a plastic-related campaign or reduce waste on board your boat. You pick the ones that are relevant to you!
You just sailed across the Pacific for the 6th time, what sticks out to you about this voyage?
I saw more plastic pollution in the ocean on this voyage than any other to date. In just one surface water sample we found 507 fragments of microplastic in it. But at the same time, we had the most inspired and motivated crew I could imagine! All ready to head home and make positive change on the issue.
Watch Emily Penn speaking on BBC World News about plastic pollution.
https://www.facebook.com/eXXpeditionCIC/videos/826472434215103/UzpfSTI5NjQzODIxNzA3Mzc5MToyMTEwNzc0Mzc4OTczNDkw/?business_id=2066619310288342
When you think about plastic pollution in the ocean, what are your biggest concerns and your biggest hope?
The health of the ocean can bounce back if we take off the pressure of plastic pollution – it's an amazingly resilient ecosystem. My hope is that with the increasing awareness around the world of the problems of plastic, we can together push for upstream solutions from policymakers and businesses. I think we can make a difference, but we need to take action now!
What does the future hold for eXXpedition?
Next year we are scaling our efforts and taking eXXpedition, literally, around the world. We will run back-to-back Ambassador training programmes at sea, for a full global circumnavigation over two years. The toolkit will remain online to support the community to become even more impactful and collaborative.
If you'd like to sign up as a member of our crew, please check out www.exxpedition.com/apply
How has your relationship with 11th Hour Racing helped shape your work and influenced the success of your programs?
The relationship and support from 11th Hour Racing has been vital in developing Ocean Changemakers – we wouldn't have been able to develop the resource without the funding we received. I've really enjoyed being part of the 11th Hour Racing community – through meeting other grantees and being involved in the Volvo Ocean Race, our programmes have been taken to a whole new level, as well as it is an absolute pleasure to spend time with the team! 
Science at Sea
Want to understand more about the science at sea eXXpedition conducts during their voyages? Check out this page and at the end of it is the specific science summary for the North Pacific voyage.[/vc_column_text][mk_gallery images="6832,6831,6830,6829,6828,6827,6826,6825,6843,6833″ style="style1″ disable_title="true"][/vc_column][/vc_row]