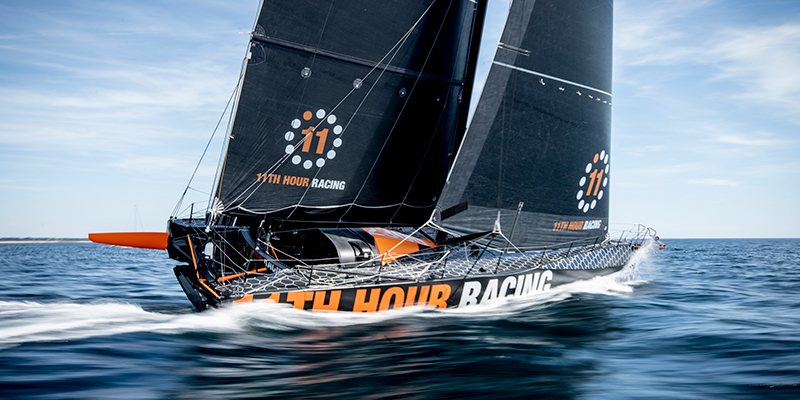 Ocean Race Veterans Charlie Enright & Mark Towill Set Sights on Third Race Around the World with 11th Hour Racing
Two-time Volvo Ocean Race participants Charlie Enright (Bristol, RI) and Mark Towill (Honolulu, HI), Co-Founders of 1 Degree, announced today that they have formally renewed their team's sponsorship with 11th Hour Racing for a long-term and visionary campaign, with their eyes set on the 2021-22 "The Ocean Race."
The team will be named "11th Hour Racing" after its title sponsor — Rhode Island-based 11th Hour Racing — with the team's primary goal to win the world's toughest crewed round-the-world sailing race, while engaging a broad audience and sailing fans across the globe on the topics of the climate crisis, ocean health and sustainability. The team's campaign, headlined "what's under the surface connects us," will highlight how the beauty and discovery of life under the water's surface can inspire people globally to adopt more sustainable behaviors — emphasizing how the wellbeing of our ocean is critical to our own wellbeing and informing people about the impacts of climate change on the ocean.
"The opportunity to build on the leadership that Mark and Charlie have demonstrated throughout the years, and develop a new campaign driven by a strong environmental and social ethos, is extremely empowering," said Rob MacMillan, Co-Founder and President of 11th Hour Racing. "We can accelerate change through sporting excellence in sailing, ocean advocacy, and sustainable innovation." 
Enright and Towill are aiming for their third round-the-world race dating back to 2014 after previous campaigns with Team Alvimedica (2014-15) and Vestas 11th Hour Racing (2017-18).
"With the incredible support of 11th Hour Racing, we are already hitting the ground running," said Enright. "In two previous campaigns, we have never had the luxury of any long-term preparation and planning for our team, and starting to put the team together now will have a huge impact on our race readiness and pre-race training plan."
The team's first step in its new campaign will begin with the Transat Jacques Vabre starting from Le Havre, France, October 27, 2019. The team will compete using the former Hugo Boss IMOCA 60 boat that has been purchased by the team, rebranded and refitted. The 11th Hour Racing Team will do its offshore training in advance of the Transat Jacques Vabre out of Port-La-Forêt, Brittany, France, over the next two months, and maintain a training base in Brittany in the near term. The team arrives in Le Havre by October 18. 
The Team Ethos: #oceanhour
Recognizing that their sport inherently impacts ocean health, Enright and Towill have become leading voices in sailing and ambassadors for change, championing environmental causes and implementing sustainable practices.
Driven by its vision of vibrant, healthy oceans and communities supported and inspired by the sport of sailing, the 11th Hour Racing Team believes it can achieve high performance on the water while operating with a sustainable model that can inspire others. This starts by developing a detailed roadmap based on industry best practices and standards. The team has also embraced the United Nations Sustainable Development Goals — a blueprint to secure an equitable and healthy future for everyone by 2030 — and will align its roadmap to support progress on their achievement.
The 11th Hour Racing Team will focus on the following four principles to guide its mission:
Be

leaders

, advocating for ocean health, climate action and sustainability with the industry, communities and fan base. 

Develop

innovative

solutions to responsibly manage resources, applying circular economy principles to material needs, as well as reducing water and climate footprints, and becoming water neutral and climate positive.

Collaborate

with partners to create sustainable solutions, minimizing the environmental footprint across spheres of influence, including going zero waste and implementing a ban on single-use plastics.

Leave a lasting legacy by inspiring others to make changes — one degree at a time — including a community outreach program, internships and grant-giving.
Building upon the success of the project that 11th Hour Racing implemented with Towill and Enright during the last Volvo Ocean Race, the team will expand its legacy grant program to support local organizations working on specific areas such as ocean literacy and stewardship; solutions to reduce plastic pollution; ecosystem restoration projects related to climate change and water quality issues; clean technologies within the sailing industry and maritime communities.
"The ocean connects us all, from giving us the very basic necessities for life to regulating the global climate, to providing an avenue for cultures to interact. We only thrive if our oceans thrive — this will be our guiding mantra at the forefront of our decision-making process," said Enright. 
"Having 11th Hour Racing as a sponsor early in our campaign enables us to lead by example," said Towill. "We hope to inspire many people on this journey to lessen our collective impact on the environment by making small adjustments in our lives — because, with each day, we are racing together against time and this is the ocean hour."