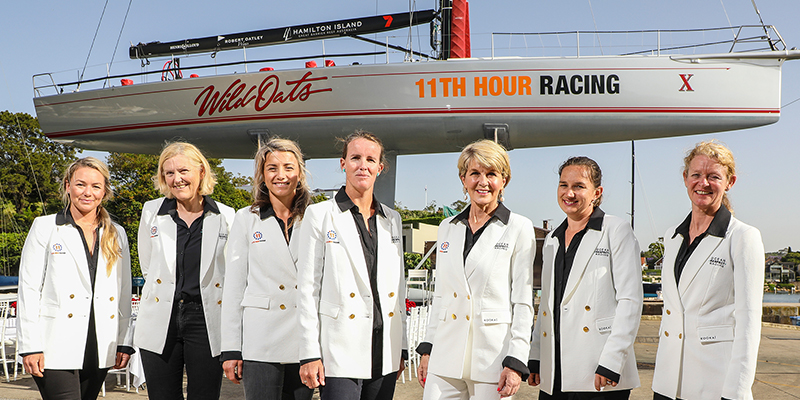 Ocean Respect Racing Announces Campaign for Rolex Sydney Hobart Yacht Race
Pictured above: Crew members and the team ambassador gather in front of Wild Oats X in Sydney. From left to right: Jade Cole, Vanessa Dudley, Faraday Brooke Martin, Stacey Jackson, Honorable Julie Bishop, Katie Spithill, and Sue Cafer. Photo credit: Salty Dingo/Ocean Respect Racing
All-Female Professional Crew Announces Campaign for Rolex Sydney Hobart Yacht Race
Team Ocean Respect Racing, led by Stacey Jackson, to raise awareness of ocean health issues in Australia, supported by 11th Hour Racing

In a bid to encourage stronger female representation in Australian sailing, and to promote ocean health and sustainability, the first all-female professional crew to enter the Rolex Sydney Hobart Yacht Race has announced its campaign to win the coveted Tattersall Cup in Hobart.

The 13-strong crew, led by Skipper Stacey Jackson, will race under the team name Ocean Respect Racing, in partnership with 11th Hour Racing, an organization that promotes sustainability through sport. The team name expresses the message this outstanding group of sailors will spread throughout the sailing community in Australia, inspiring fellow competitors, event organizers, and supporters to protect the ocean. Sailing on the 66 footer Wild Oats X, the crew is a serious contender in the race, with a combined experience of 68 Rolex Sydney Hobart Yacht Races and 17 Volvo Ocean Races.

Stacey Jackson, Skipper and Founder of Ocean Respect Racing noted: "Sailing with a fully professional, all-female crew to Hobart is a wonderful opportunity and we are proud to build on the work of non-professional female crews who have previously raced. We are excited to promote and encourage women in the sport and engage with the Australian public on ocean health issues that are affecting us daily, both locally and globally. We are working with environmental organizations, as well as local yacht clubs, to further educate ourselves, be proactive in mitigating our impact on the ocean, and inspire our fans and communities to become ocean stewards."
Since 2010, 11th Hour Racing has harnessed the power of sport for positive change with an innovative approach, establishing strategic partnerships within the sailing and maritime communities. These include the 2017-18 Volvo Ocean Race and a team in the 35th America's Cup, along with giving more than 80 grants to not-for-profit organizations throughout the world, and engaging professional sailors as global ambassadors.
Rob MacMillan, Co-Founder of 11th Hour Racing, noted: "We are thrilled to continue our work with Stacey Jackson in the Rolex Sydney Hobart Yacht Race, building on her legacy with Vestas 11th Hour Racing and the Volvo Ocean Race. Stacey is a keen advocate for ocean health, which she demonstrates daily as a professional sailor and as a business owner. The opportunity to work with an all-star female team in this iconic offshore race is a great platform to raise awareness, and act, on the global issue of plastic pollution. We are very proud to support the  legacy that Stacey and her team are going to build in her home country."
Ocean Respect Racing will promote the UN Environment's Clean Seas campaign, a grantee of 11th Hour Racing, growing the momentum of Australia's recent commitment to the campaign to reduce ocean plastics.

Sandy Oatley who's family own Wild Oats X and Wild Oats XI noted: "Sailing is a sport that my family is incredibly passionate about and we were delighted to agree to contribute Wild Oats X to Stacey's campaign at Hamilton Island Race Week. We are looking forward to seeing both Wild Oats XI and Wild Oats X on the starting line for what is expected to be a strong race."
Ocean Respect Racing's crusade to Hobart became a reality when Sandy Oatley gifted Stacey Jackson the use of Wild Oats X for the race on behalf of the Oatley family. Wild Oats X is the sister ship to supermaxi Wild Oats XI, which has been decorated with line honors in the Rolex Sydney Hobart Yacht Race a record-breaking eight times.
Working closely with Stacey Jackson as Ambassador for the team is Hon. Julie Bishop, former Australian Minister for Foreign Affairs and Australia's first female Foreign Minister. "I am delighted to be the ambassador for Ocean Respect Racing. This historic initiative will set the benchmark for female participation in sailing in Australia, and Stacey's team comprises some of the most capable sailors. Importantly, I am looking forward to working closely with the team and the UN Environment's Clean Seas campaign to promote the importance of ocean health and sustainability in Australia. I hope that their sporting endeavors will inspire women and girls around the world," commented Ms. Bishop.

The Ocean Respect Racing team will make its debut at the SOLAS Big Boat Challenge on December 11th in Sydney Harbour. The Rolex Sydney Hobart Yacht Race will start on December 26th.