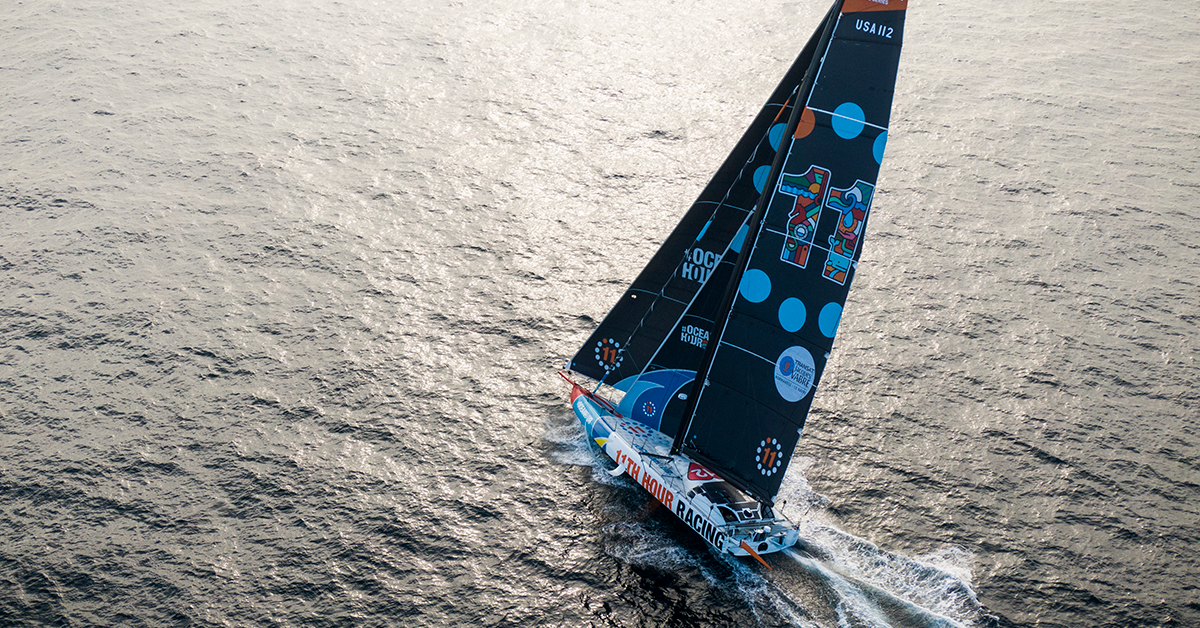 #OceanHour Week
11th Hour Racing is hosting #OceanHour Week at Fort Adams State Park in Newport, R.I. to celebrate 11th Hour Racing Team's return to Narragansett Bay.
WHO
11th Hour Racing Team
Clean Ocean Access
RI Coastal Resources Management Council
WHAT
#OceanHour Week is a free, family-friendly event that will feature an Ocean Hologram Exhibit and the chance to see 11th Hour Racing Team's new IMOCA 60.
WHERE
Sail Newport's Alofsin Pier at Fort Adams State Park, 80 Fort Adams Drive, Newport, R.I. 02840
WHEN
Opening Day ⁠— Sunday, June 12
10 AM – 6 PM (Cluck Food Truck 11 AM – 3 PM)
Weekdays — June 13, 14, 15, 16
2 PM – 6 PM
newportFILM Screening Under The Hull — Wednesday, June 15
Venue opens
6:30 PM
Film begins
8:30 PM *Ocean Hologram Exhibit will be open late for film attendees
Newport Bermuda Race Start — Friday, June 17
10 AM – 6 PM (LaCosta Food Truck 10 AM – 3 PM)
*Fans can come to Fort Adams to send off the Team for the start at 11 AM
Last Day — Saturday, June 18
10 AM – 6 PM (A Mano Food Truck 11 AM – 3 PM)[/lgc_column]
📣 HELP US SPREAD THE WORD
OUR EXHIBITS
11th Hour Racing Team
The 11th Hour Racing Team is a high-performance ocean racing team with sustainability at its core, working to inspire positive action among sailing and coastal communities and global sports fans to create long-lasting change for ocean health. The Team is currently training for The Ocean Race – a 32,000 nautical mile sailing race around the world, which will stop in nine international cities, including Newport, Rhode Island, in May 2023. The Team's boat, Mālama ("to protect" in Hawaiian), a foiling IMOCA 60, will be on the dock to give visitors an up-close look at this unique vessel. When not out on the water training, Team members will explain the boat's innovative features, share their remarkable stories, and demonstrate how a professional sports team can integrate sustainability and performance.
Ocean Hologram Experience
The feature exhibit of the event is an immersive hologram experience centered around the importance of marine ecosystems. Our Ocean Hologram takes visitors on a 3D journey to discover what's under the infinitely thin surface of the ocean. Visitors will leave with a deeper connection to the sea and understand the importance of protecting the millions of species, including humans, supported by this essential ecosystem.
Trash Trailer
The RI Coastal Resources Management Council created an artistic display made out of trash and debris found on the seafloor during a dredging project in Providence, Rhode Island. Visitors will have the opportunity to touch and feel this unique, visual reminder that what we throw away does not disappear.
Clean Ocean Access
Clean Ocean Access works to inspire and educate Rhode Islanders to take action through environmentally responsible behaviors and ensure everyone has access to the ocean. They will engage visitors in learning how to contribute to healthy waters in their home state.
Art Contest Display
Winners and selected artwork from 11th Hour Racing Team's Newport Public School Art Contest will be displayed at the event. The grand prize winner will have their artwork displayed on 11th Hour Racing Team's boat as it sails around the world.
newportFILM
11th Hour Racing Team's new documentary, Under the Hull, will debut with newportFILM on Wednesday, June 15 at Fort Adams. The venue opens at 6:30 p.m., with the film starting just after sunset at 8:30 p.m. RSVP and more details.

Header image credit: Amory Ross / 11th Hour Racing