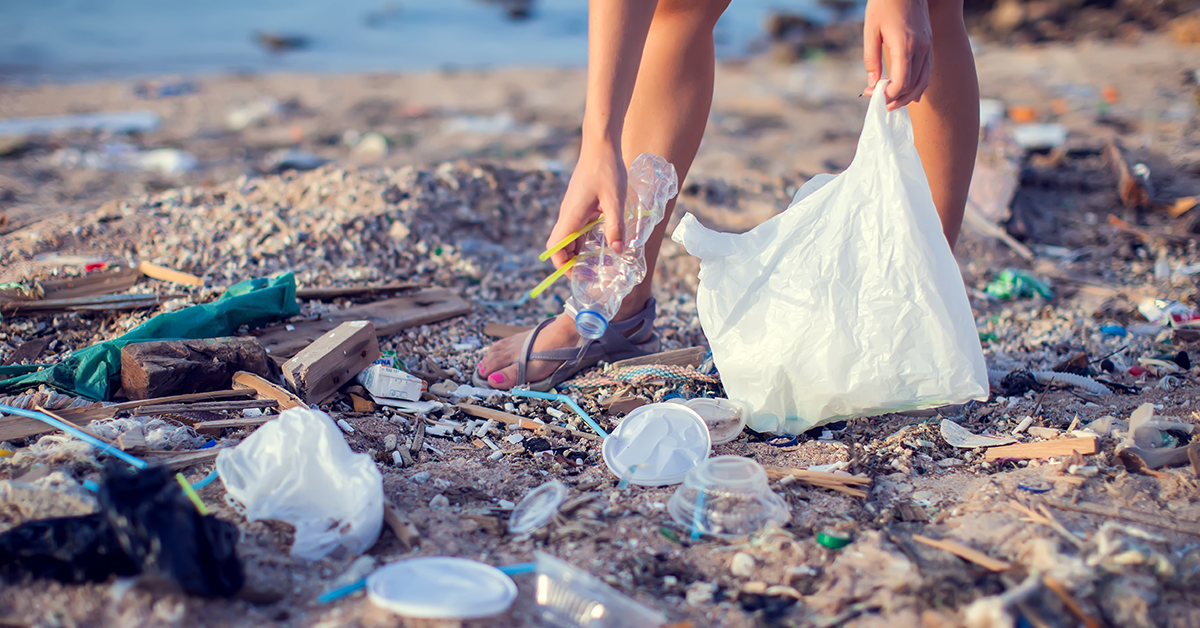 Plastic Free July is a Global Movement
We've all adopted the mindset of reducing, refusing, and reusing in our homes and offices, so how is plastic still sneaking into our lives?
Of the 40 million tons of plastic waste generated in the U.S. in 2021, only two million tons were recycled. Read that again! Where did the other 38 million tons of plastic go?
This summer, we've been lucky enough to spend time on Newport's beautiful beaches, but no matter how lovely the scenery, plastic pollution still lurks around every corner. Here are some of the items we've been spotting regularly.
Balloons Blow
It's rare to walk the beach without finding a washed-up balloon or its string entangled in seaweed. When balloons are inflated with helium and released miles into the sky, they eventually make their way back to Earth. And, because 70% of our planet is ocean, that is usually where they land. Ever seen the Balloonfest disaster of 1986? 😬 Somehow, we normalized inflating trash and letting it fly. Consider replacing your balloons with biodegradable paper banners or fans, so you have control over their disposal.
Or better yet, work with your town to ban balloon releases, like the seventh-grade students on Martha's Vineyard. Fed up with seeing plastic all over their beaches, the students took action by creating a bylaw that now outlaws the intentional release of mylar balloons on the island.
Beach Toys are Plastic Too
Broken pale handles and forgotten shovels are the usual suspects littering the beach, in addition to food and beverage containers that are convenient for humans but inconvenient for the ocean. Securing your trash so it doesn't get lost in the sea breeze and quickly glancing around your area after packing up ensures nothing gets left behind.
Plastic at Home
Sometimes our plastic-free plans get derailed by unforeseen circumstances… like a global pandemic. Other times, all it takes is creativity to replace common plastics with reusable alternatives. 
The truth is, no matter how hard we try to avoid it, plastic has become the norm. But we still have the power to reduce, refuse, and reuse, which is a good way to pressure companies to change their ways.
Here are some ways our staff avoids and eliminates plastic all year-long:
"Before COVID, I was on an almost three-year streak of not buying coffee in a single-use cup. If I didn't have a reusable cup, I wasn't allowed to buy coffee. But the pandemic made this impossible to keep up, and I respect that baristas were scared to handle people's cups until we understood the disease better. Now I am seeking out places that will do refills and getting back into the habit of always having my reusable cup on me." – Hilary Kotoun, Strategic Communications Manager & Coffee Lover
"Last year, during Plastic Free July, I started making my cleaning products to avoid plastic bottles at home. Now it's one year later, and I am still using the same glass spray bottle to clean. I have eliminated nearly 50 plastic bottles in the past year." – Megan Campbell, Communications Associate
"During the pandemic, I ordered take-out food because dining in restaurants wasn't allowed. I saw the plastic food containers pile up at restaurants and did the mental arithmetic to estimate how much plastic that must be; the answer is a lot. I'm happy to be able to dine in again and enjoy my favorite meals guilt-free and plastic-free." – Melvin Alvarez, Grant Program Associate & Food Enthusiast
"In the last two years, I have been doing more cooking at home, initially due to COVID restrictions and to eat better. I noticed that I was buying seasonings more often, and the single-use glass or plastic jars started to add up. I've switched to reusable glass jars and refill them from our local specialty market, which offers all my favorite spices and seasonings in bulk." – Yvette Telford, Office Manager
Feeling inspired to take action #fortheocean?
Join the Plastic Free July movement with millions of people around the world, and become part of the solution. Start small by bringing reusable bags, cups, and take-out containers everywhere you go.
Take the Pesky Plastics quiz to discover the plastics that sneak into your shopping and help experts track common plastics used by households.
Reduce, refuse, and reuse as often as possible.