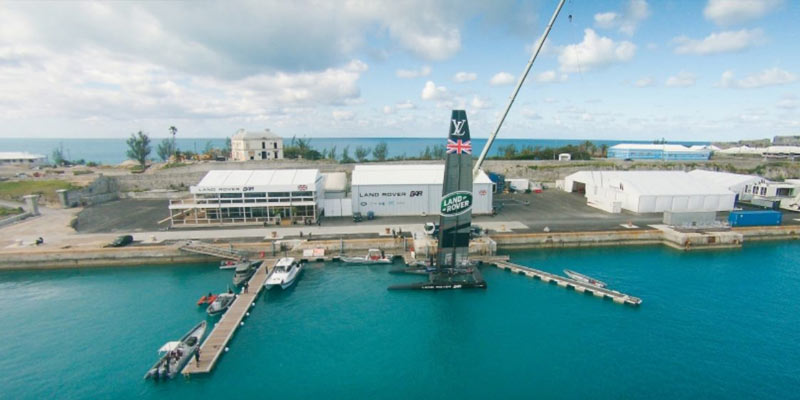 Reduce, Reuse, Recycle in Bermuda
Released by Land Rover BAR.
As the final team members depart after the 35th America's Cup, it's time to say goodbye to Bermuda.
A key part of our planning process was that materials used in the base build had an end of life plan. Our sustainability manager, Amy Munro, worked hard to find ways to reduce, reuse or recycle all our waste materials within the local community and charities.
Here are a few examples of organisations we were delighted to work with – thank you!
The Bermuda Steel Band, who entertained the America's Cup crowds as they entered the Race Village, collected planters, sheets of plywood and decking from our hospitality lounge to reuse.
Horsfield Landscapers arrived at our team base in their pickup truck to take away plywood and desks to be used in their offices at Morgan's Point. They also took with them large potted plants to be planted in their nursery and smaller plants which will help their partner school Somerfield develop an allotment and garden.
The Eliza DoLittle Society play a huge part in helping keep Bermuda hunger free. They regularly visited the team base to take surplus food to feed the homeless and people who struggled to afford food. During pack up of our base, they collected enough recycled ocean plastics carpet tiles to re-floor their HQ.
Meet the wonderful Anne from Keep Bermuda Beautiful – she helps keep Bermuda's beaches plastics free with a volunteer programme. Anne is taking solar panels, which were used in our solar-powered kiln in the 11th Hour Racing Exploration Zone, back to their team base to help generate solar energy.
Bermuda's Diabetes Association are building a new premises so visited our team base at Dockyards to take away and reuse the majority of the plywood used in our hospitality structure.
BEUI (Bermuda Underwater Exploration Institute) helped support the team by providing engaging content on Lionfish and oceans plastics in the 11th Hour Racing Exploration Zone for our visitors to enjoy! They will be reusing carpet tiles, timber and plywood from around the base to create a new 'Bermuda Triangle' exhibit – keep an eye out Bermudians!
Sheets of plywood and 2×2 lengths of timber frames were donated to our local site manager Patrick, Happy and his team at Correia to be reused in their shed build at Morgan's Point construction site.
Davida from GreenRock collects 4 solar panels, which were used in the solar kiln, for use in their Eco-school education programme, teaching young people in Bermuda about clean energy.
JP Rouja of Look Bermuda took away brise soleil, 2×2 and 2×4 lengths of timber and the stainless steel handrails from hospitality to build their exhibition centre at the Nature Reserve on Nonsuch Island.
Sustainability is a key part of everything we do as a team. It is estimated that by 2050, there will be more plastics than fish in our oceans. You can make a small change today and say NO to single-use plastics – get yourself a reusable Chilly's water bottle today!
Published by: Land Rover BAR, July 19, 2017.