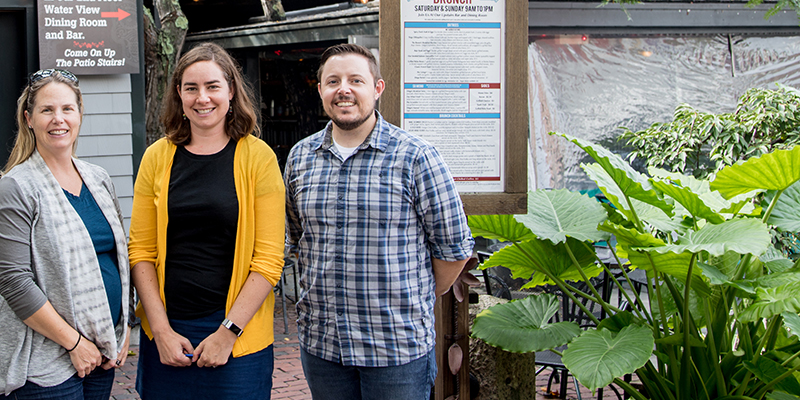 ReThink Disposable Ambassador Grant
11th Hour Racing Ambassadors Andy Green and Jamie Haines engage with ReThink Disposable to reduce single-use plastic in Newport Restaurants
Two of our local Newport, RI Ambassadors, Andy Green and Jamie Haines, decided to join forces for their grant project (that is part of our Ambassador Program) and work with Clean Water Fund to implement the organization's ReThink Disposable program in Rhode Island. Already successful in California, ReThink Disposable engages food service businesses to reduce the amount of single-use plastic they generate. Global data shows that besides cigarette butts, the largest source of marine debris comes from food and beverage packaging. Instead of focusing on cleaning up these items once they have become marine debris, ReThink Disposable aims to prevent it through source-reduction strategies.

Six months into the grant, Jamie (JH) and Andy (AG) shared insights from their meeting with the ReThink Disposable team and local Rhode Island restaurants that have signed onto the program.
JH: Microplastics in our oceans have been a major concern of mine for some time, and when I discovered that Clean Water Action (part of Clean Water Fund) had conducted studies on microplastics within Narragansett Bay, I was interested to find out more, and partner with them. The ReThink Disposable program was initiated as a response to the microplastics study, showing the need for source reduction of plastic. This project is looking at the problem from the source side, instead of just the cleanup side, so hopefully, we will make some impactful change.
AG: I had just finished a nine-month traveling tour with the Volvo Ocean Race, which had a global focus on plastic pollution. They are looking at big problems and big solutions, but everywhere we went the theme was 'if everyone can just do a little bit,' we can solve this plastic pollution problem. When I got back to Newport, I knew I wanted to do something direct and local. Additionally, my six-year-old daughter has become very passionate about the topic of plastic pollution, and I wanted to be able to do something that I could eventually share with her.

What has it been like to work with Clean Water Fund's ReThink Disposable program?

JH: It has been great working with the ReThink Disposable program and getting to know their process, as well as interact with local businesses. It has been encouraging that so many local business owners have been enthusiastic about this program and interested in jumping on board. And, even those who had been initially hesitant have seen the value, are realizing that change is needed, and is not necessarily difficult or costly.
AG: The best thing about the project is that they have a clear and defined focus – they know what they are trying to achieve. Plastic pollution is a massive problem and it's easy to get out of focus. This also reminded me of Volvo Ocean Race's sustainability program, as they chose to narrow in on single-use plastics, which gave them a central message. I also like that the ReThink Disposable program is cost-effective and implementable.
What's the most important thing you've learned about reducing single-use items at restaurants?
JH: Old habits are hard to break. Changing the staff's habits can take time and be challenging. But it is possible, it just takes some extra thought.
AG: That every single person should visit a recycling facility or landfill, and see the scale of what humans throw away.

Describe the process that ReThink Disposable goes through to help restaurants identify how to reduce their single-use plastic consumption.
JH: ReThink Disposable staff counts the number of single-use items in a restaurant's stockroom and then comes back to count again a month later. This process gives the team a sense of the amount of single-use items that are being used in a certain period. Then the ReThink Disposable team will make recommendations to the business about how they can reduce or eliminate single-use items altogether.
AG: ReThink Disposable is excellent at this process, they know how to implement easy wins and small fixes that don't cost a lot. They are sympathetic to retailers that have plastic usage embedded in their process and know how to work with different scenarios.

Has it been easy to get restaurants involved?
JH: It has been relatively easy for us, as we chose restaurants where we had a connection. The process of getting the initial meeting was much easier than if we had been cold calling.
AG: Yes, they all are interested in hearing what the solutions are. Newport is an ocean-based community — I think this process might be harder in places where there's less of a connection to the ocean.

How would Newport and Narragansett Bay benefit if every restaurant in the city went through this process?
JH: This would be amazing! Being a coastal town as we are, misplaced single-use items usually end up in the bay and ocean. Additionally, our local landfill is not far away from capacity, so we are running out of space. Moving away from single-use is as necessary for the environment as it is for human health.
AG: Future consumers will demand plastic reduction and they won't visit places that aren't committed to cleaning up their act. Newport makes its money through tourism and we need to be ready for this movement. I'd love to see Aquidneck Island be single-use plastic-free by 2025!

Do you think ReThink Disposable's model could be easily replicated?
JH: YES!! This program should be nationwide — actually worldwide!! I would love to see this project grow and have the resources to connect with all the local businesses in Newport County and beyond. And, then continue to grow beyond that. Significant work is being done with this project that I hope will create a legacy; the work will not stop when this grant is completed.
AG: Yes, an online questionnaire or portal could help make this automatic and more easily accessible. I'd like to see a path forward with a scalable solution for all restaurants. Perhaps the next step is to go to the manufacturers that sell food supplies and work on solutions at the source.