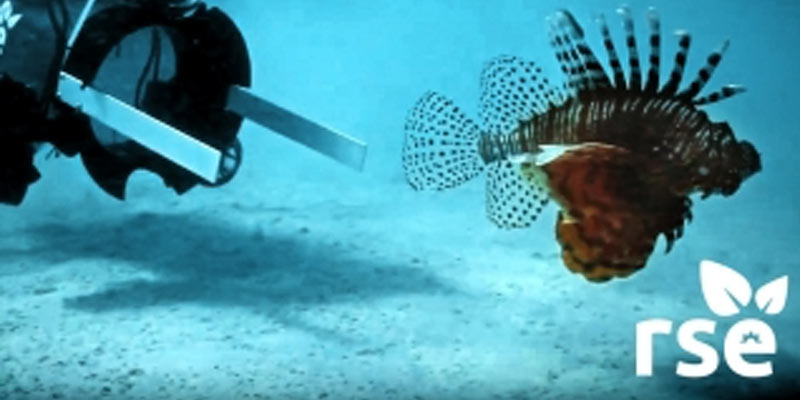 Robot Solution to Invasive Lionfish?
Released by Edible South Florida.
Beautiful, invasive lionfish have been wreaking havoc in Atlantic and Gulf waters in recent years. Because they have no natural predators here, lionfish threaten the marine environment by voraciously eating fish and disrupting native ecosystems.
Discovered in Florida in 1985, these spiny predators from the Pacific are now established in the Caribbean and up the east coast as far north as Rhode Island. Spearfishers catch some of them to supply the growing market for their white, buttery meat, but commercial fishermen can't reach the populations deep underwater.
That may change soon. Researchers have created an affordable unmanned undersea robot that finds, stuns and captures lionfish. Think of it as a swimming, remote-controlled Roomba. The Guardian LF1 robot is tethered to a remote surface control station. Operators use the remote control like a game controller to find lionfish, then activate the low-voltage current to immobilize the fish and suck it into the device. A single robot can capture up to 10 lionfish before returning to the surface.
America's Cup Debut
Developed by the nonprofit Robots in Service of the Environment (RSE), a prototype robot debuted this spring in Bermuda at the Lionfish Chefs' Throwdown event showcasing lionfish recipes. Organized by 11th Hour Racing, a sailing team sponsor committed to sustainable practices promoting ocean health, the cooking competition brought together America's Cup teams and chefs representing participating nations. "These chefs are passionate about sustainability," says Todd McGuire, program director of 11th Hour Racing.
The throwdown was emceed by chef Rick Moonen, of RM Seafood in Las Vegas, an advocate of sustainable fishing practices and a supporter of lionfish as food: "It's a great filet, white buttery meat, heart-healthy, like Dover sole," says Moonen. "It's more neutral – I like to brine or cure it a little. It fries really well."
The winner of the Throwdown was Chris Kenny, head chef on Richard Branson's Necker Island, British Virgin Islands, who prepared lionfish three ways: Lionfish Ceviche, Lionfish & Chips, and Lionfish Curry. Lionfish is on the menus in some South Florida restaurants and on sale at select Whole Foods Markets.
Raising Awareness
The bigger picture, of course, was bringing awareness to the role of low-cost robots in creating a sustainable way to bring lionfish meat to the marketplace. It also launched a crowdfunding campaign to raise funds for continued development of the Guardian LF1. After testing it in waters off Florida and Bermuda, the robot will be fine-tuned for multiple markets, says John Rizzi of RSE."Consumers, dive operators, commercial fishermen – we're after lots of people catching lots of fish," he says. Ecotourism resorts could take out the whole family to catch lionfish, he says, as a hands-on experience that gets lionfish out of the reef – and educates them at the same time.
---
FACTS ABOUT LIONFISH
•    Native to the Pacific and Indian oceans where they live in a balanced ecosystem
•    One lionfish can reduce the fish on a reef by 80 percent in just one month
•    Can consume 20 fish in 30 minutes and eat prey up to half their body length
•    They mature in 12 months and can live up to 30 years
Source: RSE
---
What You Can Do
•    Participate in Lionfish Derbies
•    Register for the Florida Lionfish Challenge 2017 either in the recreational or commercial categories:
⁃       Recreational: Harvest 25 or more lionfish and send a photo or first 25
⁃       Commercial: Harvest and sell at least 25 pounds and submit a photo or copy of commercial trip tickets
•    Rewards include commemorative coins, t-shirts, increased limit for spiny lobsters during the mini-season, and other gear
•    The Lionfish King/Queen trophy awarded Sept. 9 at the Lionfish Safari in St. Petersburg
•    Find out more: Visit REEF in Key Largo. You can also pick up The Lionfish Cookbook, an award winner in 2017 Gourmand World Cookbook Awards.
Published by: Edible South Florida, July 17, 2017.