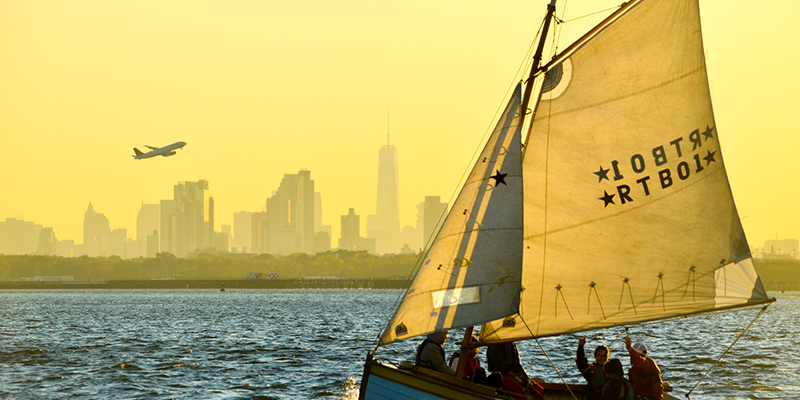 Rocking the Boat Sailing Program
Strengthening communities through sailing
Rocking the Boat is located in the Hunts Point neighborhood in the South Bronx where the poverty rate for children — at 47 percent — is more than double that of New York City as a whole. The area's hidden gem is the Bronx River and its waterfront which, together with modern dinghies and traditional wooden boats hand-built by students, are the platform of a transformative sailing program.  
Distinguishing Rocking the Boat's sailing program is the level of ownership students feel. Students are sailing their own fleet of boats in their own local waters. They are trained as sailing instructors, which uniquely prepares participants to thrive in school, in the workplace, and in life. 2018 marked a milestone year for the sailing program, with the participation of a record 350 community members and the achievement of US Sailing accreditation as a Community Sailing Center.  
Students in the sailing program go from having zero experience around the water or on a boat to sailing solo and preparing to be certified as US Sailing Level 1 small boat Instructors. Their confidence builds through the layered processes of learning how to swim, then sail, and then teaching others to sail. As students progress through the program, they are supported by licensed social workers, receiving academic guidance from high school until they graduate from college or trade school. 96% of Rocking the Boat students complete high school on time compared to 33% of their peers.
The program also helps students expand their horizons beyond the Bronx. One such opportunity came for two Program Assistants (pictured above) who joined the crew of the education-at-sea tall ship Harvey Gamage on a 30-day sail to Cuba. Working alongside 20 professional crew and student sailors, the two young women obtained valuable professional experience. The program launched the sailing career of another former Rocking the Boat student, Carlos Duran. He is now the Student Sailing Program Director and has been instrumental in the program's success over the last three years. Listen to his story.
Pictured below, Mark Towill, Team Director of Vestas 11th Hour Racing sails with Rocking the Boat students. The sailing program has invited many sailing celebrities to visit and inspire students. Guests also included members of AkzoNobel's Volvo Ocean Race team and Alex Thomson who brought students aboard his vessel Hugo Boss this summer.
At 11th Hour Racing, we are honored to support programs like Rocking the Boat that strengthens urban communities by engaging a diversity of young people, connecting them with nature, and supporting the growth and opportunities that follow.
All photo credits: Rocking the Boat