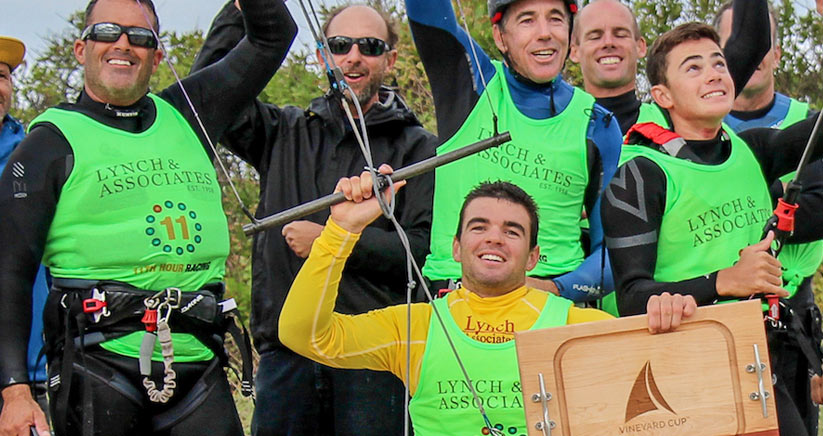 Sail MV Adds Focus on the Environment
From the Sail MV Fall Newsletter, 2016
Collaboration with 11th Hour Racing, a program of the Schmidt Family Foundation, has opened a new front in the work of Sail Martha's Vineyard — one that dovetails perfectly with the organization's mission.
Since its founding 25 years ago, Sail MV has been about teaching Island children how to row and sail, and its summer classes on the Lagoon continue to thrive. What started as a class for a dozen kids in the summer of 1992 has grown to an eight-week program serving more than 430 children in the anniversary summer of 2016.
A decade ago, Sail MV added a second element to its work, launching a maritime studies course at the Martha's Vineyard Regional High School. What began as a single, one-semester class has expanded steadily — and next year will be a four-year career technical education (CTE) curriculum.
With both these programs mature and healthy, Sail Martha's Vineyard began a new partnership in the summer of 2015 and added another ingredient to the organization's mission: a powerful focus on sustainability, environmental responsibility, activism and outreach.
"We're an organization that uses the sea as our medium," says Brock Callen, Director of Sail MV. "It's natural that we would want to do more; to do more consistent with our mission to be good stewards not only of the waters around us but of the seabeds, the estuaries, the coastal ponds, the harbors. In fact, I'd argue that it's incumbent on us to lead by example on this issue of environmental stewardship — to demonstrate that you can have fun on and off the water and be a part of the solution, not a part of the problems that are degrading our marine environment."
A little more than two years ago, Sail MV was introduced to 11th Hour Racing. One of 11th Hour's global roster of professional racing ambassadors is Brock Callen Jr., who not only holds a 100-Ton Masters Coast Guard License but also holds the Antigua-St. Martin kiteboarding record and several other championship titles.
11th Hour Racing is dedicated to collaborating with sailing organizations to promote the health of the marine environment. "Over these last two years," says Brock Sr., "our relationship has grown. In 2016 they came on as our official sustainability partner, sponsoring the development of the Zero Waste event model and our implementation of it at the Vineyard Cup and Vineyard Challenge regattas. "
Sail MV's first initiative to promote better environmental stewardship involved the 2015 Vineyard Cup Regatta, an event which brings hundreds of sailors together for a weekend of summer racing and social gatherings. All the meals served on that regatta weekend featured locally-sourced food, from Morning Glory Farm chickens to pigs from The Good Farm, oysters from Honeysuckle Oysters, and greens and tomatoes from the Island Grown Initiative. Local Smoke contributed its equipment and skills in food preparation through the weekend. In addition, that 2015 event diverted more than 90% of the waste from the landfill thorough composting, recycling, and sourcing reusable products.
This year, building on the summer before, Sail Martha's Vineyard doubled down on its local-food, zero-waste strategy. Says Brock: "We had more than a thousand people through the race village on the weekend of the Vineyard Cup, and we generated less than four and a half pounds, about 1.5 cubic feet, of garbage over the weekend. Ninety-five percent of what we took to the dump were plastic bags that ice cubes came in."
With these successes under its belt, Sail MV has offered its expertise to other Island organizations. This summer Sail MV applied its return, reuse, recycle and composting strategies to the Hospice road race and auction, collaborating with caterer Jaime Hamlin. "What we're doing," says Brock, "positions Sail Martha's Vineyard as the activist organization behind a responsible approach to reducing the carbon footprint of some of these big summer events and in the process relieving the sea that surrounds us from the increasing problem of marine debris."
Looking ahead, Sail MV and the high school are working with the state Department of Elementary and Secondary Education to create a course of study in maritime sciences and have it certified as a career technical education program. "The state actually asked us to write the framework for this course of study," says Brock. "A framework is the curricular skeleton, and if it's approved, it will be the template for programs like this one elsewhere in Massachusetts. We're proud of that."
Weaving its new focus on care for the environment into Sail MV's curriculum at the high school is easy and organic, Brock says. In one of his most popular classes, he takes students to an Island beach, where they catalogue and tabulate every piece of debris they can find inside a 10-foot circle, gaining a first-hand perspective on the problem of plastics and other debris in our oceans.
The track record of Sail MV's maritime studies curriculum in its first decade is impressive. "We've got two students from our program now studying at Massachusetts Maritime Academy," says Brock, "and at least two are applying for next year. We've had students go to Maine Maritime; we've had students work on a research vessel in Seattle, on a harbor tug in New York, and in the Gulf of Mexico. So we've seen success both professionally and academically, in terms of kids going on to college."
Sail MV is also at work during this off-season, planning ways to weave more environmental education into its summer programs at the Sailing Camp. "Our primary focus will still be on teaching kids to row and sail, and promoting safety on the water," says Brock, "but to add this element of care for the environment makes everything we do more robust."
And in late December through early January, sponsored by 11th Hour Racing, Brock will join the Schmidt Ocean Institute's research vessel Falkor in the Pacific Ocean. The research project that he will be part of will be mapping the seabed off Johnston Atoll. He says. "And the cool part of it is, I won't miss my classes at the high school. Because of the technology that's being made available to us, I'll be able to teach my maritime sciences classes remotely from that ship in the middle of the Pacific."
Brock concludes with a question, and his answer: "Where do we go from here? I think we're right where we want to be. It's just a matter of growing these programs and improving the quality of everything we do."