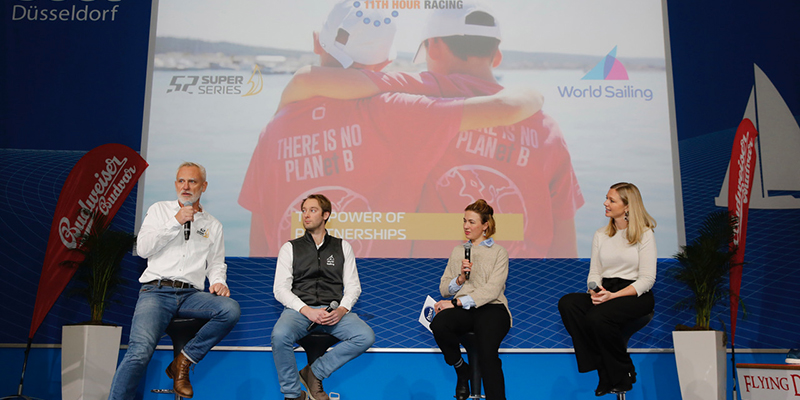 Sailing can be sustainable and the time to act is now!
Pictured above: Three programs supported by 11th Hour Racing – the 52 Super Series, eXXpedition and World Sailing – met on stage at Boot Düsseldorf for an engaging panel around the power of sport for positive change. From left to right: Lars Böcking, Sustainability Officer, 52 Super Series; Dan Reading, Sustainability Programme Manager, World Sailing; Julie Maywald, Panel Moderator; and Emily Penn, co-founder, eXXpedition. Photo credit: Graham Snook/Mainstay Media
Did you miss out? Continue reading this guest blog by UK journalist Kieran Flatt.
It's time for urgent action. Sailing can be sustainable and sport has a great power to inspire change but the onus is on all of us, right now, to make it happen. That was the positive take-home message from the panel discussion at Boot Düsseldorf in Germany, the world's largest indoor boat show, on 22 January 2019.
There is indeed cause for alarm. Emily Penn, the ocean conservation campaigner, eXXpedition director and research yacht skipper, reminded us of the uncomfortable facts: every single piece of plastic that we've ever used is still somewhere on the planet – and a great deal of it has ended up in our oceans, swirling around on the surface in gigantic gyres and littering the ocean floor. Not only that, but it's entering the food chain, it's toxic and it's in our blood. Emily had her own blood tested to prove the point and found 26 toxins derived from plastic.
An equally stark warning came from Lars Böcking, a sports marketing expert and chief sustainability officer of the 52 Super Series: unless a great effort is made now, on a global scale, by 2050, there will be more plastic than fish in the world's oceans. Sustainability is nothing new, he added. The great German explorer and scientist Alexander von Humbolt was urging the cause of sustainability at the beginning of the 19th century. 'It's as if we've been asleep for the last 250 years.' Böcking is working on a wake-up call, using the hashtag 'protect our playground.'
Convincing the sailors who compete in the 52 Super Series was easy, Böcking says. Most of them have children and are keen to support ocean conservation as a result. The Super Series is now ISO-certified for sustainability, so the challenge for professional sailors is to be influencers when they sail in other events.
There is a lot of "greenwashing" going on at the moment. Germany is seen as a world champion in recycling, but as Böcking pointed out, a lot of that waste has simply been sent to China. That said, there's also a widespread and growing desire around the world for genuine change. Dan Reading, the sustainability programme manager at World Sailing, surveyed sailors in 145 countries and found that there was huge support for more sustainability in sailing. 'Sport is really good at bearing messages,' he said. 'People are inspired to do what the athletes are doing.'
World Sailing takes its role seriously, Reading said, working with class associations and members around the world. Sailing's governing body now has a sustainability commission made up of experts, 56 sustainability targets and an ambitious 11-year plan. It all starts with gathering data but the ultimate aim is to make a better world.
'It's a marathon, not a sprint,' Böcking explained. And we all need to get involved on several levels. 'On one level there's the personal action we can take as individuals,' said Penn, 'And also the action we can take as part of a company – we need to get our own house in order before we can represent sustainability in our sport.'
It all starts with taking personal responsibility, then trying to influence others. The 52 Super Series promotes a simple three items rule: every time you go to the beach, pick up three items of litter and dispose of them properly. 'It's not just down to organisations, Böcking said. 'It's down to all of us to make a difference and it's not going to happen just because someone is telling us to do it – it has to come from the heart.' One successful initiative was started by TP52 sailors in Croatia: the underwater clean-up. One of the teams' routine tasks before a regatta starts is to dive under the boats to clean the hulls. While they're down there, the divers now clean the surrounding sea bed, removing the rubbish that has accumulated on the bottom of the harbour over the years.
A key problem in many countries, Penn explained, is people not having access to the right information. 'We can only love the things we know,' she said. 'Also, we really need to understand the problem fully before we can know how best to tackle it.' The problem is global, but it's up to the rich, industrialised countries to invent and establish effective systems for dealing with the current levels of waste. 'It's unfair to put the onus on the rest of the world,' she said. 'We are the ones who should be finding solutions.'
Böcking's 52 Super Series is starting to educate its supply chain, encouraging sustainable thinking. 'We travel to some of the most beautiful places in the world, which advertise themselves as having the cleanest beaches on the planet, and yet we still often find a lot of waste,' he said. 'We have to work on changing people's mindsets. For example, many people don't even think about cigarette butts but they can last up to ten years in the ocean. It's about using the power of sport to influence these people.' Stakeholder management includes things like talking to yacht clubs about catering – explaining that they should be serving local fish, for example, rather than using tuna that has been imported from the other side of the world.
So what should the rest of us be doing? As individuals, we can avoid overconsumption, reduce our use of plastics to the absolute minimum, influence others to change their behaviour and promote sustainability in sport. 'Athletes can influence industry and consumers can change manufacturing,' Penn explained. 'Sport can provide powerful financial incentives to design and make things in a different way.' Companies will become more sustainable if they know that it's good for business. 'It's up to us as consumers to spend our money on the right things,' she said. Two notable examples are RS Sailboats, which now makes racing dinghies out of recycled plastic bottles, and Adidas, which has turned many tons of plastic waste trawled out of the ocean into hundreds of thousands of shoes.
World Sailing is working with 11th Hour Racing to produce educational resources for children in seven languages. 'A million people learn to sail every year and a lot of them are kids,' Reading said. 'If we teach them sustainable practices at the start, it becomes embedded behaviour. Kids are the ocean ambassadors of the future and they are a good avenue for changing behaviour within their families.'
'The kids have got it,' Penn agreed. 'But it will be a long time before they are the decision makers. It's really important that we find ways to reach the decision makers of today.'
What's next for the three panelists?
Lars Böcking is running "Protect Our Playground" workshops for ten influential yacht clubs across Europe, advising them on all aspects of organising and hosting sustainable events. Dan Reading, meanwhile, is focused on delivering World Sailing's own sustainability targets and highlighting best practice that others can follow – for example, through the organisation's new sustainability awards. 'We have entries from 18 countries already, representing a wide variety of initiatives,' he said.
Emily Penn's next project is an eXXpedition voyage around the world, supported by 11th Hour Racing, to offer a series of workshops that explain everybody's roles in reducing plastic waste. 'Think about how you can influence others, what's your expertise,' she said. 'What opportunities do you have to create change? The bad news is that there's no silver bullet, no one solution to these problems. The good news is that there are hundreds of things we can do.'
For comprehensive advice on running a sustainable sailing event, click here. 
To learn how Corpus Christi YC ran the first ever sustainable World Championships, click here.
To find out how you can help Emily Penn restore the health of the world's oceans, click here.
To find out more about the 52 Super Series sustainability initiatives, click here.
To learn more about World Sailing's Sustainability Agenda 2030, click here.