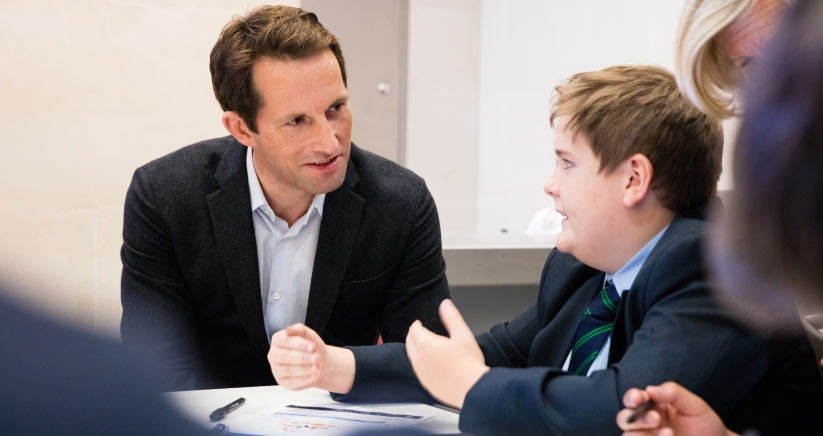 Sir Ben Ainslie launches digital education programme, BT STEM Crew
Released by Land Rover BAR.
Land Rover BAR and the 1851 Trust have launched BT STEM Crew, a free online STEM learning programme, at a live event hosted by the British Museum. The programme is designed for teachers of biology, physics, maths and design & technology students aged 11-16 years old.
BT STEM Crew uses the excitement of Land Rover BAR's quest to win the America's Cup as a unique way to support teachers when bringing STEM subjects and careers to life. It draws on the inspiration, expertise and knowledge of Land Rover BAR to help develop thousands of young people's STEM skills and open their eyes to STEM careers.
The programme responds to research with educators across the UK showing that one of the biggest challenges within STEM education is a lack of easily relatable materials linking STEM subjects to real careers. It draws on Land Rover BAR's extensive technical experience to provide a solution.
The programme is part of BT's long-term commitment to build a culture of tech literacy for the UK, starting with the next generation. The company aims to reach five million children with its BT Tech Literacy programme by 2020.
At the British Museum, 1851 Trust Patron Sir Ben Ainslie was joined by Land Rover BAR Engineer Katie Lawrence, 1851 Trust Ambassador Al Harding, BT's Director of Tech Literacy Liz Williams, and the head teacher of Henry Cort School in Hampshire, Claudia Cubbage to discuss STEM education, tech literacy in the UK and the role of BT STEM Crew. The discussion was moderated by former BBC World journalist and moderator Nisha Pallai. Students from The Nobel School, Stevenage then took part in a demonstration of three BT STEM Crew lessons in speed and distance, mechanisms and nutrition.
The Museum was filled with interactive exhibits from Land Rover BAR's Tech Deck and Exhibition Centre in Portsmouth. The Tech Deck was opened in May 2016 by 1851 Trust Royal Patron HRH The Duchess of Cambridge and is a showcase of sport, sustainability and innovation. Interactives at the event included 360° Virtual Reality goggles and a challenge for students to design a virtual foiling catamaran.
Students also took part in a demonstration of three STEM Crew lessons in mechanisms, speed and distance and nutrition.
Featuring real data and information from the Team's base, all BT STEM Crew resources have been produced and reviewed in collaboration with STEM teachers. The programme is attractively designed with UK classrooms in mind and is accessible via mobile, tablet and desktop. With BT STEM Crew resources, students will use speed, distance and time to analyse team performance; learn about the crucial role played by data analysis in elite sport; understand the importance of diet and nutrition for crew performance and study how materials form an integral part of design.
BT STEM Crew also gives students the chance to learn about the wide range of professions involved with Land Rover BAR, focusing on how they've found fascinating careers after taking qualifications in physics, engineering, maths, boat building, meteorology and many more.
Speaking at the British Museum, Sir Ben Ainslie, Skipper and Team Principal of Land Rover BAR and Patron of the 1851 Trust commented: "Alongside our aim of winning the America's Cup, we have always set out to inspire the next generation into the sport and the wider marine industry. It's great to see Land Rover BAR's official charity, the 1851 Trust, launch an exciting new digital education resource – BT STEM Crew.
"We hope that by using real life sport and technology to explain everyday science and maths problems, we can encourage more young people to consider STEM careers and become Britain's future innovators, scientists and engineers."
Robert Phillips, Year 10 student from Nobel School, said: "We've never done a program like STEM Crew in school before. I think it's fun and I enjoy using the interactives and films. When you start to look at sailing like this, you understand more about the STEM skills and knowledge that they are using and how they got to that point. I enjoy studying science and maths and I want to go into computing and programming, and STEM Crew brings these subjects to life.
Dominic Shibli, science teacher at Nobel School said: "I wanted to be involved as soon as I saw the benefits that STEM Crew could provide. I've got a very clear philosophy of education which is that we teach subject knowledge first so that they can then apply that situation in context. If you're going to engage students you need to show them everyday scenarios, as with STEM Crew. Sir Ben Ainslie is somebody who people recognise and know well as a successful Olympian and sailor. These students have been amazed by the speed and agility of the sailing.  My job as a teacher is to inspire the next generation of scientists, so that interest really helps us to engage them."
Liz Williams, Director of Tech Literacy, BT commented: "Technology is shaping young people's lives: but too often they're passive consumers rather than active creators. Tackling that means changing perceptions about where technology can take them, so they can thrive in a digital world.
"We need to show young people that technology underpins the things they love, and is the new way for them to get ahead – personally and professionally. At BT we're passionate about using the power of sport to inspire young people, and this new learning partnership with the 1851Trust and Land Rover BAR brings alive the breadth of careers that are opened up by getting tech literate."
Jo Stocks, Chief Executive of the 1851 Trust said: "Research with teachers across the UK has found that one of the biggest challenges within STEM education is a lack of easily relatable materials linking STEM subjects to real careers. BT STEM Crew aims to change this by bringing to life the real life sport and technology challenges Land Rover BAR face every day in their bid to win the America's Cup. This is an incredible opportunity to help develop young people's STEM skills and open their eyes to STEM careers."
Land Rover BAR, led by Sir Ben Ainslie, will challenge for the 35th Louis Vuitton America's Cup in 2017, aiming to bring the cup home to the UK for the first time in the race's history.
Teachers and schools can register today to access the full set of free downloadable resources at www.stemcrew.co.uk
Photos ©Annalisa Banello
Published by: Land Rover BAR, October 10, 2016.