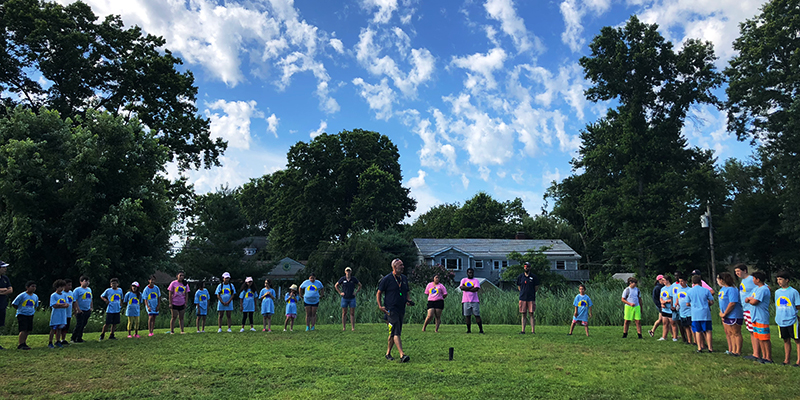 SoundWaters MVPs
Motivation, Virtue, Perseverance (MVP)
"Who are we? Young Mariners Academy! And what are we? MVPs!" Every morning the SoundWaters Young Mariners Academy starts with these words.
Pictured above: A group of almost 90 students stands shoulder to shoulder forming a giant circle. Students and instructors take turns giving each other shout outs about a moment when they showed motivation, perseverance or virtue during camp the day before. One shout out is for an instructor who helped alleviate fears during the lighting and thunderstorm the day before – the student attributed this as a sign of virtue – another to the entire class for sailing past the breakwater for the first time, an example of perseverance.
SoundWaters Young Mariners Academy operates on the harbor in Stamford, CT supporting students from Stamford Public Schools. The students, many of whom are struggling academically, enter the program as rising 5th graders and 94% of them attend on scholarship. The goal of this unique summer enrichment experience is to combine the challenge, and fun of sailing with the rigor of STEM academics in a more relaxed outdoor classroom to launch students into their next school year with confidence and positive momentum.
There is a strong emphasis on sailing instruction that fosters teamwork, leadership, and learning while creating a close sense of community amongst a culturally, economically, and academically diverse group of students. Many students return year after year; once they graduate, students can become interns and junior instructors. While visiting SoundWaters, we were fortunate enough to meet four students who have all successfully gone through the program and are currently sophomores in college. All of them enthusiastically attributed the Young Mariners Academy with helping them focus academically, and preparing them for college.
The pride in the organization could be felt as we toured around the facility, located in a public park that the program has brought back to life. At 11th Hour Racing, we are proud to support the Young Mariners Academy through our grants program and look forward to watching the program grow! Follow along on their journey at SoundWaters.org.
Watch below, a day in the life of SoundWaters Young Mariners program.
https://www.facebook.com/SoundWaters/videos/10155363012776459/