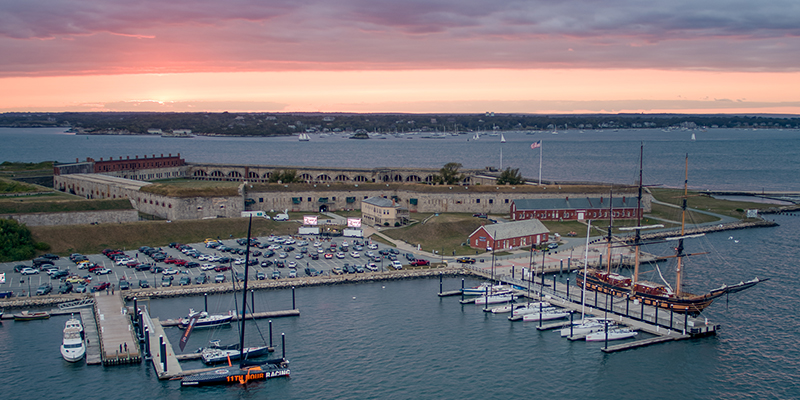 Successful Homecoming event for 11th Hour Racing Team in Newport, Rhode Island
newportFilm, Sail Newport, and 11th Hour Racing hosted an official homecoming for 11th Hour Racing Team on Friday, September 18, after the team crossed the Atlantic in their newly refitted IMOCA 60 departing from Concarneau, France at the start of August.
The sailing and shore crew were welcomed back to the home of their title sponsor, 11th Hour Racing at newportFILM's open-air movie night in collaboration with Sail Newport. TV host and science communicator Danni Washington spoke with team members Charlie Enright, Mark Towill, and Amory Ross, along with 11th Hour Racing's Communications Director, Alessandra Ghezzi, about the team's mission and goals.
Watch a replay of the live panel at the Homecoming Event
The panel was followed by an airing of Save This Shark. The documentary is fronted by World Surf League (WSL) three-times world champion Mick Fanning who, in 2015, became the 'guy who punched a shark' after an encounter watched by thousands on live TV while competing in a WSL event in South Africa. In the documentary, Fanning admits he struggled with nightmares for years after the attack and shares his journey to understand the species important role in the oceans' ecosystem.
Three new crew members announced at Fort Adams
Three new sailing crew have been signed by 11th Hour Racing Team, the U.S.-based offshore sailing team, with a sight set on winning The Ocean Race 2022-23. In a socially distanced 'Homecoming' event at Fort Adams, the location of The Ocean Race's only North American stopover, Great Britain's Simon Fisher and Rob Greenhalgh, and Australia's Kyle Langford were confirmed as the latest crew members to join skipper Charlie Enright and CEO Mark Towill. For previous winners Fisher and Greenhalgh, it will be their sixth consecutive Ocean Race, while for Langford, it will be his second lap around the planet.
"Thanks to the early support we have from our title sponsor 11th Hour Racing, we have a long run-up to the start of The Ocean Race in 2022-23. It's important to us that we bring in the very best talent, and there aren't many more experienced sailors than SiFi or Rob," commented Enright. "And to have an exceptionally talented sailor like Kyle join the team is a signing we are all excited about."
Continue reading about the new crew members >>
The 11th Hour Racing Team will be training from Newport, Rhode Island for the next few months.
Header image credit: Sean McVeigh | 11th Hour Racing