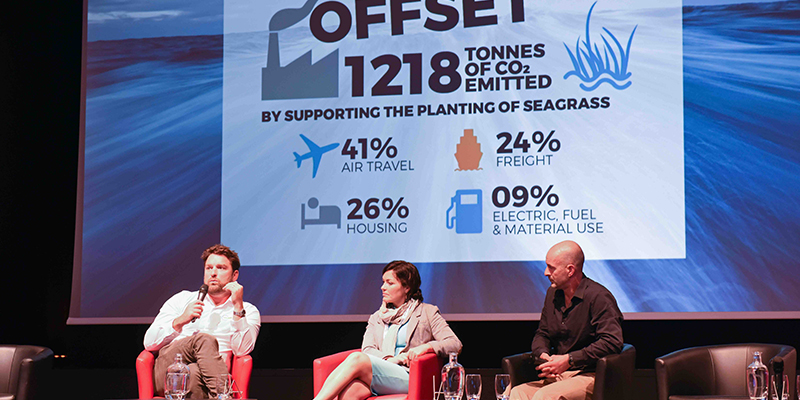 Sustainability at the 2018 Yacht Racing Forum
Pictured above, from left to right, Jeremy Pochman Co-founder, 11th Hour Racing; Lucy Hunt, Education Manager, Volvo Ocean Race; Damian Foxall, Sustainably Manager, Vestas 11th Hour Racing. Photo credit: Rick Tomlinson / Yacht Racing Forum
More than 430 people gathered at the 2018 Yacht Racing Forum (YRF) in Lorient, France, which focused on the "Future of Sailing," where sustainable event management and how the sport of sailing can promote ocean stewardship were top of mind. At 11th Hour Racing, we are proud to partner with the Yacht Racing Forum to help lead this movement.
11th Hour Racing assisted the Forum's organizer, Bernard Schopfer, to help make the Yacht Racing Forum more environmentally-conscious, including:
All vendors were given sustainability guidelines, including suggestions on reducing waste from packaging, energy and emissions and water consumption.

All vendors were encouraged to serve locally-sourced food.

No single-use plastic was used at the venue.

The event brochure was printed with environmentally-friendly paper and ink.

Attendees were encouraged to reduce their environmental impact, by bringing a reusable water bottle and considering offsetting their travel carbon footprint.

Recycling for paper, glass, and plastic was made available at the venue.

Registration bags given to attendees were reusable rather than plastic.

Shuttle buses were provided to take delegates to evening events rather than relying on individual transportation.

Delegates were asked to complete a survey about the sustainability efforts at the event. One hundred percent of respondents noticed the initiatives undertaken by the YRF, 80 percent would like to see more sustainability-focused panels in the future and 88 percent said their industry was trying to increase its sustainability commitments.
In addition to this guidance for the sustainability measures, the partnership with YRF brought together a panel focused on the power of sport to create change. The three panelists – Damian Foxall, Sustainably Manager, Vestas 11th Hour Racing; Lucy Hunt, Education Manager, Volvo Ocean Race; and Jeremy Pochman Co-founder and Strategic Director, 11th Hour Racing – engaged in an insightful discussion about the challenges of making a round-the-world, nine-month race a leader in sustainability in sport. The discussion helped inspire attendees to take this approach to their organizations.
Running a sustainable event is complex, with each venue presenting its own set of challenges. We wish to thank the 2018 Yacht Racing Forum host venue, Palais des Congres de Lorient, for implementing many of the sustainability best-practices recommended to them. We look forward to continuing our collaboration with the conference team to continue increasing the sustainability efforts of the conference ahead of the 2019 edition which will take place in Bilbao, Spain, November 25-26.