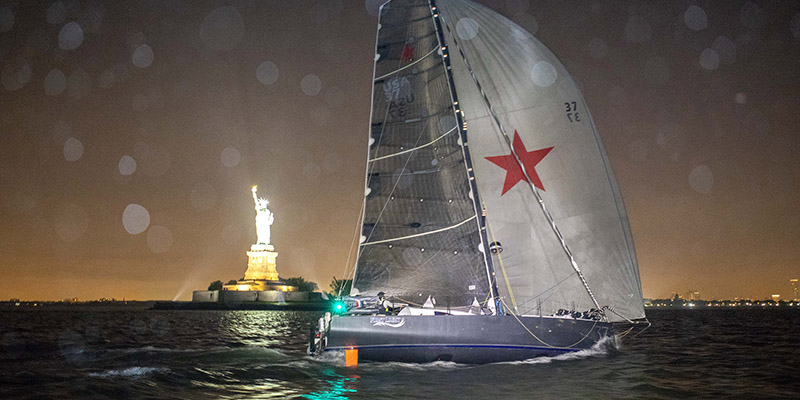 The Atlantic Cup Kid Program – Final Report
[vc_row][vc_column][vc_column_text css=".vc_custom_1534191024160{margin-bottom: 0px !important;}"]Environmental education on the docks and in the classroom
Alongside racing, The Atlantic Cup Kids Program, presented by 11th Hour Racing, stands as a separate program and schedule of events that the sailors have come to love. The program brings students to the water to learn about sailing, the ocean, and marine environmental issues. The program also provides young minds with new educational, experiential and inspirational opportunities to reframe how the environment directly relates to their own lives and futures.
In 2018, Julianna Barbieri and Hugh Piggin, principles of Manuka Sports Event Management once again engaged 11th Hour Racing Ambassador, Dave Rearick, to lead and expand the program. Having won the 2013 Atlantic Cup and previously completed a solo circumnavigator of the globe, Dave drew on these experiences to develop the educational program focusing on in school interactions before the race and hosting Kid's Days during the race at each stopover.
An impressive 2,000 students were exposed to the curriculum, which includes the mechanics of sailing (math and physics), marine life (biology and ecosystems), and sustainable practices (environment and life cycle analysis). Students got to learn more about sailing through the knot tying station and going on boat tours, where they hear inspiring stories from Atlantic Cup competitors.
Before the race, Dave visited eight schools in Charleston, SC, and seven schools in Portland, ME. Additionally, the third graders of Presumpscot School in Portland, ME presented to other schools their knowledge on the subject of lobsters, which they had been learning about through an intensive, expedition-learning semester. This unique experience empowered the 9-10-year-old students to teach their peers.
In addition to educating students, The Atlantic Cup Kids Program was featured on many news outlets to help spread the critical environmental message shared with students.
Highlights include:
11th Hour Racing is inspired by the results of The Atlantic Cup Kids Program and congratulates the event on the successful expansion of this program. To view the full 2018 report, click here.[/vc_column_text][mk_gallery images="6920,6921,6922,6923,6924″ style="style1″][/vc_column][/vc_row]