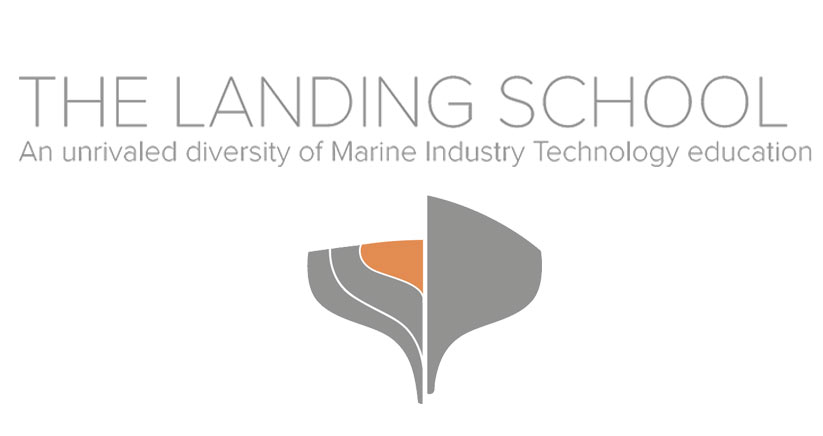 The Landing School explores sustainability in the marine industry
Research grants received to design and build eco-friendly boats
For Immediate Release
ARUNDEL, ME—
Ship building is nothing new to the Kennebunks and Arundel. In the early 1800s, the lower Kennebunk River was home to a number of burgeoning shipwrights, with over 140 large vessels constructed up through the 20th Century. Though students of The Landing School carry on this tradition by honing the skills of time-tested craftsmanship, they're also on the forefront of the clean, carbon-conscious boat design that could affect marine architecture on all levels in the coming decades. "Teaching sustainable practices – profits, people, and planet – is a keystone of the School's recent educational evolution," said Schuhmann. "Since 2015, the School has purchased exclusively local materials for construction of wooden boats, cutting materials (and finished boat) costs by 50 percent. In turn, we're investing in our local economy and reducing the materials carbon footprint of boats built by 90 percent."
The School's inventiveness has not gone unnoticed in the wider maritime world. In fall of 2016, it was the recipient of a grant from 11th Hour Racing (a program of The Schmidt Family Foundation) to complete development of a life cycle analysis (LCA) software tool. "Life cycle analysis is a conceptual and quantitative method with which to evaluate the environmental impacts associated with a product from the beginning through the end of its life cycle," explained Schuhmann. "LCA can effectively support manufacturing decision-making, and is a critical component of sustainable manufacturing." Added Schuhmann, "11th Hour Racing is really making a difference when it comes to preserving our oceans for future generations and they are also perhaps the most prestigious foundation from whom a marine oriented institution like us can receive support."
This first success has now been bookended by a second – in early 2017, the school was awarded an additional grant with its partner institution, Maine Maritime Academy, this time from the Maine Economic Improvement Fund, specifically to build a green lobster boat based on LCA practices. The 38 ft. green lobster boat was designed by Professor Doug Read at Maine Maritime Academy. "Doug has come up with an innovative hull configuration and we are really excited and honored to have a chance to build this 21 ft. proof of concept using local, sustainable materials" said Schuhmann.
Overall, this is just another leap forward for The Landing School, which had repeatedly expanded its facilities (located on River Road, in Arundel) since its inception in 1978. Now, even as the School looks to the future with the green lobster boat, it is aware of how its very existence is paying tribute to the past. "The first ship that was built in the U.S. was built up here in Maine in the 1600s. To preserve American shipbuilding and boat building in Maine is important and I think the only way to do that is by being innovative and thinking about the next big thing before it comes along."
About The Landing School
Located in Arundel, Maine, The Landing School was recently ranked by BestColleges.com as the "best community college in Maine." It is the only educational institution in the world offering accredited programs in yacht design, wooden boat building, composite boat building and marine systems under one roof. An innovative training ground for the future of the marine industry, The Landing School provides diploma and associate degree programs to men and women who wish to turn their passion for boats into a career. For additional information, visit www.landingschool.edu or call 207-985-7976.
Contact: Matthew Barry  207–985–7976