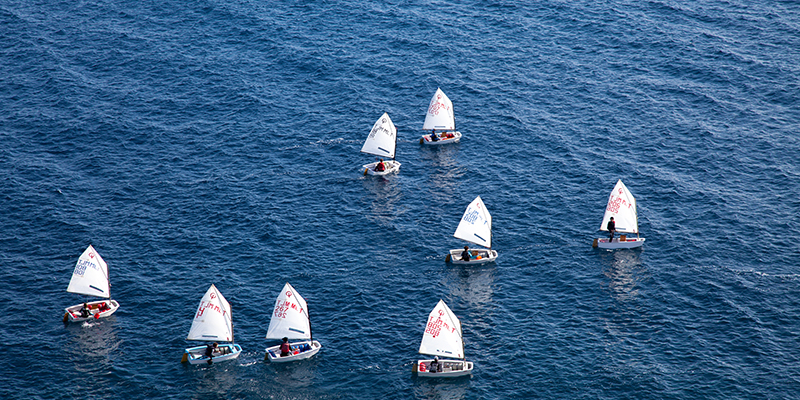 The Little Optimist: Helping Kids to Dream Again
A special June update: Due to COVID-19, The Little Optimist has had to cancel their school visits and speaking engagements, but found new and innovative ways to make a difference! In Elands Bay, South Africa, they delivered over 2.5 tons of potatoes and 1 ton of fresh fruit and vegetables, and assisted in the funding, production, and delivery of over 2000 face masks to the community. The Little Optimist also collaborated with partners in the Netherlands and with Professor Pierre Goussard from Tygerberg Hospital to produce and distribute easy to read and understand COVID-19 educational brochures, which are available in English, Afrikaans, Xhosa, Zulu, Venda, Seswati, Swahili, and Sotho.
Although the Rolex TP52 World Championship in Cape Town, South Africa, was canceled due to COVID-19, we are honored to support The Little Optimist. Greg Bertish started the organization to inspire children to look past their present circumstances and look to the future with hope and possibility. Read more about this fantastic organization and Greg's journey from the 52 SUPER SERIES below.
An important part of the 52 SUPER SERIES sustainability strategy is to seek out and support local NGOs doing important community work at each venue the circuit visits. Recent examples include Bioagradables in Valencia, Yachting Gives Back in Mallorca, and, most recently, The Little Optimist Trust in Cape Town.
This is the story of Greg Bertish, the little optimist helping kids to dream again. Watch the video here.
At the age of 30, Greg Bertish was rushed into hospital. A rare tropical bacterium had infected the valves of his heart. Over the course of six years, Greg spent over 200 days at the hospital and endured not one, but two bouts of open-heart surgery.
When he regained consciousness, he awoke feeling a strong sense of self-pity – understandable given the gravity of his situation. But just to the right of him lay a tiny baby, no more than two months old, who had also just undergone open-heart surgery.
Greg was humbled, and no longer felt sorry for himself, instead of feeling a sense of gratitude to be alive, and to have already lived for so long. In that moment, his whole life changed as he decided to dedicate his life to helping others.
Growing up, Greg lived in relative comfort, but he wasn't a happy child. He was bullied, taunted for his acne, and wanting in confidence. Between clouds of depression, his best memories come from his days spent sailing with his father.
At the age of 10, he said to his father: "Dad, one day I want to sail an optimist from Cape Town to Langebaan." His father, also an optimist, cast a wry smile and replied simply: "If that's your dream then go for it".
In April 2016, having recovered from his time in the hospital, Greg decided to throw caution to the wind and fulfill that dream, sailing 200km around the Cape of Storms. He raised over 300,000 rand (approx. €15,000) for an adventure that many thought courageous – given the limitations of an eight-foot optimist.
In doing so, Greg wanted to prove to all of the kids he encountered in the hospital that a tiny little boat, deemed by most to be unfit for the open ocean, is capable of great achievements.
Talking about the message he wanted to convey, Greg says: "Like a little kid who is disadvantaged or sick or not very good at anything, this little optimist that's too short and too square, that shouldn't be in the ocean, that's too slow and all other boats laugh at it, with his big heart he showed all the other boats and all the other people that he can go and do these amazing things, and in his own way."
It's a powerful metaphor and one that kids can immediately understand and relate to.
The money Greg raised for his journey to Langebaan went towards a new intensive care unit at the Red Cross Children's Hospital in Cape Town. The following year, he went on to raise a further 1,000,000 rand (approx. €50,000) to paint the hospital and make it nicer for the kids.
"We've painted a lot of hospitals. We paint murals and beautify hospitals because there's nothing worse than being in an ugly beaten down place when you're trying to be positive, thrive, and survive."
Greg is an incredibly passionate person, whose optimism and positivity is nothing but infectious. He clearly wears his heart on his sleeves and takes a genuine interest in every person he helps on an individual basis.
His yearly trips to the hospital are somewhat notorious. Dressed as none other than Father Christmas himself, Greg donates gifts and books to the children, bringing Christmas cheer to children who may have never received a gift like that in their lives.
His story has been told in the guise of a short children's book called "The Little Optimist" – a heartwarming tale about a little boat with a big heart. The book teaches kids that like the little optimist, little people can do huge things and that they should never, ever give up. For every book sold, Greg donates one to hospitals, orphanages, and townships, and has donated over 6000 copies in the last two years.
A key piece of his fundraising puzzle, the Great Optimist Race, based out of the V&A Waterfront in Cape Town encourages corporates, local celebrities, and survivors to get in a dinghy and raise money for good causes. Split between The Little Optimist Trust and a wide variety of other charities, the event has raised over 750,000 rand (approx. €35,000) to date.
Greg has grown his flourishing sailing academy from his first little optimist to a fleet of forty boats. He gives sailing therapy and lessons to disadvantaged children, helping them to smile, be part of a team, and learn invaluable skills aimed to prepare them for a possible career in the marine industry.
Another big part of his education program is his lessons on ocean health and conservation. He too believes that we need to #ProtectOurPlayground and educate the next generation on the issues our planet is facing.
Inspired by the great work Greg and his team are doing in South Africa, 52 SUPER SERIES Sustainability Sponsor 11th Hour Racing has pledged a donation to The Little Optimist, allowing Greg to take another giant step forward in his crystal-clear mission.
"I always say that I know The Little Optimist isn't going to change the world, but it can make a massive dent."