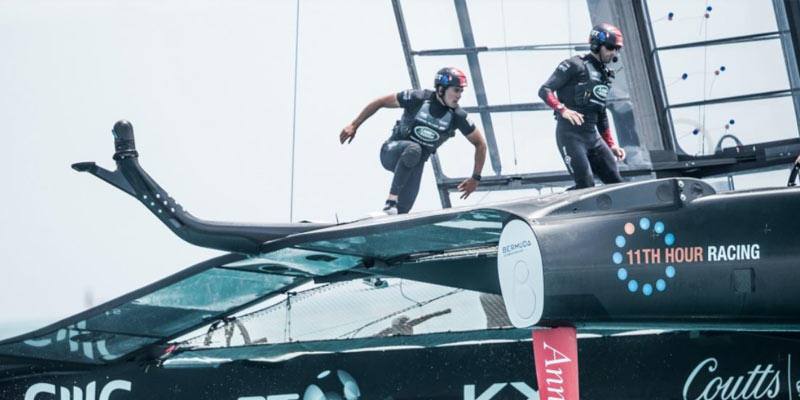 Time to regroup – this is a long way from over
Released by Land Rover BAR.
What ended as a disappointing day on the water for Land Rover BAR started with another great pre-start strategy that saw the British team block Groupama Team France out at the start of race five and lead off the line.
However, Ben Ainslie and his team couldn't convert the lead to a win with Groupama Team France as the team's skipper explained. "Hats off to Franck (Cammas) and the team. They sailed a fantastic race, they ground us down and were a little bit quicker upwind, we didn't sail the best race and they deserved the win. When you are racing these boats, if you make one mistake it is hard to recover from it."
Today's racing concluded the first half of this double round robin, and all six teams have now sailed each other once. Land Rover BAR now lie in third place on three points, including the two points carried over from team's win in the Louis Vuitton America's Cup World Series (ACWS). Oracle Team USA top the leaderboard with five from four wins and one-point from the ACWS, with Emirates Team New Zealand on four points. Behind them, the rest of the fleet are all square on two points.
Ben Ainslie, Skipper and Team Principal "I think it's proven to be a really close competition which is great for the America's Cup. Clearly we are not the fastest upwind in some conditions and we need to improve that. It's the nature of the America's Cup, it's the nature of the sport. We are in a fight with some of these teams to avoid this final elimination spot and keep ourselves in the competition – but that's the challenge. 
"The team will regroup tonight and come back strong. The competition has already demonstrated that any team can win any race. We have the talent and the determination, and with five points still available this is a long way from over."
Photos ©Lloyd Images
Published by: Land Rover BAR, May 29, 2017.