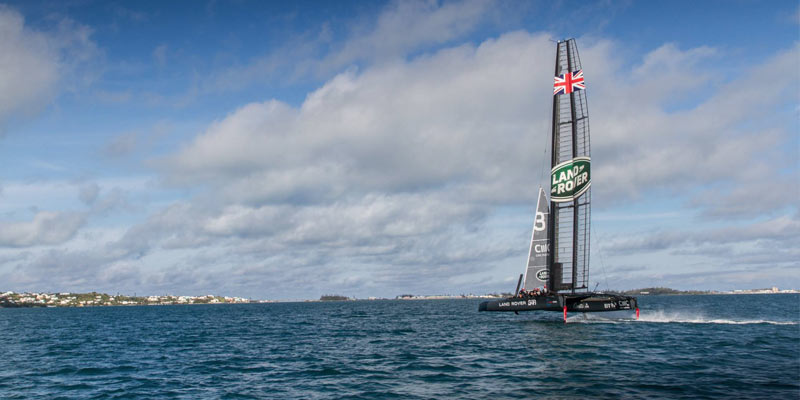 Tough start to the semi-finals for British America's Cup team
Released by Land Rover BAR.
The first day of the Louis Vuitton America's Cup Playoff semi-finals kicked off on the Great Sound in Bermuda with perfect sailing conditions, the British team were fired up and ready for a good battle on the race course against Emirates Team New Zealand (ETNZ).
A promising start on the first two legs of race one saw Land Rover BAR matching ETNZ to gate two, but as they rounded the leeward gate they suffered a failure in the wing forcing the team to retire from race one.
The team returned to the base to try and swop out the wing before the next race, but it was impossible in the available time and Land Rover BAR were forced to concede a second point for the day. The semi-finals are a first-to-five-points contest.
Thoughts on the racing
Ben Ainslie, Skipper and Team Principal: "It's a really tough situation for the team. Rounding the first leeward gate, we had a breakage in our wing control system, which meant we had to retire from the race. It is an extremely bitter pill for the whole team to swallow given that this is the first two races of the playoffs against ETNZ, but it's something we can deal with and we have the team to turn it around and come back fighting tomorrow."
Paul Campbell-James, Wing Trimmer: "We were absolutely level pegging with the NZ team. Giles had chosen the best way to go round the mark and we were executing a normal mark rounding – as we've done over a 1000 times in this campaign – and the wing just went pop. 
"It went from our normal setting to having max power on the wing camber with no way of controlling it. We are absolutely gutted."
"We will see the damage when we take the wing apart. It's just one of those things in sport and tomorrow is another day, fantastic forecast and we are going to absolutely sock it to them."
Published by: Land Rover BAR, June 05, 2017.