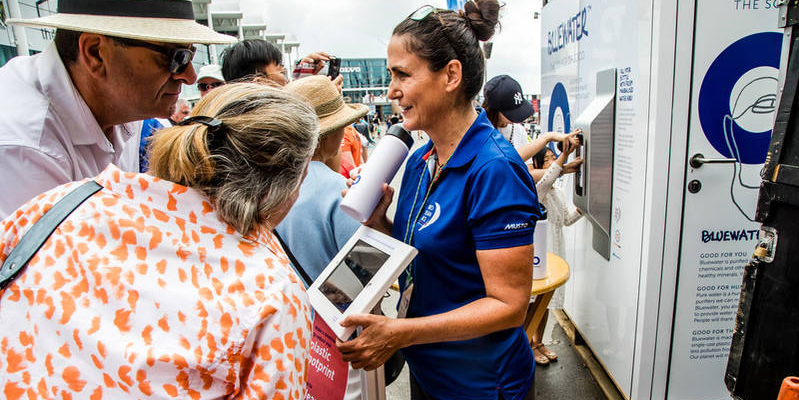 Turning the Tide on Plastic
Sustainable water solutions at the Volvo Ocean Race
By Meegan Jones 
Sustainability Program Manager of the 2017–18 Volvo Ocean Race
Pictured above: Meegan Jones educates Race Village visitors on the impacts of plastic pollution, encouraging them to take the #CleanSeas pledge and switch to reusable water bottles.
Introduction: The Volvo Ocean Race is committed to a sustainably produced, ethical and responsible event. The first focus of the event organizers was to review the impact of their own operations. This included the year-round Race production planning, the development of the racing boats, and of course the impact of running a global event.
An overarching goal of the Volvo Ocean Race sustainable event management efforts was to significantly reduce, if not completely eliminate, single-use plastic in the Race Villages of the 12 host cities. To this effect, 11th Hour Racing and Bluewater, Founding Partners of Imagine H2O's Urban Drinking Water Challenge, teamed up with the Race to help them reach this goal. Moreover, aligning ocean health with emerging urban water scarcity adds a tangible longer-term dimension to Volvo Ocean Race's existing mission.
Meegan Jones, Sustainability Program Manager of the 2017–18 Volvo Ocean Race, shares her experience in planning and managing the water needs of the world's premier offshore sailboat race that traveled around the world in nine months, through 12 landmark host cities, across four oceans and touching six continents.
MEEGAN JONES: Major events have a lot of thirsty visitors and so accessible and safe water provision is not only a nice gesture by event organizers but a safety issue too. Aside from the hydration of our guests, water at events is needed for sanitation, in kitchens, grounds preparation, and general cleaning. At Volvo Ocean Race, a sailing event, our teams, and boatyard also need water for cleaning and preparing boats and sailing kit.
As we're racing round the world we're also racing with a mission — to bring to light the urgent issue of ocean plastic pollution and the over-consumption of single-use plastic. And so whilst we are committed to providing safe drinking water for all visitors, we, of course, are looking to avoid the usual (and in our opinion irresponsible) go-to option at events of pre-packaged disposable bottled water.
Water refill stations are an increasingly common sight at those events wishing to reduce their plastic footprint and also those that are sensitive to de-coupling the most basic human right (a drink of water) from profit-making. In our preparations for this global event, it became apparent we were not able to guarantee safe drinking water at all of our stopovers, and also we couldn't source event water stations everywhere either. So we were incredibly happy that our official water provider, Bluewater, introduced to us by 11th Hour Racing, came on-board to install their amazing water purification systems into our race villages in our stopovers around the world.
Bluewater really came into their own when it was apparent that standard water dispensers could not be used in Cape Town, South Africa. We were in a unique situation there in that although the water was actually drinkable from the main supply, because of the severe and enduring drought the region is experiencing, events are not permitted to draw water from the town water supply.
11th Hour Racing, Bluewater, our Cape Town delivery partners WorldSport and our sustainability team met in Alicante, Spain, where Volvo Ocean Race has its headquarters, to workshop bringing the Bluewater units to Cape Town and enable us to not draw on the city's precious water supply.
Bluewater offers unique, patented second-generation water purification technology to deliver residential, business and public dispenser solutions providing unmatched powerhouse clean water delivery performance with up to 80% less wastewater compared to traditional systems. This means they can take the most undrinkable and dirty water and turn it into pure water, mineralized for good health, and importantly, free of microplastic particles.
In Cape Town, we kicked off our partnership with Bluewater and took the idea one step further with inspiration from WorldSport. They had a plastic bottle amnesty where Race Village visitors could surrender their reliance on plastic water bottles, pick up a free, beautiful Consol Glass water bottle and fill it up with the chilled purified water from the Bluewater dispenser.
The water refill points have been enthusiastically embraced and have hydrated our thirsty race village visitors, at no cost to them, while also avoiding approximately 380,000 disposable plastic water bottles.
You can learn more about the Volvo Ocean Race sustainability program at VolvoOceanRace.com.
Header image credit: Jesus Renedo | Volvo AB