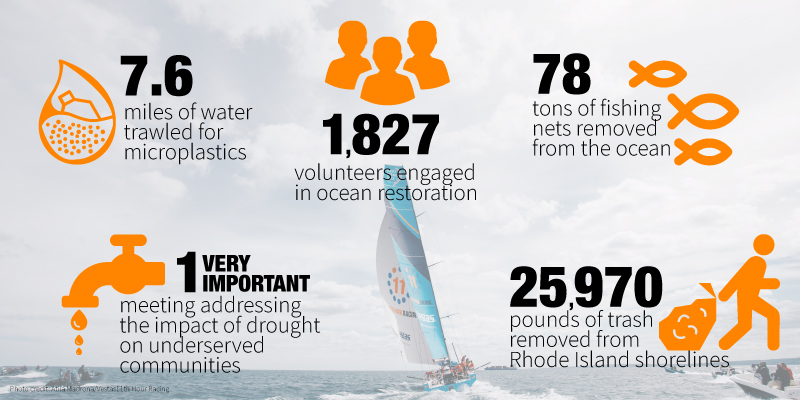 Vestas 11th Hour Racing Grantees — What problems are they solving now?
We can't believe the 2017-18 Volvo Ocean Race finished one year ago today! To celebrate this milestone, we checked in with a few of the organizations, and the incredible people who run them, that we met during the Vestas 11th Hour Racing legacy project. At each of the race stopovers, Vestas 11th Hour Racing met with a local non-profit to learn about their environmental work, and 11th Hour Racing awarded a $10,000 grant to each organization as part of its mission to leave a legacy beyond the race.
Keep reading below to find out more about this legacy, the success stories of these organizations from the past year, and what issues they are tackling now.
Alicante, Spain – Asociación De Naturalistas Del Sureste
The first grantee, Asociación De Naturalistas Del Sureste (ANSE), brought its wooden schooner Else to Alicante for the start of the Volvo Ocean Race, creating a stark contrast to the fleet of carbon fiber Volvo Ocean Race boats preparing to sail around the world. The grant empowered the organization to increase its time spent on the water with 35 days of sailing on Else, covering more than 2,000 miles collecting data on floating trash and identifying aquatic animals from marine protected areas in the Mediterranean Sea.
Lisbon, Portugal – Circular Economy Portugal
The Vestas 11th Hour Racing team was treated to a visit to "Fablab," a public maker-space where Circular Economy Portugal (CEP) demonstrates practical implementation of circular design and repair. CEP is focused on educating people about the Circular Economy, driving the concept that we need to switch from a linear economy and its take-make-waste approach to a circular economy that is restorative and regenerative by design. CEP used the grant for several purposes including, organization of the Circular Economy Mapping event, hosting three Repair Cafés and the development of new projects, including Bazar Circular.
Cape Town, South Africa – Environmental Monitoring Group
When the Volvo Ocean Race sailors arrived in Cape Town, the city was facing year three of a severe drought that forced water reduction tactics to avoid 'Day Zero' when the taps would run dry. The Environmental Monitoring Group (EMG) works with underserved and marginalized communities that bear the brunt of climate change and therefore are most impacted by the drought. Vestas 11th Hour Racing team members and 11th Hour Racing staff spent the day visiting resilient community members who were fighting for equal access to water and implementing collaborative solutions to help mitigate the lack of safe drinking water.
Today, with Cape Town having avoided 'Day Zero,' EMG is analyzing lessons learned during the drought and helping communities adjust to the 'new normal,' which means living with severe water restrictions. The grant given in December 2017, allowed EMG to organize a meeting with several community-based organizations from across South Africa to discuss water access issues for the poor. The objectives of this gathering were to empower underserved communities to have real agency and ensure genuine democratic accountability and participation. The organization is continuing to move these critical objectives forward and plans to host another national meeting this year.
Hong Kong – Ocean Recovery Alliance
In Hong Kong, the Vestas 11th Hour Racing team met with Doug Woodring, the founder of Ocean Recovery Alliance (ORA) at the Stanley Sea School, a boarding school for underprivileged children where the organization educates students on marine science, plastic pollution, sports, and water stewardship. Together, the sailors and students installed Grate Art – which warns people against dumping debris or liquids down stormwater drains explaining that drains are connected to the ocean. Since then, ORA has been raising awareness on plastic pollution issues throughout Asia attending seven conferences and festivals, including the Water Failing Festival they started in Cambodia, which saw 1,500 people partaking in cleaning up local waterways over two days.
Auckland, New Zealand – Orca Research Trust
In Auckland, local sailor and Vestas 11th Hour Racing team member Tony Mutter met the legendary Dr. Ingrid Visser, Founder & Principal Scientist of Orca Research Trust — the first and only scientific research organization to study orca in New Zealand waters. Dr. Visser has dedicated her life to studying this revered and charismatic marine species, and her fascination with orca has also given her a better understanding of how humans can impact the ocean.
In addition to her ongoing Orca research in New Zealand, Dr. Visser is working with LeopardSeals.org, which led to successfully changing the status of Leopard Seals from 'vagrant' to 'native' by the New Zealand Government — a change that will have far-reaching benefits for the conservation of this species. Additionally, Dr. Visser has been scouting potential open sea pen locations for the captive Orca Morgan, on behalf of Free Morgan Foundation.
Dr. Visser was also recently appointed to the National Animal Welfare Advisory Committee to advise the New Zealand government about the use of animals in entertainment.
Newport, RI, USA – Save the Bay
In Newport, hometown sailors and Vestas 11th Hour Racing team members Charlie Enright and Nick Dana rolled up their sleeves and donned rubber boots to dig into the salt marshes of Ocean Drive. They learned about how their team would be offsetting its carbon footprint — and how activities like planting seagrass and restoring salt marshes not only improve coastline habitat but also sequester carbon from the atmosphere. Since then, Save the Bay utilized the grant awarded by the team and 11th Hour Racing to engage 227 volunteers in salt marsh adaptation regaining 575 linear feet of river habitat. The organization also hosted 163 beach cleanups, removed 25,970 pounds of trash from Rhode Island shorelines, and trawled 7.6 miles of water for microplastics.
The Hague, The Netherlands – Healthy Seas
For the final grant, the Vestas 11th Hour Racing team met with scuba divers who might have spent more time in frigid ocean waters than even sailors with the most Southern Ocean experience. Healthy Seas is an environmental initiative that removes marine litter from the oceans and seas, with a focus on derelict fishing nets often referred to as 'ghost gear' that harm marine life, to create healthier seas and recycle marine litter into textile products. The recovered fishing nets are transformed and regenerated into a high-quality raw material used to develop new products, such as socks, swimwear, or carpets. In 2018, Healthy Seas had its most successful season yet, removing 78 tons of fishing nets with the help of with 100 volunteer divers for a total of 23 days on the water.
https://www.facebook.com/healthyseas/videos/1233290216820379/