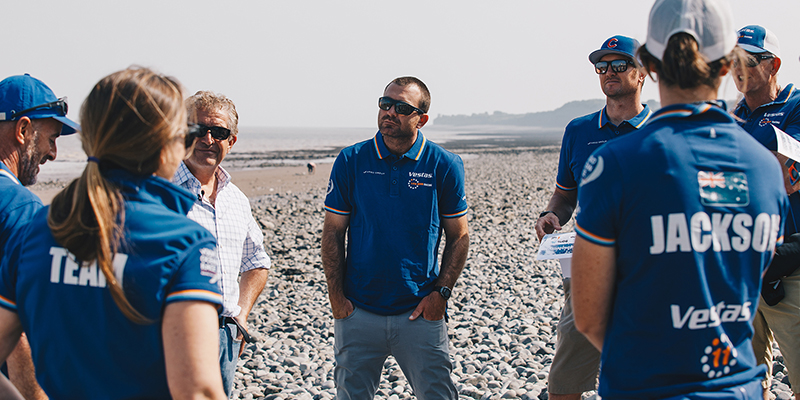 Vestas 11th Hour Racing Reunites with Cambridge Institute for Sustainability Leadership
Pictured above: Vestas 11th Hour Racing team members met with Tony Juniper in Cardiff, Wales, to discuss the team's sustainability initiatives and how the workshop at Cambridge Institute for Sustainability Leadership empowered them to be ambassadors for sustainability. Photo credit: Atila Madrona/Vestas 11th Hour Racing
In Cardiff, Wales, sailors from Vestas 11th Hour Racing met with Tony Juniper CBE to discuss the team's sustainability initiatives and how the organization impacted the team
With the Volvo Ocean Race arriving back in Europe, Vestas 11th Hour Racing chose to bring things 'full circle' by giving back to the Cambridge Institute for Sustainability Leadership (CISL), in recognition of the impact of the sustainability leadership programme it delivered for the team in September. This is the 10th grant of the team's legacy project in conjunction with their partner, 11th Hour Racing, which awards a $10,000 grant to a local environmental organization at each stopover.
To mark the occasion team members from Vestas 11th Hour Racing spent an afternoon with Tony Juniper CBE, a Fellow with the University of Cambridge Institute for Sustainability Leadership. Mr. Juniper kicked-off the team's sustainability training at Cambridge University and was able to re-connect with the team on the progress of their sustainability plan as they've sailed around the world in the Volvo Ocean Race.
"It was truly an eye-opening experience visiting Cambridge, we learned about a range of topics that impact the ocean including plastic pollution, sea level rise, and climate change," said Charlie Enright, skipper of Vestas 11th Hour Racing. "It's not every day that you get to speak with scientists and experts that are at the forefront of understanding how and why our climate is changing and the multi-faceted issues our oceans face. Attending CISL's workshop was an incredible experience that has stuck with me throughout the race – and I'm glad this grant will help others have this experience."
The $10,000 grant will be allocated to CISL's Sustainability Leadership Labs. It will provide funding for up to four applicants working in not-for-profit organizations in the marine and ocean health sectors to attend the Labs. The Sustainability Leadership Labs are two-day courses offering a deep dive into topics primarily shaped around the themes of circular economy and leadership – topics that have become essential parts of the Volvo Ocean Race Ocean Summits.
"In September, we sought to build the team's confidence and leadership capabilities as ambassadors for sustainability – building their awareness of ocean health and climate change through an interactive and participative learning process," said Tony Juniper. "Talking with some of the team in Cardiff it is clear the programme has had a profound impact on them. They have shown leadership in the actions they've taken as a team and clearly expressed individual commitment to taking action and raising awareness, which they plan to continue beyond the race to create a lasting impact."
Above, an infographic showing the team's efforts to reduce and offset their overall footprint. Image credit: Vestas 11th Hour Racing