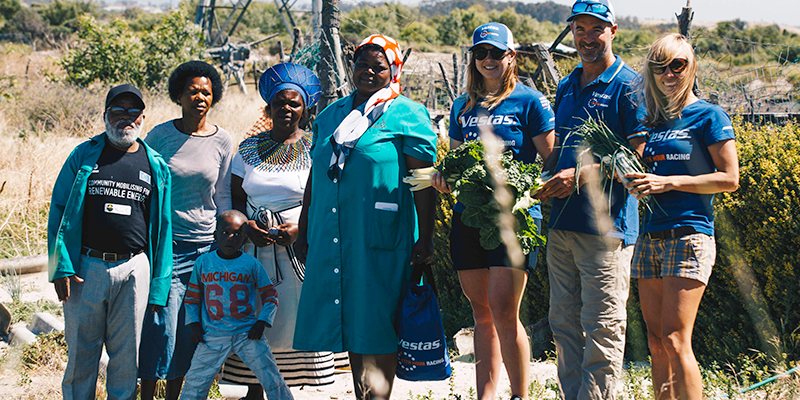 Vestas 11th Hour Racing spends day with Environmental Monitoring Group
After sailing 7,000 miles from Lisbon, Portugal, the Vestas 11th Hour Racing team arrived in Cape Town, South Africa, to realize that despite having been in the middle of the ocean, their access to fresh water was more consistent than what is available to many in Cape Town. Since 2015, this city and the surrounding area has been facing a severe drought, the worst in recorded history for the region, which climate scientists' anticipate is a general drying trend for the western parts of southern Africa.
With this crisis in mind, 11th Hour Racing identified Environmental Monitoring Group (EMG) as the recipient of their $10,000 grant in Cape Town – this is the third out of the 12 grants that 11th Hour Racing will award throughout the 2017-18 Volvo Ocean as part of their legacy project with Vestas 11th Hour Racing.
EMG is an independent, not-for-profit organization established in 1991. Its work covers a broad range of topics, tied together by the common thread to protect the natural environment and resources that sustain life. This includes fair trade farming, sustainable rural development, and raising awareness and highlighting solutions to the impacts of climate change in the region, including equitable access to water and social justice.
"The truth is that there is no silver bullet for Cape Town's water crisis. There are no more rivers left to dam, and groundwater aquifers are finite. Desalination is energy intensive, and in South Africa, that means using more fossil-fuel and increasing CO2 emissions," said Stephen Law, Director of the Environmental Monitoring Group. "At EMG, we are working with communities to reconnect with the value of water and respect for this resource. Discussing not only the best ways to conserve and reuse water, but looking to the future and asking if we should be changing the priorities of water use from swimming pools and green lawns to drinking water for all and water for local farming."
To learn more about EMG's work and mission, sailors from Vestas 11th Hour Racing, along with their partners at 11th Hour Racing, Bluewater, and staff from the Volvo Ocean Race, left the race village and headed on a tour of Cape Town.
"We've been given such an amazing opportunity today to learn more about the beautiful city of Cape Town, the struggles it faces, and the wonderful people working to provide equal access to water for all," said Hannah Diamond, sailor for Vestas 11th Hour Racing. "I'm proud to be part of the team that highlights local environmental issues and can give back to the community that hosts us."
The team visited 3 locations in Cape Town, to get a better understanding of how the drought affects everyday life.
The first stop was in Khayelitsha Township, meeting with women who have started a Community Garden project with the help of EMG.
The second stop at the Platteklip Stream on Table Mountain, a historic source of water, which used to supply drinking water in Cape Town's early days, and is currently used for irrigating parks and gardens.
The final stop, the Oranjezicht City Farm, gave the sailors the opportunity to view a communal garden project in a different context, and a vision of what is possible with access to water and community support.
Lasting Legacy
At each Volvo Ocean Race stopover, Vestas 11th Hour Racing will be meeting with a local non-profit to learn more about their environmental work. The team's co-partner 11th Hour Racing will be giving a $10,000 grant to each of these non-profits as part of their mission to leave a lasting legacy beyond the race. Previous grant recipients were: Asociación De Naturalistas Del Sureste in Alicante, Spain; Circular Economy Portugal in Lisbon, Portugal.