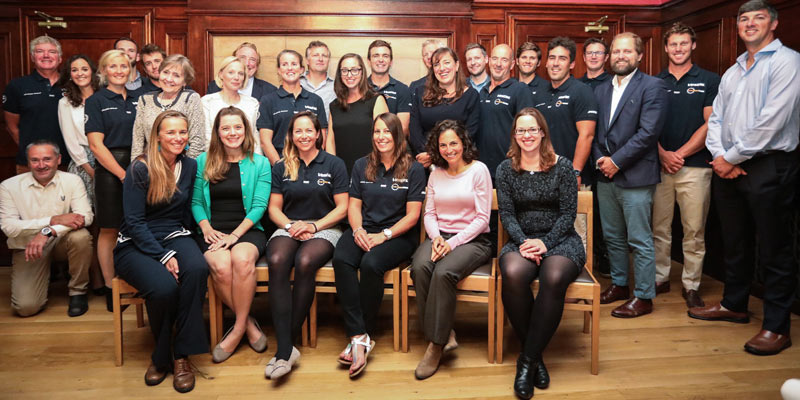 Vestas 11th Hour Racing Takes Break From Sailing To Study Ocean Health And Climate Change
With one month to go to the start of the Volvo Ocean Race, sailors filled the halls of the University of Cambridge in England, one of the world's oldest universities and leading academic centers.
Crew members of Vestas 11th Hour Racing gathered in Cambridge for a special event: with just 30 days until the start of the race, not only is the team training to win the Volvo Ocean Race, they are also training to be the most environmentally sustainable team to have ever competed in this legendary and grueling race around the world.
The team gathered at the University of Cambridge Institute for Sustainability Leadership (CISL) for a day and a half long seminar to learn about global environmental challenges related to ocean health and climate change. They explored the opportunities for leadership in sustainability and reversing the trend of marine degradation through individual and systemic change. Team members discussed how their role as sailors in the Volvo Ocean Race empowers them to become spokespersons for the ocean; by examining how to communicate on sustainability and leverage their influence to create behavior change. The training and targeted education also helped increase the individuals' understanding and confidence as lifelong ambassadors for the ocean.
"To sail around the world is a privilege, I've done it once and I look forward to doing it again with a team dedicated to protecting the planet", said Charlie Enright, skipper of Vestas 11th Hour Racing. "When out at sea, the contrast of encountering beautiful wildlife one day and plastic pollution the next is truly an eye-opening experience. With that knowledge comes a deep sense of responsibility and the education today at the Cambridge Institute for Sustainability Leadership has given the team a stronger understanding of how a sports team can ignite change around the world."
Additionally, team members were delighted to have the opportunity to engage with the British Antarctic Survey (BAS) and view ice cores gathered on various expeditions. These are the oldest continuous ice core records dating back 123,000 years in Greenland and 800,000 years in Antarctica. Ice cores contain information about past temperature and past concentration of atmospheric gasses along with many other aspects of the environment – crucial to scientists for understanding climate change.
This event offered an incredible opportunity to bring together Vestas 11th Hour Racing and some of the team partners – Musto, Bluewater, as well as co-title sponsors Vestas and 11th Hour Racing – to learn about the most recent science on climate change and focus on a goal-oriented action plan.