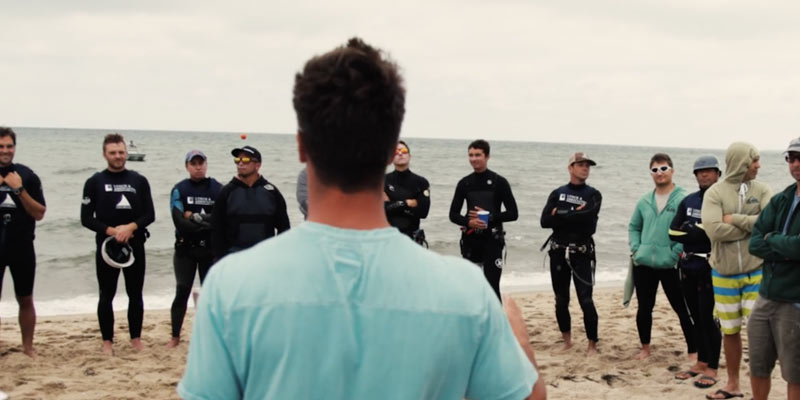 Vineyard Cup 2015 – Stewardship and Sailing
11th Hour Racing had the pleasure of being a sponsor of the 2015 Vineyard Cup. The event integrated key sustainability efforts including compostable products (Straw Straws), sourcing local food, and educating participants on important ocean health issues such as marine debris. Be sure to watch the video and check out the write up below from the Vineyard Cup.*
2015 Vineyard Cup
Martha's Vineyard is in full swing this time of year and it's not just the Island that has been hot. On July 10-­12 the waters off Martha's Vineyard played host to one of the most unique Regatta's to ever take place. When 88 boats ranging in size from 12 feet to 81 feet shared the water with 30 Foiling Kiteboards competing for $10,000 in the cash purse compliments of Lynch and Associates.
Sustainability for the Future
For 2015, the Vineyard Cup is building on its sustainable roots. For the past three years Sail Martha's Vineyard has been moving up the ranks in the Sailors for the Sea Clean Regatta initiative but this year decided to go a step further by committing to serve all Local food, which was either grown, raised or landed on Martha's Vineyard. This included greens and tomatoes from Island Grown Initiative, Chickens from Morning Glory Farm, Oysters from Honeysuckle Oysters and Pigs from The Good Farm among other Island purveyors. In addition the event attempted to be a Zero Waste event, meaning that all food would be composted, all containers recycled and anything that can be reused will be reused. In the end we sent only 1 yard of trash to the landfill, 90% of which was from the packaging of materials provided to us by outside companies. The remaining material was composted on the island.
Maritime Heritage with a Progressive Thought Process
While Sail Martha's Vineyard started with simple boat building and learn to sail programs back in 1992 it has grown immensely with classes ranging from Coastal Navigation to High School Vocational to Rowing to Captains License Testing. At the heart the organization still offers Island Children the opportunity to learn the skills of sailing for free. This in itself is a huge undertaking with 400 children taking to the water this summer alone.
Everyone Wins
While it's nice to think that everyone who participated was a winner we can't help the top finishers. Full Results here.