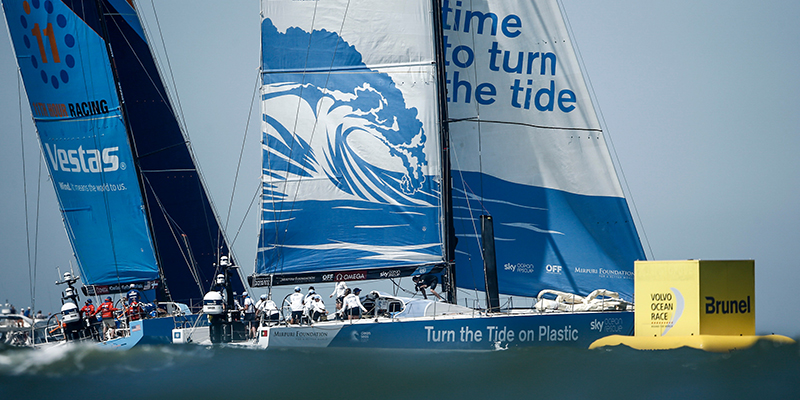 Volvo Ocean Race Sustainability Program Wins Two Awards
The groundbreaking work to address the impact plastic is having on the marine environment has been recognized with two awards.
Yesterday, the Volvo Ocean Race won a Beyond Sport award and the Volvo Ocean Race Newport Stopover was honored by the New England Office of the U.S. Environmental Protection Agency (EPA) with a Merit Award! We are proud to support both campaigns that have earned these well-deserved awards and congratulate the incredible staff members and volunteers that made the sustainability and education plans come to life.
At the prestigious international Beyond Sport Awards, in New York, the Volvo Ocean Race won 'The Best Corporate Campaign or Initiative in Sport for Good' category. The judges commended the programme for its 'fantastic use of a global platform to spread an important message about the danger of plastic pollution.' They also commented on how the campaign encouraged young people to become climate activists and used robust scientific research.
Todd McGuire, 11th Hour Racing Program Director, commented, "Being shortlisted for the Beyond Sport Awards is an incredible recognition and honor. We wish to congratulate Volvo Ocean Race for their outstanding work and for successfully implementing such a powerful campaign to promote positive change. We believe in the power of sport, and much like brands have used sport to market their products, we see this arena as a unique opportunity to gather large crowds around environmental issues."
Meanwhile, in Boston, the New England Office of the EPA selected the Volvo Ocean Race Newport Stopover to receive an Environmental Merit Award, which has been given out for more than 45 years. The annual Merit Award, presented in Boston by the Rhode Island Department of Environmental Management recognizes outstanding environmental advocates who have made significant contributions toward preserving and protecting our natural resources.
Anne-Cecile Turner, Sustainability Programme Leader, said, "We set out with the ambition to engender positive behavior change to tackle the plastic crisis affecting our oceans. As a global sporting event, we have minimized our own footprint and educated and empowered the millions of people the race touched. By working with a range of supportive and inspirational partners we were able to realize our ambitions and leave a lasting legacy for ocean health and are thrilled this has been recognized by Beyond Sport and the EPA. We will continue to lead, inspire and engage through an even stronger programme, combining sailing and innovation platforms to create real and tangible impacts for ocean preservation."
Sustainability in the Volvo Ocean Race
The Volvo Ocean Race Sustainability Programme, in conjunction with Sustainability Partners 11th Hour Racing, the Mirpuri Foundation and our other main partners, Volvo, AkzoNobel, Ocean Family Foundation, Stena Recycling and Bluewater is taking action to prevent plastics polluting our seas by maximising our impact at host cities, minimising the footprint of our Race Villages and providing inspiration so we are able to leave a positive legacy for the future health of our oceans. The programme is also a proud supporter of the United Nations Environment's Clean Seas campaign. For more information, please visit VolvoOceanRace.com/sustainability.
Header image credit: Pedro Martinez | Volvo AB