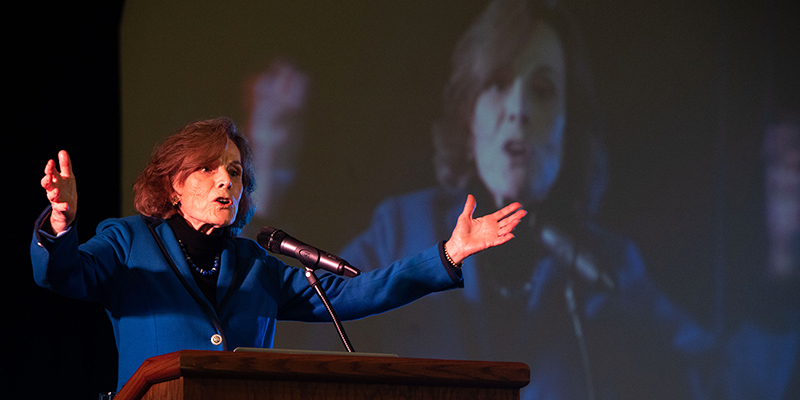 Youth Sailing World Championships
Sustainability takes center stage at the Youth Worlds
Pictured above, Dr. Sylvia Earle was the keynote speaker at the opening ceremonies, giving an inspiring speech. Photo credit: Jen Edney/World Sailing
For the first time in their storied history, the Youth Sailing World Championships have put a significant focus on sustainability, and at 11th Hour Racing, we are proud to support this effort as the official sustainability partner of the 2018 event held in Corpus Christi, Texas from 14-21 July 2018. The 48th edition of the Youth Sailing World Championships will see 382 sailors from 66 nations racing in 265 boats across nine disciplines.
The Opening Ceremony is a special moment for the sailors, and each year World Sailing and its host puts on a unique event. This year, sustainability has become a key theme with Dr. Sylvia Earle taking the stage to give the keynote address. Starting the evening with an inspiring message, Dr. Earle noted: "Young sailors, I hope you start to wonder what is underneath your boat, as 97% of the Earth's water is ocean." She continued to encourage the junior sailors of the world to become leaders in the movement to restore ocean health and drew special attention to the plastic pollution problem in our ocean noting, "plastics are made from petrochemicals, they are the other oil spill in the ocean."
With the help of our sustainability advisor, Jill Savery, the 2018 Youth Sailing World Championships has put together an extensive sustainability plan. Highlights include:
Water refill stations with competitors using reusable water bottles.

Distribution and use of reusable bags and stainless steel straws to all competitors.

A substantial reduction of waste going to landfill by having recycling & composting — with clear signage. Composting will be visible to attendees by showcasing a solar-powered compost machine.

Water only boat cleaning, which eliminates pollutants that would run into the bay if soap was used.

Rallying competitors around a call to action with the

UN Environment Clean Seas Campaign

, another grantee of 11th Hour Racing, which focuses on turning the tide on plastic.

Awareness building through beach cleanups, environmental film screenings, and having a conservation element at every evening activity.

Art has also become an essential element for discussing sustainability, including a temporary

mural themed around Dr. Sylvia Earle's work

, the installation of a

Plastic Bottle Chandelier at Corpus Christi International Airport

, and a wall for competitors to share what sustainability means to them.

The event anticipates being awarded a Platinum Level

Clean Regattas Certificate

by Sailors for the Sea.
Stay tuned on the Youth Sailing World Championships Facebook page, as well as 11th Hour Racing's Facebook page for updates on the sustainability efforts. The incredible sustainability efforts in Corpus Christi are also made possible by Green Team Co-Chairs Elizabeth Kratzig and Dr. David McKee along with Green Team Partners: