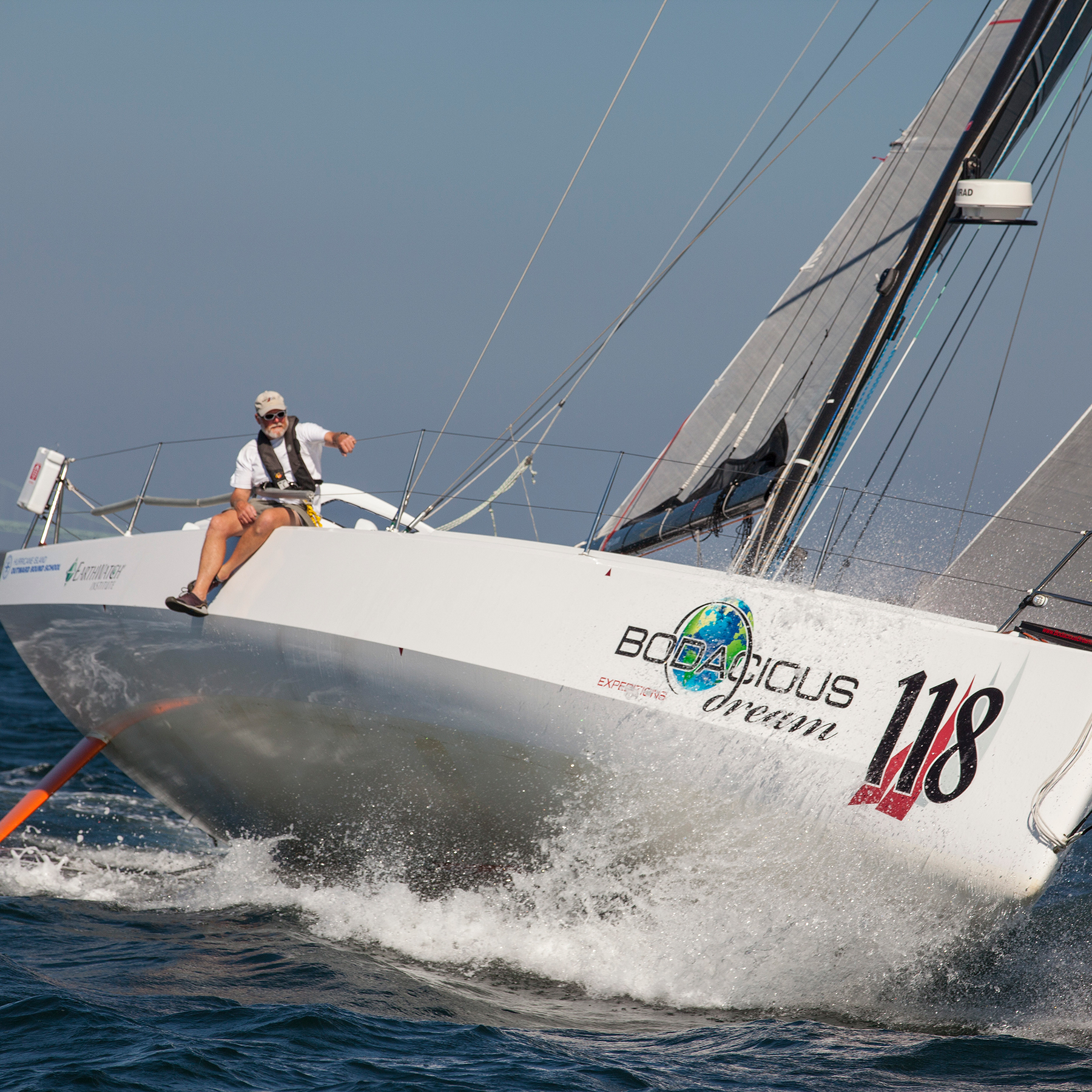 Dave Rearick
Chesterton, IN, USA
Dave has been sailing since his first ride on a Sunfish off the beach on the southern shores of Lake Michigan at age 12. From there, he progressed through small boats – Lasers and Hobie Cats – to half-ton keelboats, 3/4 ton and 1-ton racing machines, and on up in size. He's competed in many events, both crewed and solo, and is passionate about offshore sailing and primarily singlehanded sailing.
In 2011, he commissioned the construction of hull #3 of the Kiwi 40 FC Class 40 to prepare for and compete in the single-handed Global Ocean Race. After campaigning this boat, now named Bodacious Dream, for two years in Europe and North America, he learned that the Race was canceled. Adjusting to the situation, in October of 2013, he started an amazing journey on Bodacious Dream, eventually solo sailing 25,000 miles around the world. After leaving Jamestown, RI, and stopping in Cape Town, Wellington (NZ), the Galapagos Islands, and the Panama Canal, he returned home in June of 2014, creating a blog with educational materials for kids of all ages at www.bodaciousdreamexpeditions.com. Dave published a book on this journey as well, Spirit of a Dream, and still races on Lake Michigan when he is home, enjoying the marvelous ocean of freshwater and its beautiful but evermore fragile ecosystems.
What inspired you to become an 11th Hour Racing ambassador?
The Great Lakes have been my home since I was nine years old. I've grown up in the middle of the Indiana Dunes National Lakeshore Park and have a keen relationship with wild areas regardless of where they are. I love the open desert as much as the wide ocean. I've experienced first-hand the health of the ocean and have shed tears with dolphins as they swim through polluted waters. I've had my share of good times sailing, now it's time to give back. It's time, friends. It's time to work on this problem. The ocean can heal if we stop beating it up.
Why are you passionate about ocean conservation?
I'm passionate about the opportunity to share my life experience with younger kids, giving them a leg up on life as they grow and age. If we can teach them to respect the earth and the oceans, we will build a generation of new strength in our pursuit. In 1978, some friends and I held a recycling event once a month on Saturday mornings in the parking lot of the grocery store. People would come by and drop off their recycling – metal, glass, plastic, and aluminum – we'd gather it up and take it to the large recycling center, all at our own cost. Other people would question me as to why I was wasting my time with this. Here we are, 40 years later, and I am honored to see kids carrying a plastic bottle until they can find a recycling can, not just discarding it from their sight at first chance. Change comes through generations; 11th Hour Racing gives us the opportunity to educate people and spread this energy.
Supporting the mission
Project name: Chicago Maritime Arts Center
Project mission: Help kids develop new skills and find new pathways for the future through boat building, ecology, and STEM education