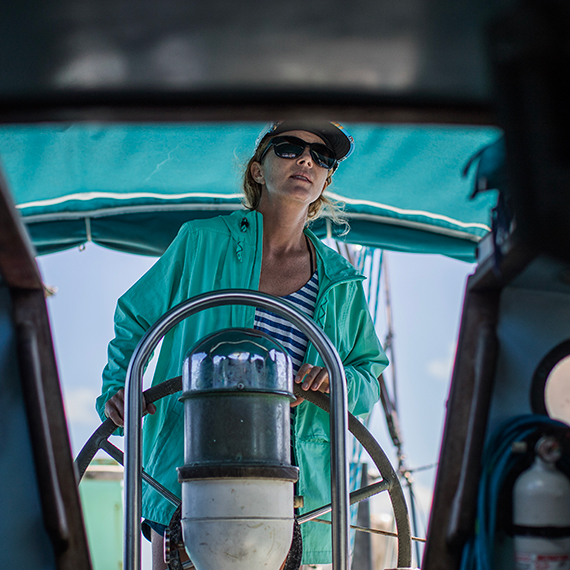 Liz Clark
Tahiti, French Polynesia
I learned to sail at seven years old in San Diego, California on a little red sailing dinghy. At ten, I completed a 5,000-mile, 6-month cruise in Mexico with my family on our sailboat, experiencing a different culture, the freedom and beauty of sea travel, and opening my mind to horizons beyond my hometown reality. I credit the origin of my environmental concern to my exposure to the contrasting landscapes of grave pollution and radical natural beauty in Mexico.
At 25 years old aboard my 40-ft sailboat, Swell, I sailed south from California and spent a decade sailing over 20,000 nautical miles in the Pacific exploring remote surf, learning from different cultures, seeking truth, living simply from the sea, and raising awareness about environmental issues. I kept my nomadic ocean lifestyle going through writing, blogging, photography, representing conscious brands, and earning recognition as a surf adventurer, activist, and captain.
In 2019, I decided to drop the hook more permanently in Tahiti with my partner to expand my activism work, resulting in the creation of A Ti'a Matairea, a non-profit organization in French Polynesia working for environmental protection, animal welfare, and youth empowerment. There is more sailing in my future, but for now, I'm enjoying giving back to the planet and learning how to make a positive impact on local environmental issues.
What inspired you to become an 11th Hour Racing ambassador?
The ocean has given and continues to give me so much. It is my playground as a surfer, sailor, freediver, and lover of marine life. It sustains my life not only through the ecosystem services it provides, like producing oxygen to our planet, but also sustains my mental health being in or near the sea. So I feel a natural drive to want to protect it!
Why are you passionate about ocean conservation?
Working for the planet is an endless job, and collaboration with inspired, like-minded people and organizations is super important to stay motivated and connected to the greater goals!
Supporting the mission
Project name: A Ti'a Matairea
Project mission: Advancing environmental protection, animal welfare, and youth empowerment in French Polynesia