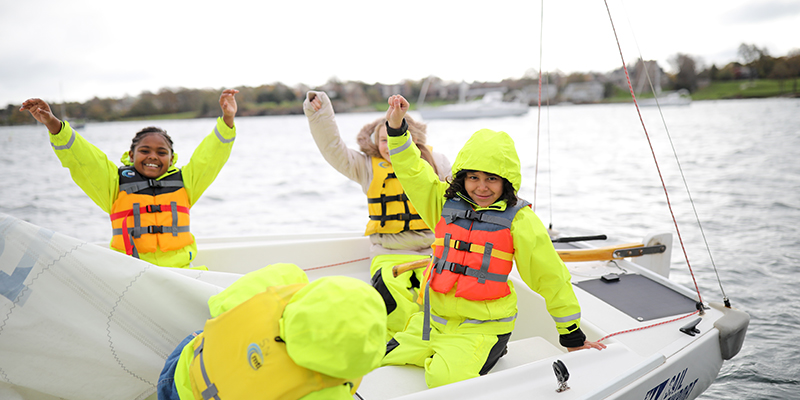 174 Students Earn Sailing Certificates at Sail Newport
Sail Newport celebrated the graduating class of its Pell School Sailing Program by awarding 174 students with sailing certificates last November. On average, Sail Newport teaches 172 students per year. During the Fall semester, Sail Newport taught eight-weeks of hands-on experiential learning both on the water and in the classroom. Students spent half of the time learning about various topics within the STEM (Science, Technology, Engineering, Mathematics) curriculum. The remainder of their time was spent on the water learning how to rig a J/22 sailboat, how to leave and return to the dock, points of sail, safety rules, and basic coastal navigation. 
Experiential Learning
Sailing naturally fosters student engagement and teaches teamwork, communication, and self-reliance. Some students overcame personal fears by simply boarding the boat, as this was the first time they had ever touched saltwater. Once the program was underway, however, students became comfortable boarding the boat safely and working together to hoist the sails and change direction on the water, all under the supervision of their onboard instructor. They took what they learned from lessons in the classroom and applied it to identify weather, wind patterns and tidal movement.
Land-based activities
In the classroom, students drew their own connections between how their behavior on land impacts ocean health. Pell School teachers taught lessons on water, erosion, rocks, minerals, and sustainability of the water and shore. Sailing instructors integrated those topics during s on-the-water sessions, where students saw, for example, how over time, coastal erosion has transformed the landscape of Aquidneck Island.
In the Spring, the second half of the program will begin, and the 4th-graders can look forward to another eight-weeks of sailing and learning from STEM topics on the Newport Harbor classroom.  
11th Hour Racing is proud to support the Pell School Sailing Program, which enables every 4th-grade student in Newport Public Schools to learn how to sail. When the school year concludes this Spring, Sail Newport will have taught approximately 516 students. This grant is part of our overall grantmaking strategy to grow ocean literacy and stewardship amongst coastal communities with a focus on underserved students. 11th Hour Racing will be expanding this initiative in 2020. To see if your organization qualifies, click here.