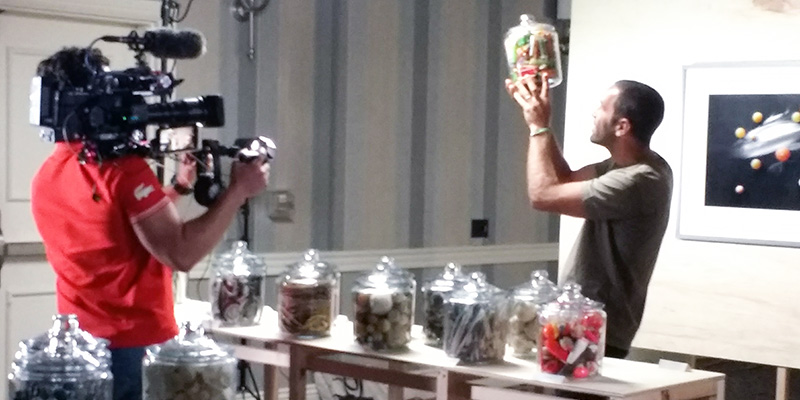 5 incredible days at the 6th International Marine Debris Symposium
Pictured above: Jack Johnson, filming at the 6th International Marine Debris Symposium – picture with an art exhibit featuring trash that washed up on Hawaiian shores.
Last week 11th Hour Racing's Program Manager Michelle Carnevale, attended the 6th International Marine Debris Symposium in San Diego. The conference gathered over 700 people from more than 50 countries focused on tackling the issue of plastic pollution locally, regionally and globally! Attendees shared their latest research on the sources, fate, and impacts of plastic in our oceans. Additionally, many presenters shared exciting solutions and achievements that are already creating change in communities around the world including policy changes, outreach, and education initiatives.
Pictured above, Michelle presented on behalf of 11th Hour Racing sharing its approach to harnessing the power of sport to create positive change in the world and raising awareness of the threat marine debris poses to all of us – highlighting its partnerships with the Volvo Ocean Race and Vestas 11th Hour Racing.
Michelle spoke alongside Schmidt Marine Technology Partners grantees Ethan Edson, who talked about his microplastic sensor the Mantaray, and Rachael Miller from Rozalia Project who presented on the Cora Ball, a laundry ball microfiber-catching device that she invented. Rachel also shared a new initiative the Rozalia Project is working on, developing a sustainable fishing buoy.
We were also proud to be joined by some 11th Hour Racing grantees including: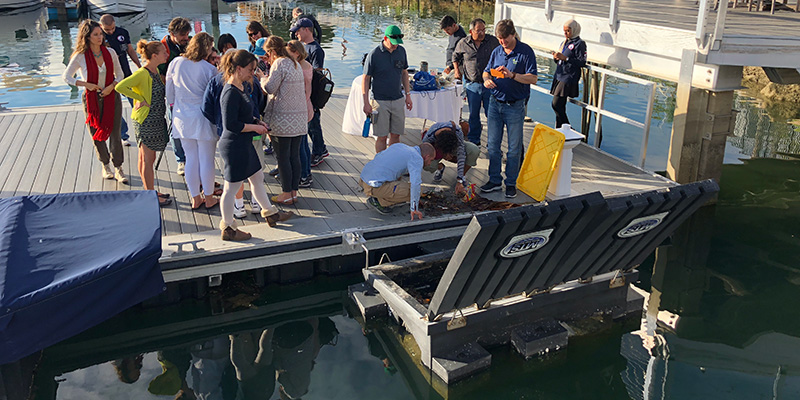 Pictured above, Clean Ocean Access shared its work implementing Trash Skimmers in Rhode Island and gave tours of one of the first trash skimmers ever to be installed in San Diego that was inspired by their work.
Ocean Recovery Alliance's founder, Doug Woodring (pictured above) and Take 3, both grantees of the Vestas 11th Hour Racing Legacy project, presented on some of its new initiatives.
Pictured above, Dr. Jenna Jambeck, the creator of the Marine Debris Tracker, shared how this app is informing the distribution and types of trash found globally. Dr. Jambeck also provided a keynote on our current understanding of where trash is coming from and where it is going on a global scale.
The 6th International Marine Debris Symposium wanted to ensure it did not add to the global plastic pollution problem and was run as a zero-waste event! Key initiatives included: no single-use plastics, composting of organic waste, recycling and having reusable items, which are pictured above, instead of disposable items for cups, lunch bags, and even chalkboard name tags.
Plastic Pollution & Environmental Justice
The Schmidt Family Foundation sponsored a panel focused on environmental justice issues related to plastic pollution. The panel included representatives working in Latina and Indigenous Tribal communities in California, as well as organizations focused on waste management in Southeast Asia and the rights of waste-pickers in India. It was a fantastic panel, which could easily be expanded into an entire conference itself.
Whether you are focused on resource extraction, resource management, marine debris, or plastic pollution – these issues most adversely affect communities of color worldwide. This session was the first of its kind at a conference focused on marine debris, building on and highlighting the work of leaders across the world who have dedicated their lives to uplifting equity in solutions to plastic pollution.
Participants on the panel, from left to right:
Marcela Graudins, AZUL (Los Angeles, CA)
Bharati Chaturvedi, Chintan Environmental Research and Action Group (New Delhi, India)
Irma Munoz, Mujeres de la Tierra (Los Angeles, CA)
Rosa Furumoto, California State University & Parent Pioneers (Northridge, CA)
Luhui Isha, Wishtoyo Chumash Foundation (Malibu, CA)
Von Hernandez, Break Free From Plastic (Manila, Philippines)
Jack Johnson, UN Environment Goodwill Ambassador
Lastly, 11th Hour Racing worked with the Johnson Ohana Foundation and United Nations Environment to film a call to action with Jack Johnson, also a speaker at the conference. A UN Environment Goodwill Ambassador, ocean lover, and surfer, Jack shared with us his belief that we can all take small steps to reduce our plastic footprint. His team recently implemented zero-waste strategies on his tour to reduce the amount of plastic being used at concert venues – pictured below are the awesome reusable cups!
After five incredible days focused on finding solutions to plastic pollution, Michelle shared her take-home messages from the conference:
The issue of plastic pollution is gaining more and more attention globally and has begun to enter into mainstream conversations!
We still need to better understand the human health impacts of plastic in our food and water.
New polymers to replace traditional plastics and processes to break down plastic or recycle it are being developed, but we need even more innovation and action to address the issue.
In some fishing communities, the future projection of more plastic than fish is already a reality, with fishermen capturing more plastic in their nets than fish.
We need to engage all audiences in tackling this issue whether you are a kid, mom, retiree, industry professional, scientist, policy-maker, community organization, sports fan or music lover (and anyone else we missed!) – there's a spot for you at the table creating solutions.