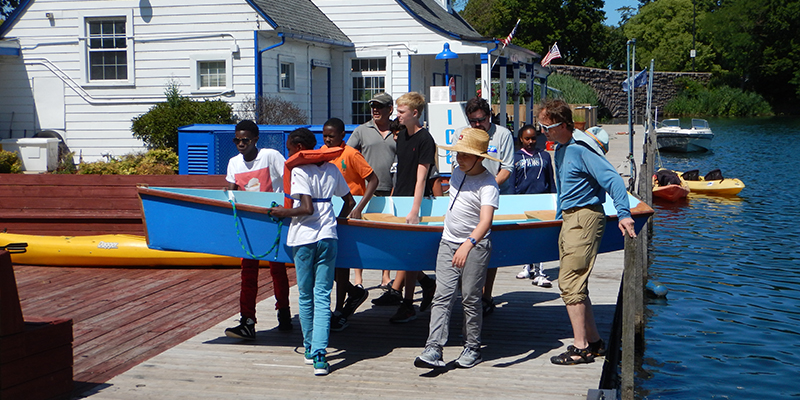 Ambassador Dave Rearick Supports the Chicago Maritime Arts Center
Each 11th Hour Racing Ambassador has the opportunity to support a non-profit organization of their choice, and for the second year running, Ambassador Dave Rearick chose to work with the Chicago Maritime Arts Center's (CMAC) Boat Building Program, the first of its kind in the city of Chicago. The program aims to help underprivileged youth gain access to water-related activities to learn new skills and find job pathways for the future through experiential learning about ecology and the maritime arts.
Earlier this month, Dave Rearick joined the CMAC for its inaugural Boating Skills and Ecology course and shared some highlights from the five-day course. In partnership with Lost Boyz, it hosted fourteen students aged 9 to 14, and for many of the students, it was their first opportunity to spend time on Lake Michigan, despite living nearby.  
Each morning, the instructors led lessons on knot tying, ecology, and boating safety. Lunchtime was also a learning experience, discussing nutrition, plastic waste, and sustainability within the food industry. Of course, the week wasn't all lectures and lunch talks. In the afternoons, students rowed in boats built by CMAC students, sailed Bugs (fun, fast 8-foot sailboats), and got to test their skills on a Beneteau 45. Water quality testing, thanks to Friends of the Chicago River, provided a tangible learning opportunity as the students collected water samples. 
The final event of the week was a rowing and knot-tying contest including a mandatory stop to dock the boat and tie a bowline — crucial skills for every mariner. All in all, it was a successful event, and the course closed with huge smiles and 14 newly confident young mariners.
When asked to recap the week in his own words, Dave added, "My share of the credit is undetectable. People like Patrick, Toby, Quinton, Greg, Tim, and Perry are amazing. With the support of 11th Hour Racing, they are like cacti in the desert, drenched with rain; they're creating amazing beauty from raw resources."
Header image credit: Chicago Maritime Arts Center