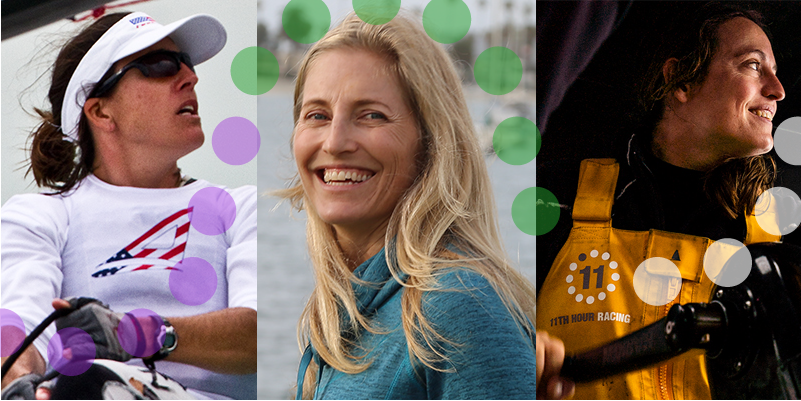 Celebrating International Women's Day
Meet three incredible female leaders at the crossroads of sport and science
March 8th marks International Women's Day! Today we're highlighting the stories of three leaders at the intersection of sport and sustainability in their own words.
This year's International Women's Day theme is #ChooseToChallenge — which aims to celebrate women's achievement, raise awareness against bias, and take action for equality.
How did you go from sailing as a hobby to it becoming your profession?
It happened little by little and without planning. At the time, I was finishing my teacher training studies and sailing a lot with the Regatta Training Center in Geneva. I had the opportunity to join the D35 multihull female team "Ladycat" owned by Dona Bertarelli on Lake Geneva for two years; that was my first pro experience!
What's your most adventurous sailing story?
It was a bit more than ten years ago when I joined a friend in Buenos Aires to help him sail down the Patagonian Channels to Puerto Williams which is the southernmost harbor in the world. He had an aluminum prototype half-tonner he was going around the world with, with no engine and minimal equipment. So it was pretty challenging and adventurous to sail down the coast of Argentina, enter the Strait of Magellan and come in the Channels doing all our moorings and everything only by sail! But everything went well, and it was just so beautiful sailing there. Sailing in the Channels was like sailing in the middle of the Alps… that's a great memory for me.
What advice would you give to girls and women interested in becoming professional sailors?
To believe in themselves and to find a good circuit to start! I think for offshore racing to begin with a Mini Transat project where the budgets are small is a good way to get a first experience. And for the inshore, there are hopefully little by little more opportunities for females on the different circuits. It's worth trying to apply every time there are opportunities.
Have you ever had to stand up to gender inequality?
Yes, and there are for sure still issues on this subject to be solved. On my side, I commit with the Magenta Project which is an association that's helping to create opportunities and to guide young female sailors in their careers. It's great to be part of this, do what I can to help, and also rewarding as a mentor as I also learn a lot from the young sailors.
What inspired you to create Ocean Discovery Institute?
After earning my master's degree at the Rosenstiel School of Marine & Atmospheric Science, I returned to San Diego, CA, and became involved in a program that enrolled high school students, from a high poverty community in Los Angeles, in science-based internships. Two students were assigned to me to help me conduct research on San Diego Bay. When I began the summer, I thought it was a great way to fund and support my research. By the end of the summer, I was more interested in the students than the research itself!
That's when my attention became focused on engaging young people from low-income communities of color in authentic ocean science experiences. My concept for Ocean Discovery Institute was that by receiving high quality opportunities for science learning, kids in poverty stay in school, go to college, develop a passion for conservation, become scientists and decision makers, and gain entry to high paying fields where they make a difference for others. Our students have demonstrated this in every way and more!
What advice would you give to girls and women interested in leading a nonprofit someday?
If you have a vision and work towards it, you will surely make a difference for the better and learn along the pathway. Being of service is incredibly rewarding, and I am certainly thankful that I get to do the work I do. And there is so much more that needs to be done for our planet and people – we need you!
Ocean Discovery Institute gets kids into science. Do you struggle to recruit girls, or is the stereotype that girls don't do science finally going away?
About half of our students are females. We believe and have seen that if you provide young people (of either gender) the opportunity, they will do science and can become scientists. In our country, we have a history of inequitable opportunity and that is why we have seen fewer females in the field.  
Who is a female you look up to and why?
A female I look up to is my teammate, Carla Camacho. She was my student when she was 14 years old, and today she is part of Ocean Discovery's leadership team. I look up to Carla because she has an unflagging belief in the young people we engage, and her leadership style keeps love and kindness at the forefront. In particular, when I am addressing a challenging situation, I reach out to Carla for advice or think of what she might say or do.
Elizabeth Kratzig, USA, 11th Hour Racing Ambassador, High-performance Sailing Coach
How did you get involved in sailing?
My parents had a 30 ft. keelboat, which we would take on day sails when I was little. At six years of age, I started taking sailing lessons at the Corpus Christi Yacht Club. I learned to sail on a Sunfish. We used to sail the Sunfish with 2 or 3 people and reach up and down the bay, singing songs. We also loved to flip the boat over to cool off in the hot summers. When I was about 13 years old, a coach introduced me to sailboat racing. I was immediately hooked!
What advice would you give to girls and women interested in your line of work?
For the past 20 years, I have coached high-performance race boats in both the Olympic Development and Olympic classes. When I first started coaching this sector, there were very few women, but this trend has changed in the past five years. Networking has been critical to my success with a few male coaching friends who shared opportunities to coach at a higher level. One was Zach Leonard, the current head varsity sailing coach at Yale. Zach opened the door to my coaching I-420s at the world level, which was the springboard to becoming a professional coach.
I was a successful 470 and Yngling sailor, so I had the technical experience necessary to coach the I-420s and 470s. For girls and women interested in coaching, I recommend mastering technical skills or technology in coaching, which may set them apart from their male counterparts. Things like expertise in sail set-up, comprehension of the cause and effect of mast bend, mastery of navigation programs, firm knowledge about weather, and proficiency in tracking software will give you hard skills that supplement any talent and intuition that you've gained while racing.
How important do you think it is to have gender balance in the sport of sailing?
The more females who participate in sport, the more young girls see role models in sport. Through my work with US Sailing, I've started following Dr. Nicole M. LaVoi at the Tucker Center for Research on Girls & Women in Sport. Her presentations have an incredible wealth of information backed by the center's research, including the fact that girls coached by women are more likely to stay in the sport, become coaches themselves, and are less likely to be abused or harassed while competing.
Have you ever had to stand up to gender inequality?
In some ways, competing and coaching at a high level in sailing challenges gender assumptions. When I was a junior sailor, I won the Smythe Trophy (U.S. Junior Singlehanded Championship). I am the only female who has ever won the event. I remember jokes being made that they'd have to create a 'top boys' trophy as many sailing events have a 'top girls' trophy. Fast forward to post-collegiate sailing and trying to break into professional sailing. It was challenging despite competing at the same level as my male colleagues for years. As we swapped out dinghies for keelboats, most roles for women were limited to smaller females who would be the 4th or 5th person on a team, and these roles were often unpaid. Being taller, this was not a role I could fill. For afterguard positions, such as a tactician or driver, women are still generally overlooked partly because of the "old boys network." As male counterparts get jobs, their stock rises, and eventually, it looks like there are not many females to hire.  I was able to successfully be a tactician on several keelboats, including a Swan 45. Most of these boats, however, had female owners or drivers.
I was very lucky that I grew up in a family with a mother and father who continually told me that I could do anything a guy could do and do that job better than a guy. This mentality was and still is critical to my success as a female coach / professional sailor in what remains a male-dominated industry.