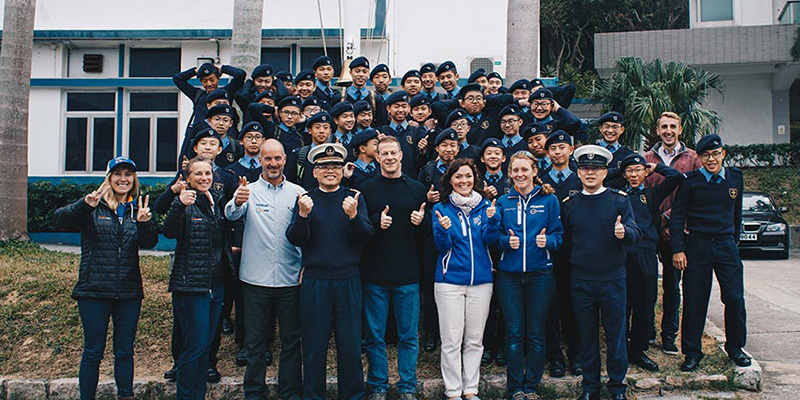 Community Engagement in Hong Kong
Pictured above, Vestas 11th Hour Racing with students from the Stanley Sea School – together they installed Grate Art to raise awareness of run-off pollution. Photo credit: Atila Madrona/Vestas 11th Hour Racing
Vestas 11th Hour Racing met with Douglas Woodring, the founder of Ocean Recovery Alliance, to learn about the organization's work in Hong Kong. This included visiting the Stanley Sea School, a boarding school for underprivileged children where the Ocean Recovery Alliance helps to educate students on marine science, plastic pollution, sports, and water stewardship issues. The visit also included installing Grate Art – which informs people that stormwater drains are connected to the ocean, and any debris or liquids will end up in the sea around Hong Kong.
Watch the video above to learn more about Ocean Recovery Alliance's work!
Ocean Recovery Alliance works to bring together new ways of thinking, technologies, creativity, and collaborations to introduce innovative projects and initiatives that will help improve our ocean environment – with a particular focus on plastic pollution, a central theme of the Volvo Ocean Race's sustainability program.
With the elimination of single-use plastics being a key tenet of Vestas 11th Hour Racing's sustainability plan, 11th Hour Racing identified Ocean Recovery Alliance as the recipient of its grant in Hong Kong – this is the fifth out of twelve grants that 11th Hour Racing will award throughout the 2017-18 Volvo Ocean as part of its legacy project with Vestas 11th Hour Racing.
"Plastic has been found to be impacting marine life at all sizes, found in all regions of the planet's sea, and is known to be impacting our food chain. Ocean wildlife is under enough pressure from human interference, but plastic pollution is something that we should all be able to solve relatively easily – since any piece of trash has 'left someone's hand' before it became trash," said Doug Woodring, Founder and Managing Director of Ocean Recovery Alliance. "We have taken a different, creative, yet realistic approach to solving this issue, both in Hong Kong and on a global scale. Each program brings a focus to the issue of plastic in its 'afterlife,' either through company or community engagement."
To learn more about some of Ocean Recovery Alliance's work and mission, we started the day at Pacific Coffee a local coffee shop that has created a lid recycling program and initiating conversations in Hong Kong on reducing single-use plastic. Ocean Recovery Alliance also shared its Global Alert App, which that empowers users to report, rate, and map trash hot spots in their waterways and coastlines.
"I truly enjoyed our time spent with the Ocean Recovery Alliance today. This was a great opportunity to learn about their innovative approach to plastic pollution, from both a personal education and business standpoint," said Damian Foxall, Sustainability Manager, Vestas 11th Hour Racing. "It's a great reminder that there are so many incredible organizations working all around the world on a shared mission – to raise awareness of ocean health issues and find sustainable solutions to mitigate them."
Lasting Legacy
At each Volvo Ocean Race stopover, Vestas 11th Hour Racing will be meeting with a local non-profit to learn more about its environmental work. 11th Hour Racing will be giving a $10,000 grant to each of these non-profits as part of its mission to leave a lasting legacy beyond the race. Previous grant recipients are: Asociación De Naturalistas Del Sureste in Alicante, Spain, Circular Economy Portugal in Lisbon, Portugal, Environmental Monitoring Group in Cape Town, South Africa, and Take 3 in Melbourne, Australia.
About Ocean Recovery Alliance
Ocean Recovery Alliance brings together new ways of thinking, technologies, creativity, and collaborations to improve our ocean environment. It has two projects with the Clinton Global Initiative, focused on the reduction of plastic pollution, the Plastic Disclosure Project, and the Global Alert app for reporting trash hotspots in the world's waterways and coastlines, and is one of the only NGOs in have worked with both the United Nations Environment (UNEP) and the World Bank's Global Partnership for Oceans. It has also recently won the coveted Prince Albert of Monaco's Prize for Innovative Philanthropy. The group organizes the global Plasticity Forum, focused on plastic sustainability and the circular economy, and the Kin Hong Seafood Festival, which promotes the use of sustainable seafood.