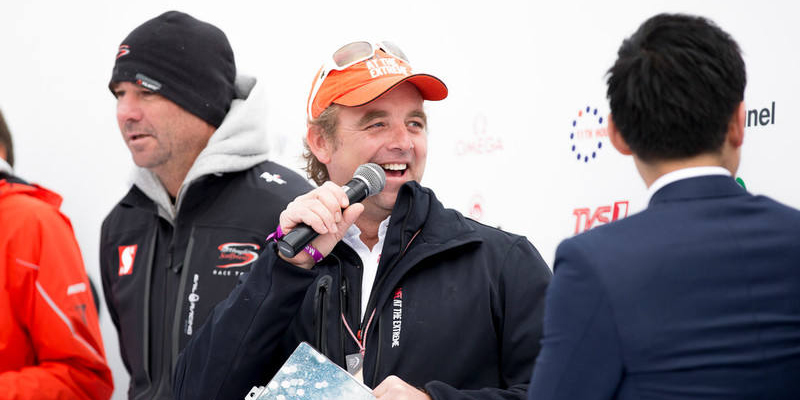 Get to know Ambassador Andy Green
Recognize the voice in the video? That's Andy Green the Voice of the Volvo Ocean Race – and one of our incredible ambassadors helping spread our mission around the globe.
He's been commentating since 1997 – getting his start as a student at the Southampton Volvo Ocean Race stopover. Originally from London, Andy now lives in Newport, Rhode Island. Fast forward to 2018 he's been leading the commentating at the Volvo Ocean Race and helping drop in some environment knowledge and sustainability tips on TV.
Did you know the Volvo Ocean Race would have such a strong sustainability message this time around?
Not entirely, but when I arrived in Alicante for pre-race work I was thrilled to see how deep the message went. Now being a father, my girls lead the way at beach cleanups – and they are my ultimate critics around the house making sure I recycle properly, and when we go out, if I picked up every bit of litter that my daughter points out from the stroller we'd never get anywhere.
Has the sustainability message changed anything for you at the race?
For the race, the message of sustainability resonates so well with younger generations, and I think the change is harder for older generations. But here the overall system has changed, and it's fairly easy as long I carry around my reusable water bottle. You also realize how many conversations start around water bottles – and my refillable one saves a lot of money! Carrying the bottle also has a cascading effect; you start to think further about other changes you can make in your day-to-day life.
Are you excited by the Volvo Ocean Race's message to stop plastic pollution?
Yes, the Clean Seas campaign has been incredible, and whether by luck or by design, the race is on point with a groundswell of movement around the world and in my home country of England. Big stars like David Attenborough are talking about this on major TV networks, and then you have 'skip the straw' campaigns in little towns all along the coast – the tide is turning – and it fits perfectly with sailing around the world.
What's an inspiring moment you've seen during the race?
I was really excited to see Itajaí sign onto the Clean Seas pledge – they are the first city in South America to do so. It's great to see that the Volvo Ocean Race can nudge these cities along to take a leap and commit to stopping plastic pollution.
You've been an 11th Hour Racing ambassador since the program started, what are some of your favorite initiatives thus far?
I think there are probably two initiatives. At a local level, in Newport, I am incredibly proud of the ongoing work by Clean Ocean Access, a grantee of 11th Hour Racing. On a grassroots level, they do a fantastic job not only organizing beach cleanups, but also creating a groundswell of change and energizing the local community to make a difference. They also encourage youth participation and the whole family can learn together.
On the global level, I am really inspired by 11th Hour Racing's involvement in the Volvo Ocean Race and how important that has been, and by the amount of resources and efforts the organization is committing to create that change.
To learn more about Andy's involvement as 11th Hour Racing's Ambassador, click here.
Header image photo credit: Pedro Martinez/Volvo Ocean Race