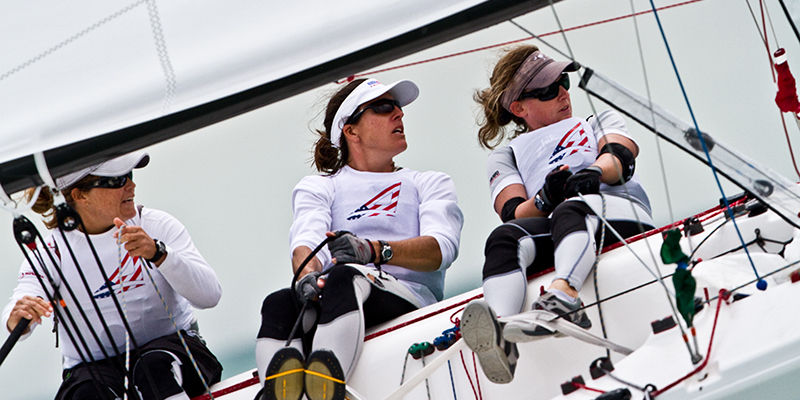 Get to Know Ambassador Elizabeth Kratzig
11th Hour Racing Ambassador Elizabeth Kratzig witnessed the unfortunate effects of plastic pollution while snorkeling near Eleuthera, Bahamas. She was surprised to see so much plastic, as the island had no resorts and very few people. This moment spurred her quest to educate others on the impacts of plastic on the ocean.
As an 11th Hour Racing Ambassador, Elizabeth selected to support the development of the "Nurdle Patrol," a citizen science project spearheaded by the Mission-Aransas National Estuarine Research Reserve at the University of Texas Marine Science Institute. The project's goal is to create a full picture of nurdle concentrations on beaches across the Gulf of Mexico and to share the data with scientists, landowners, policy-makers, and the public, to ensure that coastal management decisions benefit flora and fauna, water quality, and people.
We sat down with Elizabeth to learn more about her support of this project, and to understand the Nurdle Patrol's role in improving ocean health.
Since you first learned about the environmental impact of single-use plastic, what advice have you passed on to family, friends, and sailors you coach?
Just say no to plastic! Remember to carry your reusable water bottle or cup, reusable straw, and your reusable bags. Pack your lunch in reusable sandwich bags or Bees Wrap. Purchase a bamboo toothbrush to eliminate plastic from your daily routine. Buy things that come in boxes instead of plastic packaging. Use bar soap instead of liquid soap. Buy in bulk to avoid buying individually packaged items. I dare people to spend one entire day trying NOT to use anything made of plastic — you will quickly realize how much plastic is in our everyday lives.
You spend a lot of time in Texas and Miami. When you participated in beach clean-ups, what type of debris do you most commonly remove from the shoreline? 
Bottle caps, zip ties, straws, and microplastics. Around Miami, I prefer to clean areas around the mangroves, rather than the beaches. The mangroves tend to be littered with all different types of plastics, and are rarely cleaned by the city, whereas the beaches are cleaned regularly by the city of Miami to keep the tourists happy. 
In South Texas, the beaches are different because there are miles and miles of beaches that are only accessible by driving down the beach. In fact, the Padre Island National Seashore is the longest stretch of an undeveloped barrier island in the world. So, in South Texas, the majority of marine debris that you find on the beaches is truly washed up from the ocean.
Can you elaborate on what a "nurdle" is and the effect they are having on our oceans? 
Nurdles are the raw materials used to produce plastic products. Nurdles look like tiny plastic pellets, about the size of lentils, and can be made of polyethylene, polypropylene, polystyrene, polyvinyl chloride, and other materials. 
The majority of nurdles are inadvertently "lost" into the environment through carelessness at the time of production or transport. The release of nurdles into the environment should be completely avoidable. In my opinion, stricter regulations need to be placed on plastic manufacturers regarding plastic pellet discharge. Nurdles are the easiest type of preventable microplastic pollution.
What results do you hope to see from the Mission-Aransas National Estuarine Research Reserve Nurdle Patrol project; what results have you seen thus far? 
The Nurdle Patrol has many goals: 
Remove nurdles from the environment.

Increase awareness of the problem of nurdles and educate others about them, particularly through citizen science programs. 

Map the concentrations of nurdles throughout the Gulf of Mexico, hoping to make a correlation between concentrations of nurdles and locations of manufacturers. 

The end goal would be for regulatory agencies to make tighter regulations on the handling of pellets and stricter stormwater permits for manufacturing facilities.
Each month, the Nurdle Patrol publishes its statistics. Since the Nurdle Patrol's inception in November 2018, these are its statistics as of November 7, 2019: 
3,221 surveys that Nurdle Patrol has performed since November 2018.

1,410 different sites have been surveyed.

215,114 nurdles removed by Nurdle Patrollers.

Nurdle Patrol citizen scientists have surveyed for a total of 42,819 minutes, which equates to 714 hours.

Over 1,300 volunteers have conducted surveys from Mahahual, Mexico, to Key West, Florida.

Nurdle Patrol now has 1,755 members on Facebook.
Nurdles are a global problem, but concentrations are particularly bad in locations near manufacturers. If you are on Facebook, you can join the Nurdle Patrol group, which highlights the work of my 11th Hour Racing grantee. Data is also available on NurdlePatrol.org, which is a global mapping website where anyone from anywhere can log their nurdle data.
Video below: Join Nurdle Patrol to help find plastic pellets, #nurdles, washing up on our beaches! Find out more information at www.NurdlePatrol.org.
https://www.facebook.com/manerr/videos/487193365209169/
Header image: Elizabeth sailing aboard the Elliot 6M while campaigning for the 2008 Olympics. Elizabeth (center) is with her teammates, Alana O'Reilly (right), and Sally Barkow (left). Credit: Amory Ross