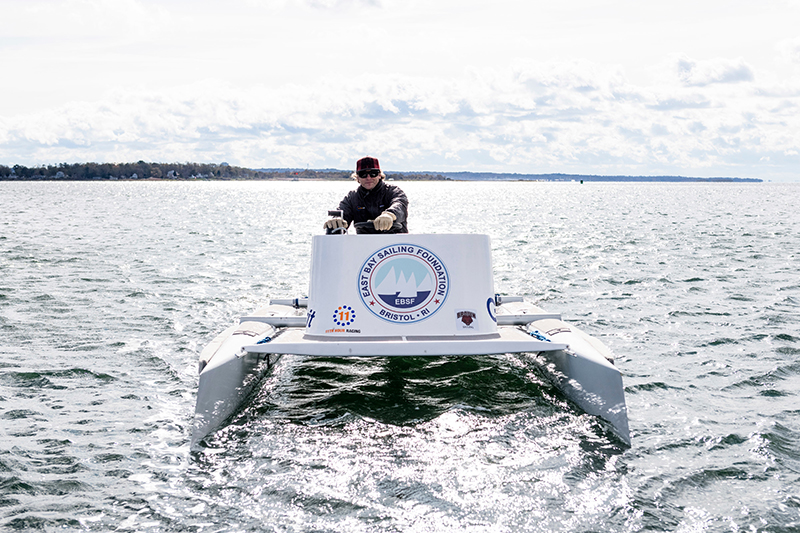 Get to Know Ambassador John Mollicone
Ambassador John Mollicone has been the Head Coach of Coed and Women's Sailing at Brown University since 1999, and actively races dinghies and keelboats. He was an All-American Skipper at Boston University in 1998, a two-time World Champion in the J-24 Class (2010 and 2013), and has won over a dozen North American, National, and Midwinter Championships in various classes. John is also a winner of the U.S. Sailing Championship of Champions, the Newport-Bermuda Race, five Key West Race Weeks, and was a Silver Medalist at the 2011 Pan-American Games in the J/24 Class for the United States. He also won the U.S. Sailing National Sportsmanship Award for the Van Alan Clark Trophy in 2010, was named a U.S. Sailing Rolex Yachtsman of the Year Finalist in 2012, and was named the 2020 Sail1Design/Sailing Anarchy Coach of the Year. 
In June of this year, John collaborated with his grantee East Bay Sailing Foundation to launch an electric coach boat that operates with minimal environmental impact. If the prototype proves to be a useful, practical option for sailing programs and recreational boaters, the project may inform the future design of electric coach boats.
We connected with John to learn more about his passions and role in improving ocean health as a professional sailor, coach, and 11th Hour Racing Ambassador.
1. What has professional sailing and coaching taught you about sustainability?
By being on the water over 150 days a year as a coach or competitor, I have developed an incredible amount of respect for our waters and shorelines and how important it is that we do our part to protect them in every way possible. For anyone involved with sailing or boating, our playground needs to be protected if we want to continue to enjoy the luxury of our oceans, lakes, rivers, shorelines, and marine habitats. To me it's no different than cleaning up your home – so whether it be picking up trash and reducing waste, recycling whatever you can, and limiting fuel emissions – it will make our playground more sustainable for future generations.
2. Have you seen any exciting sustainability-focused changes in the sailing community lately? 
In college sailing, we have created a no-plastic rule at all of our competitions. Everyone has to bring their own reusable water bottle and every regatta host has to provide water filling stations for all teams. For the most part, we are seeing full compliance at this point in college sailing with a lot less waste and hardly any plastic. We are doing this on every program that I race with and seeing most other racing programs doing the same. Water filtration systems can be found almost everywhere now – yacht clubs, sailing centers, and even on the docks of many racing teams. It's also great to see electric outboard engines being used more and more in some racing classes such as the J/70 and I am really excited about the electric engine project we have going on with the East Bay Sailing Foundation for a coach/race committee boat. Hopefully, in recent years we will see more of them!
3. Can you share more about your experience working with East Bay Sailing Foundation to develop the electric coach boat? 
The East Bay Sailing Foundation, led by Chris Bjerregaard, has done a tremendous job getting the project going and they have put the electric engine on a restored and modified A-Cat catamaran. They have used it all summer as a coach/race committee boat and the feedback has been great. They are planning to let us use it here at Brown University for practice and regattas once we are able to get back on the water. With the pandemic, we are currently in a holding pattern at Brown and have been unable to sail since early March.
4. What behaviors do you wish people would adopt on land or at sea to better care for the ocean?
It would be great to see more people take initiative when it comes to protecting our waters. Simple things like picking up trash on land or in the water, recycling, reusable water bottles, and less fuel-powered engines when not necessarily needed such as when going sailing. These are all easy to do things and more people need to care about our environment and buy-in!
5. How has your role as an 11th Hour Racing Ambassador impacted your career or personal life?
It has certainly created more awareness for me to think about our environment more (both on and off the water) and do my part. As an 11th Hour Racing Ambassador, I definitely feel more of a responsibility to pass what I have learned about sustainability onto others including the sailors I coach, the teams that I race with, and even my family and friends. I want my two-year-old daughter to enjoy the water as much as I have and have it be kept in the best condition possible.
Header image credit: Cory Silken