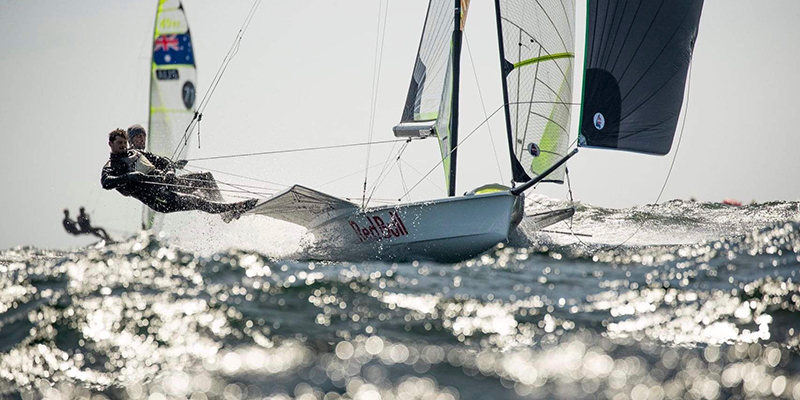 Get to know Ambassador Yago Lange
Our newest Ambassador, Yago Lange is an Argentinian Olympic sailor and environmental activist. He focuses on creating awareness on ocean health issues and making an impact with simple actions to create positive change. Uniting a network of more than 2,000 volunteers, he has organized more than 20 coastal cleanups throughout Argentina and Europe in one year.
In 2019, The International Olympic Committee recognized his initiatives by awarding him its environmental prize. Yago is a natural team builder and innovator, providing real action and solutions to a worldwide concern, through the language of sports, adventure, and outdoor lifestyle.
We connected with Yago to learn more about his passions and role in improving ocean health as a professional sailor, and 11th Hour Racing Ambassador.
When it comes to single-use plastic, what's the #1 piece of advice you share with others? 
I feel we can all be part of the solution. Single-use plastic is something we can all try to avoid. I try to calculate the impact we can create as a group, and estimate the amount of plastic we can avoid with our reusables. When I talk with school kids or sailing teams we estimate the amount of single-use plastic used during one month, and the numbers are frightening. Once students are aware of this, they quickly become committed to changing their behaviors!
If you could banish one type of single-use plastic item from use what would it be and why?
I would banish plastic bottles because I see them during every cleanup. Drinking water should be accessible to everyone to refill a reusable bottle. I avoid different types of single-use plastic every day. Two easy actions that have a huge impact are using a bamboo toothbrush and a reusable bag. I have been visiting many dumpsites and landfills, and have seen with my own eyes how much plastic ends up there instead of being recycled; the reality is hard to accept.
What behaviors do you wish people would adopt on land or at sea to better care for the environment?
I fell in love with composting. It's a natural cycle that everyone can be a part of, from eating a fruit or vegetable, then dropping it in the compost pile, and seeing how it breaks down into nutrient-rich soil to grow more plants. As we learn from the cycles of nature, we will better understand the changes that must be made in our lifestyle.
How has your role as an 11th Hour Racing Ambassador impacted with your career or personal life?
After opening my eyes to the threats facing our ocean, I found myself on a new mission. In competitive sailing, I used to focus only on results, but since the end of 2018, my eyes opened up and I realized I should do something to protect the waters I love. 11th Hour Racing gives me the opportunity to keep supporting more projects that will protect the ocean for future generations to enjoy sailing. I am proud to be part of a sailing community who are active in protecting these waters.
What's the most beautiful thing you've seen while racing or where is your most memorable sailing experience? 
There are many memories of being on the water. My favorite is living on a boat with my dad and brothers when we were little kids. We used to fish at night and swim in the river every weekend. It was a simple life connected to nature.
While we know a lot of racing is postponed, what event are you most looking forward to on the calendar?
I recently ended my Olympic campaign for Tokyo, but I want to learn how to kite foil, so I am looking forward to getting back in the water as soon as possible. I'm also looking forward to doing some non-competitive sailing with friends.
Anything else you want to share or discuss?
I love to see the sailing community working together to protect our oceans by changing our daily habits. I feel we are very lucky to be able to sail and enjoy nature, and we can take many simple actions to protect the environment. Collaborating together as a community will make us stronger, and I am enjoying the process.
Header image credit: Jesus Renedo | Sailing Energy