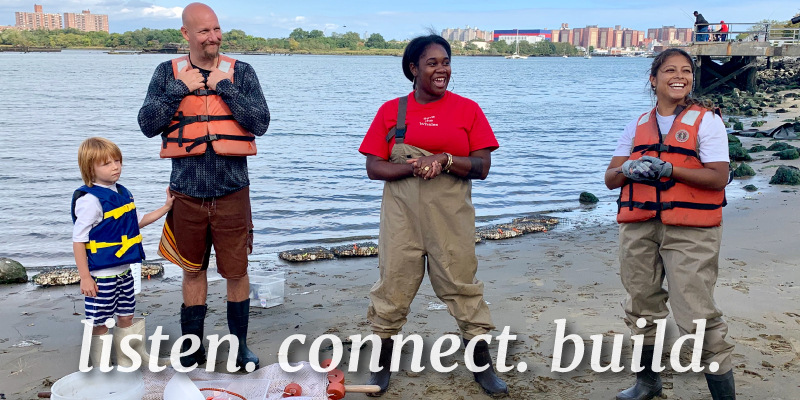 Listening to our community: Billion Oyster Project
11th Hour Racing fosters systemic change to restore ocean health — our vision for the future includes cleaner, healthier waterways through strong local stewardship and collective action. As the climate crisis intensifies, it disproportionately creates more severe impacts on low-income communities.
As part of our commitment to a more just, sustainable future, we are working to amplify our grantees' voices in a new blog series — Listen, Connect, Build. In this series, we listen to students and alumni from some of the fantastic organizations we are proud to support that increase ocean stewardship, access, and literacy in under-resourced communities.
Tanasia Swift
, Community Reefs Regional Manager,
Billion Oyster Project
(New York, N.Y.)
How has spending time on the ocean impacted your life?
I grew up in Bedford Stuyvesant, Brooklyn. Despite living in a landlocked neighborhood, I was always fascinated by the ocean. I was led to believe that in order to study marine life I'd have to travel out of the country. I attended the Urban Assembly New York Harbor School, a maritime high school in NYC. Through the Harbor School, I was fortunate to study abroad in the Bahamas.
During my time in the Bahamas, I became SCUBA certified. On one particular dive, we visited a coral reef. It seemed like any normal dive day until I saw 5 spotted eagle rays swimming directly above us. They were large, elegant, and absolutely beautiful! I went from being at home watching these majestic animals on a TV screen to seeing them 20 feet away from me. I ascended from my dive, feeling excited by what I just experienced, but also wondering if the beauties of the ocean will still be here for future generations to experience. Because of this, I was inspired to get involved in marine conservation work. Being underwater was like exploring a new world. I couldn't wait to go back home and share these stories with family and friends. Even more than that, I wanted them to see this beauty firsthand.
What's the most important aspect of your work?
My current work involves engaging students in waterfront education. During a typical field day, students interact with oysters, handle small fish, and other critters. To see the excitement on their faces reminds me why I do my work. I always remind students that there are also sharks, whales, seals, and dolphins directly off our coasts, and it doesn't require them to leave their hometown to experience the beauties of the ocean. 
What would you say to young students who would like to explore a career with the ocean, but don't have access to the water? 
For students who are interested in pursuing a career in the marine environment, don't be discouraged if you don't have direct access to water. You can start your journey through online resources. Educational videos, research journals, podcasts, and documentaries are all great sources of information as a start. No amount of knowledge is too small. There are organizations, like the Billion Oyster Project, that assist with getting students to the water. If you're an NYC student or teacher reach out to the Billion Oyster Project to see how you can get involved. 
About Billion Oyster Project
Billion Oyster Project seeks to restore oyster reefs to New York Harbor through public education initiatives. By 2035, the goal is to have one billion live oysters that are distributed around 100 acres of reefs, making the harbor once again the most productive waterbody in the North Atlantic and reclaiming its title as the oyster capital of the world.
Header image photo credit: Billion Oyster Project