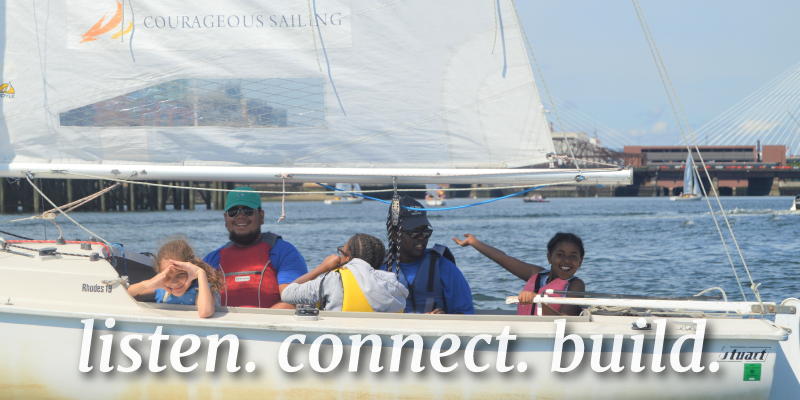 Listening to our community: Courageous Sailing
11th Hour Racing fosters systemic change to restore ocean health — our vision for the future includes cleaner, healthier waterways through strong local stewardship and collective action. As the climate crisis intensifies, it disproportionately creates more severe impacts on low-income communities.
As part of our commitment to a more just, sustainable future, we are working to amplify our grantees' voices in a new blog series — Listen, Connect, Build. In this series, we listen to students and alumni from some of the fantastic organizations we are proud to support that increase ocean stewardship, access, and literacy in under-resourced communities.
Amir & Urvi
, Instructors in Training,
Courageous Sailing
(Boston, Mass.)
Amir and Urvi, former students and now Instructors-in-Training at Courageous Sailing, share their passion for the program and how it has impacted their lives. Urvi, who combines her love for sailing with her advocacy for social justice, started out at Courageous Sailing's Jamaica Pond site but quickly became a confident Boston Harbor sailor. Amir, who joined Courageous through the Swim Sail Science outreach program back in 2013, is one of the first program graduates to become an Instructor-in-Training.
About Courageous Sailing
Since 1987, Courageous Sailing has been transforming the lives of Boston kids through sailing programs that inspire learning, personal growth, and leadership. Courageous is a vibrant community sailing and youth development center that utilizes sailing and related STEM (Science, Technology, Engineering, and Math) education as platforms for social-emotional growth and out-of-school time learning. Courageous is committed to bringing together youth from all walks of life and to ensuring that lack of financial means is never a barrier to getting involved in the sport of sailing. As students master sailing skills in the decade or more they spend with Courageous, they also build confidence, resilience, teamwork, communication, environmental stewardship, and other skills necessary for success on the water and in life.
Watch more about Courageous Sailing and hear student testimonies about the Swim Sail Science program.