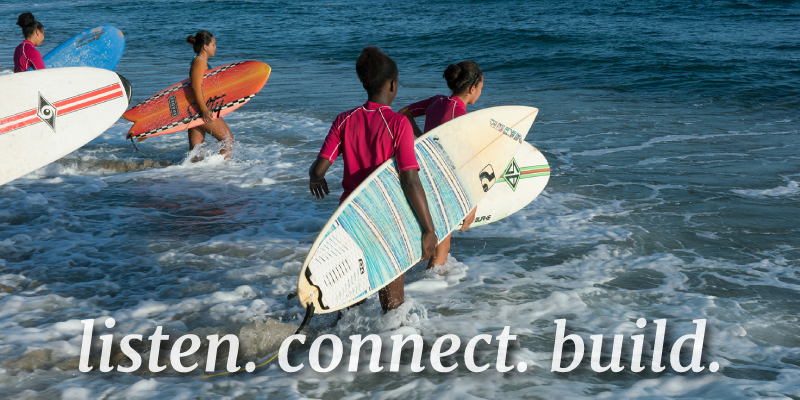 Listening to our community: Mariposa DR Foundation
11th Hour Racing fosters systemic change to restore ocean health — our vision for the future includes cleaner, healthier waterways through strong local stewardship and collective action. As the climate crisis intensifies, it disproportionately creates more severe impacts on low-income communities.
As part of our commitment to a more just, sustainable future, we are working to amplify our grantees' voices in a new blog series — Listen, Connect, Build. In this series, we listen to students and alumni from some of the fantastic organizations we are proud to support that increase ocean stewardship, access, and literacy in under-resourced communities.
Pamela Cuadros, Graphic Designer & Surfing Mentor,
Mariposa DR Foundation
How has spending time on the ocean impacted your life?
The ocean is my playground. Being in the ocean gives you a sense of extreme freedom, but also makes you realize how little we are and how much impact we have with our actions in order to take care of our environment.
What's the most important aspect of your work?
By running the Mariposa Surfing Program, I share my love and understanding of the ocean with our girls. I teach them that in order to have fun in the water, we must give back by taking care of the environment and saving our oceans.
Detiny arrived at Mariposa 7 years ago. As a young girl, she lost both of her parents tragically, but this did not stop her from fulfilling her dreams and excelling in everything she does. Detiny has proven to be an incredible leader, talented in music and dance, well-spoken, analytical, and driven by a great sense of creativity. Detiny was accepted into a full scholarship program at a local, prestigious international school, ISLA Academy in Cabarete, and is one of the top students in her class. Detiny hopes to be an architect and will be attending Pearson College UWC in Canada this Fall.
About The Mariposa DR Foundation
The Mariposa DR Foundation, located in Cabarete, Dominican Republic, was founded in 2009 to address the urgent need for community-based solutions to end poverty, empower women, and educate girls.