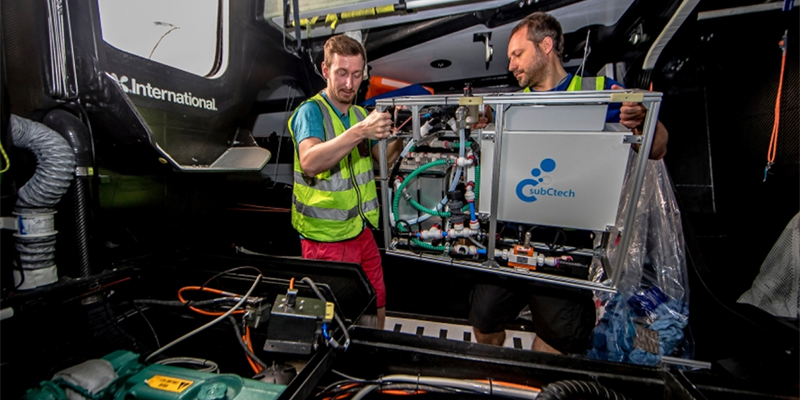 Science and storytelling can be key drivers to accelerate the restoration of ocean health
11th Hour Racing is proud to be the Founding Partner of the Sustainability Programme and Premier Partner of The Ocean Race. Check out the latest news below.
Sharing the excitement of ocean exploration and discovery through gripping storytelling, positive narratives and absorbing games are among the techniques organisations should use to bring ocean health and the vital role of science alive for a global audience.
These were some of the key conclusions reached at The Ocean Race's recent Innovation Workshop Communicating Ocean Science With Impact which brought together online a diverse and expert group of scientists, academics, journalists, educators, media specialists, game developers and sailors.
The first speaker in the open introductory session, Carlie Wiener, the Director of Communications and Engagement Strategy at the Schmidt Ocean Institute, said: "From the earliest emergence of life on Earth, the ocean has played a crucial part in sustaining it. For millennia, the seas have produced most of the oxygen we breathe, regulated our weather, and supplied critical nutrients and resources – despite the global disturbances from human activity in the recent decades.
"One of the greatest challenges we face to our future is protecting the ocean – and sadly we still don't know much about what's going on. It's like living in a three-floor home and only knowing what is on the ground floor."
Pointing out that the surface of Venus has been mapped in much greater detail than the ocean floor, she added that discoveries would lead to greater understanding of the ocean's importance and promote action to protect its health.
"Bringing the unknown aspects of the deep sea to the public is not only important but necessary. We can do this in creative ways through visualization, technology and the arts. Bringing together ocean scientists with artists, designers, and storytellers to create fun and participatory ways to explore the ocean."
Finding effective ways to reach a wide audience with relevant, meaningful and entertaining fact-based information was at the heart of the workshop, the latest in a series of Ocean Race Summits and Innovation Workshops which are part of The Ocean Race's innovative and award-winning Racing with Purpose sustainability programme, set up in cooperation with 11th Hour Racing, the Race's Founding Sustainability Partner and a Premier Partner.
Following the introductory session, the workshop divided into five Breakout Groups allowing a more detailed investigation of effective use of data, lessons ocean science can learn from space exploration communications, data visualisation and storytelling, generating support for Marine Protected Areas, and the success of action to raise awareness of marine plastic pollution.
Those taking part included representatives from the European Space Agency, the Global Ocean Observing System (GOOS), the University of Rhode Island, MIT Media Lab, International Union for Conservation of Nature (IUCN), Utrecht University, the Max Planck Institute for Meteorology, NOAA, water technology company Xylem, and media outlets TIME, Sky Sports, BBC Sport and The Economist.
There was enthusiastic agreement that science and sailing can learn a huge amount from each other. There's potential for sailing to drive advancement of key areas of science, such as the effect of climate change on the oceans and the prevalence of micro-plastics, as boats, like those in The Ocean Race spend so much time at sea and travel through waters that are hard to reach. The ocean science community can take onboard the speed and innovation in this data gathering and mirror it in their own practices.
The use of creative storytelling and identifying appropriate channels to reach different audiences emerged as a common thread running through a number of the groups, with sailors' personal experiences of ocean change striking a particular chord, appropriately given The Ocean Race background.
"One of the most impactful statements that I heard was that sailors said they used to see a lot of wildlife and now they don't see it anymore," said Rebecca Rolph, a postdoctoral researcher at the Alfred Wegener Institute Helmholtz Centre for Polar and Marine Research. "Having a sailor meet a kid and describe what they used to see could be really motivational."
Yachtsman Joep Winkels, Project Manager with The Austrian Ocean Race Project, struck a similar note: "I am not an ocean scientist so I wondered 'how would you reach me?' Even as a sailor I don't know much about how life is underwater. You only see the fish when they come out and they are dead, or in an aquarium, so you would reach me if you could visualise life underwater."
Meanwhile, professional sports broadcasters taking part in the workshop pointed out they were becoming more involved in the broader climate change coverage.
Jo Finon from Sky Sports said: "As a broadcaster, we have a responsibility to start talking about the climate change storylines wherever it can be made and whenever it can be topical.
"Previously there might have been an argument that we shouldn't talk about this because it's not sport, but obviously so much of it does affect the sports and people who take part in the sports. We are absolutely doing that and using all formats, not just TV coverage, also website and social media as well."
BBC Sport's Charlie Cope added that broadcasters had to tread a delicate line in communicating sometimes negative climate facts while not descending into doom and gloom or diminishing the escapism inherent in sport.
"We need to make sure we get that balance right. We also provide opportunities for people to understand how they can make a difference, how they can make an impact, and that we highlight those good news stories," he added.
Also with the potential to make an enormous impact on public perception of ocean health is the new and innovative world of gaming. Jude Ower, the Founder and CEO of Playmob, outlined to her Breakout Group how their mini-games combined science and fun, with one of them offering huge numbers of players the chance to have a say on climate change under the auspices of the United[PR5] Nations Development Programme.
Summarising the contribution for the wider workshop participants Richard Page, a Policy Specialist at Ocean Unite, said: "Gaming is a way into a huge audience, a new audience, not perhaps with a sailing background, but young and urban. You have got this channel to communicate and you've got to develop something that is fun, quick and time-based, which fits in well with the race, and you are signposting ways from them to take action."
Header image credit: Jesus Renedo | Volvo AB