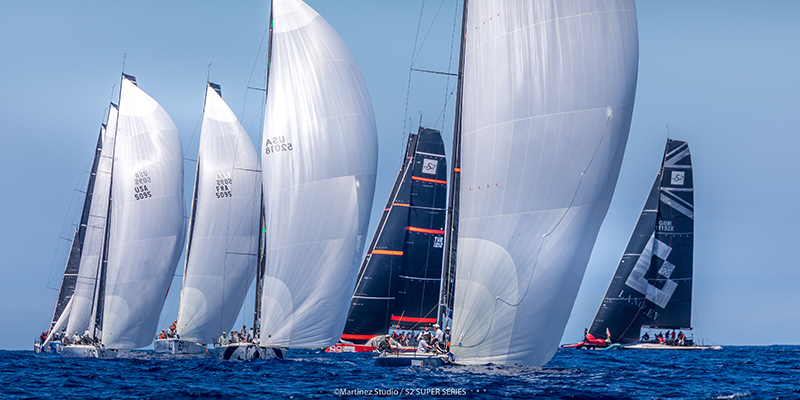 The 52 SUPER SERIES Hones in on Food Waste and Fuel Consumption
In the world of grand-prix sport, such as the 52 SUPER SERIES, the philosophy of multiple, small, marginal gains to affect a game-changing performance is widely recognized. The world's leading monohull circuit applies the same ethos in its approach to sustainability and environmental responsibility.
Working closely with sustainability sponsor 11th Hour Racing for over four years, the 52 SUPER SERIES has achieved significant and measurable changes. These include initiatives which are now almost commonplace at major sailing regattas, such as eliminating single-use plastic bottles, providing accessible recycling points, requiring spill kits for support vessels, organizing beach clean-ups and delivering educational initiatives for local youth aiming to inspire future ocean stewards.
It is especially gratifying to see that the momentum for positive change is now coming from within the circuit's own family – sailors and shore crews, led by the sustainability ambassadors from each team – who very much drive the program forward.
Highlights from the 2018 season include ISO 20121 re-certification, a standard of excellence for sustainable management of events; securing new sustainability sponsors such as Ecoworks Marine and Bluewater; and the introduction of underwater marina clean-ups led by the teams' divers.
Over this past winter, the 52 SUPER SERIES sustainability team has been busy visiting the Royal Swedish Yacht Club and Kieler Yacht-Club to deliver bespoke #ProtectOurPlayground Workshops developed in conjunction with 11th Hour Racing. These are designed to discuss environmental policies and practices with the club's management teams and club members, with the goal of empowering them to implement more sustainable initiatives. These workshops will continue throughout the year in other yacht clubs in Europe
Starting with the first 52 SUPER SERIES event of 2019 in Mahón, Menorca, the organizers are planning to implement a raft of new ideas and initiatives that hopefully will promote further positive changes within the circuit and beyond.
One new topic that the 52 SUPER SERIES is tackling is food waste: with more than 400 individuals onsite at each week of racing, and a total of five regattas, there is an opportunity for measurable positive impact. According to the Food and Agriculture Organization (FAO) of the United Nations, roughly one-third of the food produced in the world for human consumption every year – approximately 1.3 billion tonnes – gets lost or wasted. Food loss and waste also amount to a major squandering of resources, including water, land, energy, labor, and capital and needlessly produce greenhouse gas emissions, contributing to global warming and climate change.
"It's a delicate balancing act," says 52 SUPER SERIES Sustainability Director, Lars Böcking. "There's a fine line between attempting to reduce food waste and simply not providing enough food. Before we start dealing with the problem of leftover food, we are going to refine and personalize the ordering and delivery procedures, so we have less food waste, to begin with. This is a matter we are discussing with the team's catering personnel to help develop a clearer picture of what we are able to do."
Teams are being encouraged to use local food suppliers who only buy locally-sourced products, and adhere to basic eco-friendly principles, such as using only re-usable containers or packaging.
"We have a few teams who are already well ahead of the game in these regards, and we learn from them as well, but – as with single-use plastics, which are now forbidden – we want to make this way of thinking totally universal throughout the entire 52 SUPER SERIES family," says Christoph Kröger, Sustainability Officer to the circuit.
Another item that the organizers are planning to address this season is reducing fuel consumption and emissions from the many support RIBs – a move that is becoming more widely observed across sailing. A ten percent reduction in speed equals a significant decrease in fuel consumption. If you multiply this by ten chase boats, over ten days, at five regattas, marginal savings can accumulate to have a big impact.
"This is not just about making savings, financial, environmental or otherwise, but our teams are world renowned, positive influencers and when we promote a message like this to the thousands of safety and support RIB drivers at sailing clubs around the world, that is what makes a powerful difference," enthuses Böcking.
Jeremy Pochman, 11th Hour Racing Co-Founder and Strategic Director, commented: "We know it is time to take immediate action to restore the health of our oceans. Our daily habits have the power to create a wave of positive impact – from composting our food waste to reducing our reliance on fossil fuels to purchasing and consuming products responsibly. It's really inspiring to see the teams and individuals competing in the 52 SUPER SERIES are embracing this change and taking on new challenges, setting strong examples and new standards for sailing and the wider sporting community."
You can join the 52 SUPER SERIES sustainability discussion by posting about sustainability and the environment to social media and using the hashtag #ProtectOurPlayground.