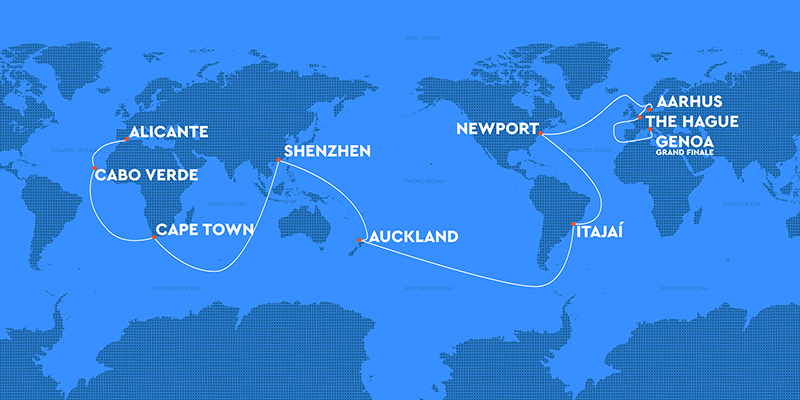 The Ocean Race 2021-22 route is announced
Update: Organisers of The Ocean Race have confirmed the next edition of the Race will start from Alicante, Spain, in October 2022 and finish in Genova, Italy, in the summer of 2023.
11th Hour Racing is proud to be the Founding Partner of the Sustainability Programme and Premier Partner of The Ocean Race. Check out the latest news below.
Next edition to visit 10 iconic cities around the world
The next edition of The Ocean Race, scheduled to start from Alicante, Spain in October 2021, will visit 10 international cities, including the start port and the Grand Finale finish in Genoa, Italy in the summer of 2022.
For the first time, The Ocean Race is now open to the high-tech, foiling IMOCA 60 class, in addition to the one-design VO65 boats that provided record-breaking performance and such close, compelling racing in the 2017-18 edition of the race – the closest Race of all-time.
"As we open up the design and innovation elements of the race again with the IMOCA class, confirming the race route for our teams has taken on an added importance as the designers look to optimise performance for the conditions," said Johan Salén, the Managing Director of The Ocean Race.
"This route is more compact at 38,000 nautical miles and with two less stopovers compared with the last race but it includes two significant Southern Ocean legs, where crews on both the IMOCA 60s and the VO65s will have an opportunity to add their stories to the legend of this race."
The Race Route for The Ocean Race 2021-22:
Alicante, Spain – Race Start
*Cabo Verde
Cape Town, South Africa
*Shenzhen, China
Auckland, New Zealand
Itajaí, Brazil
Newport, RI, USA
Aarhus, Denmark
The Hague, Netherlands
*Genoa, Italy – The Grand Finale
(* indicates a new host city)
Continue Reading on theoceanrace.com
Header image credit: The Ocean Race