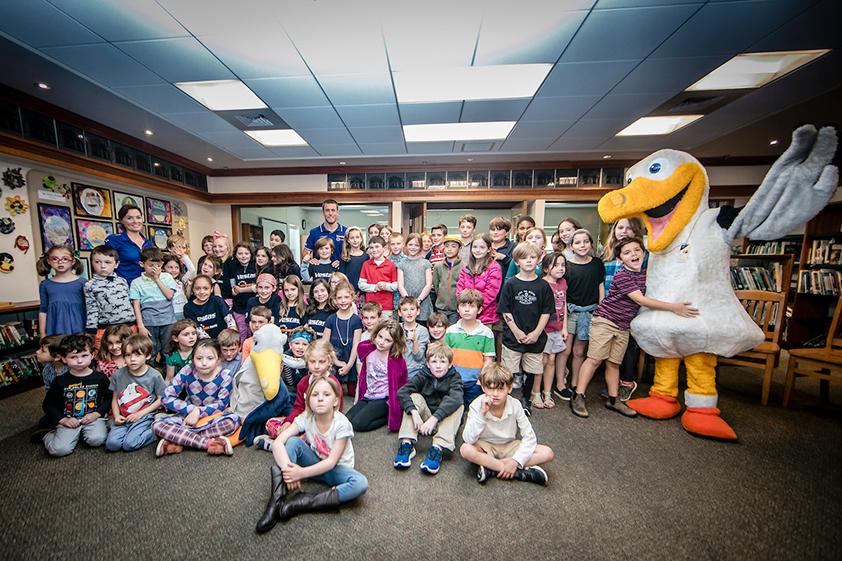 The Ocean Race's Award-Winning Learning Programme to Launch in Six More Languages
11th Hour Racing is proud to be the Founding Partner of the Sustainability Programme and Premier Partner of The Ocean Race. Check out the latest news below.
Ahead of World Children's Day, on 20th November, The Ocean Race is recognising the crucial role that future generations have to play in supporting our seas by announcing that it will be making its award-winning learning programme available in six more languages.
The Champions for the Sea programme has helped over 160,000 children in more than 54 countries understand one of the major threats to the ocean, plastic pollution, and what can be done to turn things around. Currently available in English, Spanish and French, in December it will also be available in Portugese, followed by Mandarin, Italian, Dutch, Danish and German early in the new year.
The curriculum-based Learning Programme has been adopted by teachers across the globe, as well as parents looking for informative and engaging content for their children during lockdown. The set of fun modules show children how plastic is impacting the ocean and what needs to happen to prevent it from leaking into nature.
Lucy Hunt The Ocean Race Sustainability Education Manager said: "World Children's Day celebrates the power of children to change the world. It's vital that future generations are inspired to take care of our incredible blue planet. We have seen firsthand the devastating impact of pollution, climate change and industrial overfishing on our ocean, it is being destroyed, but it is not too late to put an end to this.
"By making our learning programme available in more languages we can help to reach as many young people as possible and inspire them to want to restore and protect our amazing ocean."
The Ocean Race also has an engaging World Sailing Sustainability Education Programme, created especially to help the next generation of sailors and sports enthusiasts understand what's happening to the environment. The programme, which has been produced in collaboration with World Sailing and 11th Hour Racing, covers key topics from climate change to biodiversity, and aims to equip future generations of sailors with the knowledge to make a positive impact on the world around them. Over 250,000 young people use the course each year, predominantly through national federations. Currently available in seven languages, with Italian, Dutch and Danish to be added in 2021. The International Olympic Committee has included the World Sailing Programme as one of their 2020 Olympic Movement Case Studies.
The learning programmes are part of The Ocean Race's multi-award winning 'Racing with Purpose' sustainability programme, which brings together a range of tangible ways that we can have a positive impact on the marine environment. Working with visionary Premier Partner 11th Hour Racing and Volvo Cars, we have rolled out initiatives for cleaner and healthier seas. Find out more here.
About Champions for the Sea
Launched in October 2017, The Champions for the Sea learning programme is aimed at children aged 6-12. The informative and fun learning resources engage students with the United Nations Sustainable Development Goals (SDGs) that seek to 'transform our world' by 2030. In 2019 the programme was the "Gold Award Winner" in the sustainability category at the Reimagine Education Awards.
Mandarin, Italian, Dutch language programmes will be available in February, with Danish and German following in March.
Header image credit: Jesus Renedo | Volvo AB