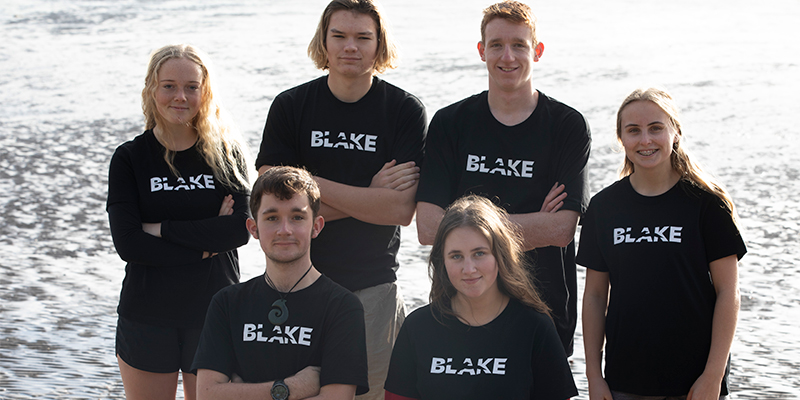 BLAKE Inspire for Sailors Program Educates and Empowers Youth Sailors in Auckland, New Zealand
In July, 11th Hour Racing grantee BLAKE hosted its inaugural Inspire for Sailors program in Auckland, New Zealand. The six-day event empowered 30 young sailors aged 16 to 18 to follow in the footsteps of legendary yachtsman Sir Peter Blake, through an environmental leadership development adventure designed just for the students. BLAKE welcomed sailors of all skill levels, but prerequisites to apply for the Inspire for Sailors program include a sense of adventure and a curious mind that is ready to learn. 
In Auckland, the students learned about topical environmental issues from inspiring experts and heroes from the local environmental and sailing communities. The students explored the pest-free Tiritiri Matangi Island, collecting plankton and sediment samples on their sail back to the mainland, which they later studied at the University of Auckland's marine science lab. They also learned about the legacy of Sir Peter Blake as they sailed on board the legendary Lion New Zealand on Auckland's iconic Hauraki Gulf. 
The students took part in several restoration and volunteer projects. BLAKE shared highlights from their journey through Auckland:
A day at Emirates Team New Zealand, spending time on the winning yacht from the 35

th

America's Cup. The students engaged with crew members, including Peter Burling and Blair Tuke, who encouraged the group to be environmental leaders.

An interactive environmental policy and communication workshop, where the students developed campaigns and media pitches for five real-life marine issues.

Sailing to bird sanctuary island Tiritiri Matangi, on one of Peter Blake's Whitbread yachts, Lion New Zealand, guided by a leading conservationist from the Auckland Zoo.

A session on how to reduce the carbon footprint of a club facility, using the Ponsonby Cruising Club as a practical example, followed by a workshop led by Yachting NZ to help them develop their Clean Club framework.

A-behind-the-scenes tour of New Zealand's leading aquarium SEA LIFE Kelly Tarlton's, Auckland, as well as an extended version of BLAKE's Virtual Reality (VR) in schools program.
The group was amazed when it discovered how zooplankton and phytoplankton behaved while observing them under a microscope at the University. This particular exercise put into perspective just how integral these species are to our marine environment.
The students returned from their six-day adventure with new friends, incredible stories, and networks and leadership capabilities to lead a sustainable future within their communities and sailing clubs. Serena Woodall, one of the participants, was newly-inspired to rid the marine environment of harmful plastics. Serena's action plan to address environmental concerns in New Zealand aims to install a Seabin at Westhaven Marina, where her yacht club – the Royal New Zealand Yacht Squadron – is based. The Seabin will act as a rubbish skimmer, extracting trash, oil, detergent and other pollutants from the water. Raising funds through corporate sponsorship, her goal is to implement this project in July 2020.
Other students returned home to develop action plans with similar goals, including educating the public about plastic pollution, and implementing plans to reduce single-use plastic and lead their sailing clubs and local sporting events into a more sustainable future. To learn more about BLAKE Inspire for Sailors, visit BLAKENZ.org. 
Video below: Students attend BLAKE Inspire for Sailors program to learn about important environmental issues facing New Zealand and how they can make a difference.
Header image photo credit: BLAKE