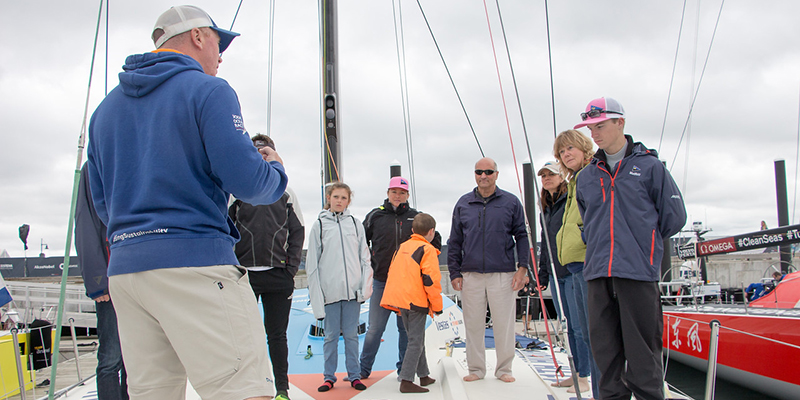 Update to our Ambassador Program
Ambassadors will identify and work with non-profits giving $10,000 grants to selected organizations.
Pictured above: Mudratz sailors met with Anderson Reggio during the Volvo Ocean Race Newport Stopover and got a tour of Vestas 11th Hour Racing. Photo credit: Outrageous Photography
Since 2015, 11th Hour Racing Ambassadors have worked to foster systemic change in the maritime and sailing communities focused on restoring ocean health. As representatives of the organization, they help promote sustainable operations at regattas, engage in community outreach, and identify potential partners and solutions to reduce the environmental impacts of the maritime industry.
Starting in 2018, Ambassadors will take on a new responsibility, working with the staff at 11th Hour Racing to identify a non-profit that works on environmental issues or sustainability problems that they are passionate about solving. Ambassadors will serve as a point of contact with their chosen non-profit and assist in the development of the project's scope, work plan, evaluation, and promotion.
"We are thrilled to be able to expand the work of our Ambassadors and allow them to support projects they are passionate about," said Todd McGuire, Program Director, 11th Hour Racing. "Being professional sailors, all of our Ambassadors travel extensively – they can see with their own eyes which issues are affecting local communities. Their feedback and contribution is an invaluable asset, and they can also help us recognize up-and-coming organizations, and promote their growth."
With the standards set high, all 11 of our ambassadors have been hard at work identifying the first round of grantees for 2018. Thus far, selected grant recipients include:
Mudratz Inc, a non-profit based in Connecticut working to complement local youth sailing programs by enabling sailors to improve as a team and compete in regattas around the world. 11th Hour Racing Ambassador Anderson Reggio will work with the organization to develop a comprehensive sustainability plan, driven by youth participants, to guide their operations, and offshore sailing program.
Clean Water Fund, a national non-profit that works for cleaner and safer water, cleaner air, and protection from toxic pollution in our homes, neighborhoods, and workplaces. 11th Hour Racing Ambassadors Jamie Haines and Andy Green will work together with Clean Water Fund on their ReThink Disposable campaign, helping restaurants and businesses in Newport, Rhode Island to move away from Styrofoam and single-use plastic. Besides cigarette butts, the most significant source of marine debris comes from food and beverage packaging. ReThink Disposable aims to prevent this form of marine debris through working directly with businesses.
The Martha's Vineyard Film Festival, which produces community events, educational programs, and films that spark discussion, debate, and action. 11th Hour Racing Ambassador Brock Callen Jr. will work with the festival to create three short documentaries, profiling local youth that have become ocean champions. The goal of the videos is to inspire viewers to take action and highlight people who work tirelessly to improve the health of our ocean.
"When I learned about this initiative the Mudratz were my first thought as the perfect choice. Not only do they help to further youth interest in big boat racing, expanding their horizons, but they do so while incorporating sustainability in all of their planning," said Anderson Reggio. "I am excited to share what I've learned about sustainability while working with Vestas 11th Hour Racing, but I'm certain the kids will have plenty to teach me as well. This is a phenomenal partnership, of which I am incredibly proud to be a part."